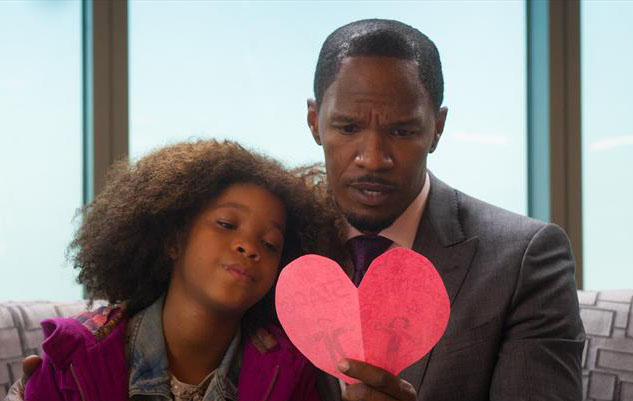 In 1998, rapper Jay Z sampled "It's The Hard Knock Life" from the Broadway musical Annie, which was made into a classic film in 1982. I think it's safe to say that it must not have been too long after that song became a mega-hit that someone had the idea of remaking "Annie" all together for a modern audience. It took over fifteen years for that idea to come to fruition, but surprisingly, what could have been a simple cash grab, trading on name recognition, or an iconoclastic "gritty" remake, is actually a truly delightful movie-going experience. The new "Annie" is infused with the spirit of the original, while adding its own modern flair.
Both versions of "Annie," as well as the Broadway musical the original is based on, find their origins in a comic strip from 1924 called "Little Orphan Annie" by Harold Gray. In this latest iteration, Annie (Quvenzhané Wallis) is a precocious ten-year-old living in a foster home in Harlem under the care of the drunken and tyrannical Colleen Hannigan (Cameron Diaz). After a chance meeting with mobile-phone billionaire and mayoral candidate Will Stacks (Jamie Foxx) that improves his public persona, Annie is asked to make appearances with Stacks, which eventually leads to her staying with him during the course of his campaign. The stand-offish, professional Stacks is initially reluctant, but the two grow closer as Stacks is charmed by the cheerful foster child.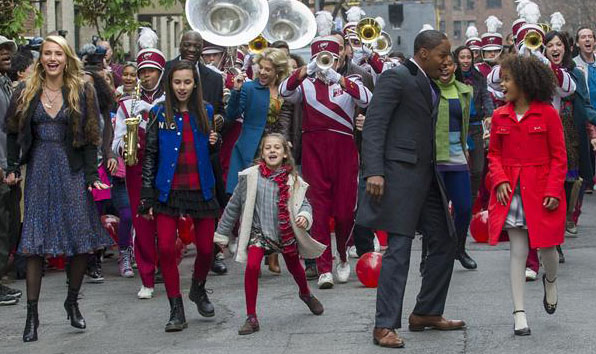 The movie early on distinguishes its musical style from the large-scale singing and dancing numbers of the original. Annie takes a more grounded approach, even at one point using the sounds of the city itself as an orchestra. Altogether, the music, which was done by Greg Kurstin, is fantastic. Which isn't all that surprising, since Jay Z along with Will Smith, two guys who know their way around a hit song, are also producers of the film. The older songs are revitalized and the new songs, which Kurstin co-wrote with singer-songwriter Sia and writer-director Will Gluck, fit nicely into the musical's catalogue. Gluck, who also wrote and directed Friends With Benefits and directed Easy A, co-wrote Annie with Aline Brosh McKenna and well-known actress Emma Thompson (who's actually not in the movie).
Quvenzhané Wallis imbues Annie with the same kind of indomitable spirit that garnered her so much attention in her break-out role in Beasts of the Southern Wild two years ago. The prior film earned Wallis the distinction of being the youngest person ever nominated for an Academy Award for Best Actress. It's unlikely that Wallis will repeat that nomination by virtue of the fact that Annie is a crowd pleaser and intentionally doesn't have the dramatic heft of Wallis's previous film.  Foxx does a good job of not forecasting his growing affection for Annie, which lets the story play out pleasantly and allowing for a more effective ending. For the second time this year (Neighbors being the first), Rose Byrne manages to be a standout performer, even when everything else in the film seems to be vying for the viewer's attention. Diaz is probably the most over-the-top in the bunch, which would perhaps play better with kids than adults. Her performance is more in line with Carol Burnett's Miss Hanigan in the original. But I will add that Diaz's rendition of "Little Girls" is hauntingly realized and quite strong.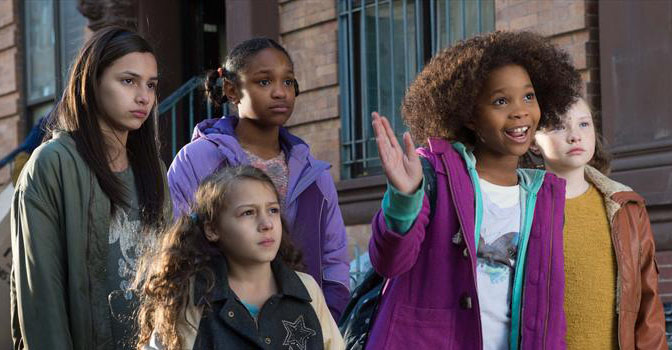 As a character, Annie is so overwhelmingly optimistic, especially when singing songs like the eternally hopeful "Tomorrow," that one could wonder if she ever really needed the miracle she was given and I think the answer is no. Annie would find a way to be happy in whatever situation. She is the constant. So the film really isn't about what happens to this little girl, but rather how this little girl affects everyone around her. In the end, Annie is there to remind both the other characters and the viewer that no matter how bleak things might seem – the sun will come up.
 By Adrian Vina
Running Time: 118 minutes
Rated PG for some mild language and rude humor