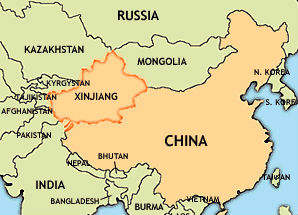 According to state media reports, China's western Xinjiang region was attacked by terrorists, leaving 15 people dead and 14 injured.
http://news.xinhuanet.com reported that 11 of the 15 killed were 'mobsters.' The terrorist attack occurred in Shache County on Friday afternoon.
Reports claim that explosive devices were thrown and civilians were attacked with knives at a food street.
The same region has seen similar attacks in the past.
Currently, the injured are being treated at a nearby hospital.