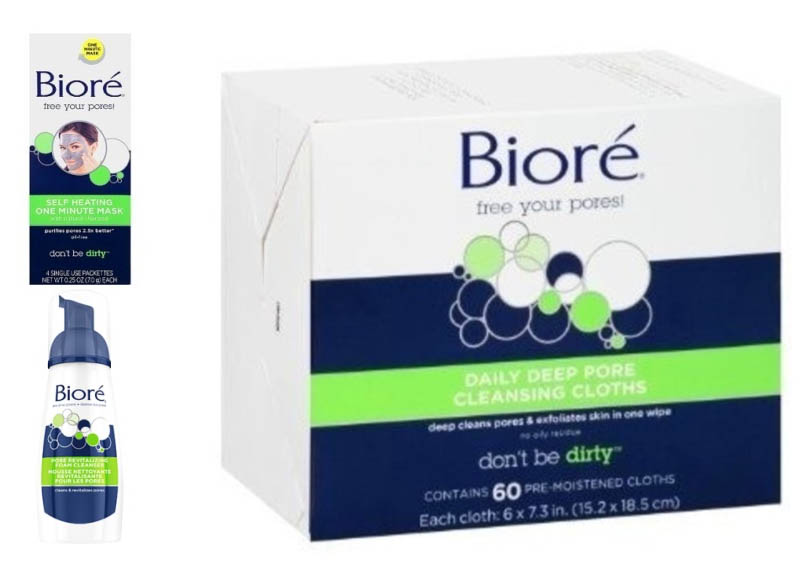 For oily skin, Bioré to the rescue! Here are three products that I recommend:
Bioré Daily Deep Pore Cleansing Cloths – Clear dirt and oil from your busy schedule. These pre-moistened portable face cloths remove a day's worth of build-up, leaving healthy-looking, glowing skin. Dirt-grabbing fibers gently yet effectively exfoliate skin and remove dirt, oil and even stubborn makeup.
Bioré Pore Detoxifying Foam Cleanser – Clean, tone, and stimulate all in one wash. Infused with eucalyptus extract, this self-foaming cleanser detoxifies skin and pores by removing surface toxins. The result: healthier-looking, refreshed skin.
 $7.00 for 6.7 oz
Bioré Self Heating One Minute Mask – In just one minute, this thermal mask warms to open pores, draws out and dissolves 2.5 times more dirt, oil, and surface toxins than a basic cleanser, and rinses them clean away with an invigorating cooling sensation without stripping the skin. Infused with natural charcoal, this breakthrough mask melts dirt and oil better than the leading competitive mask. 
$7.00 for 4 single packets