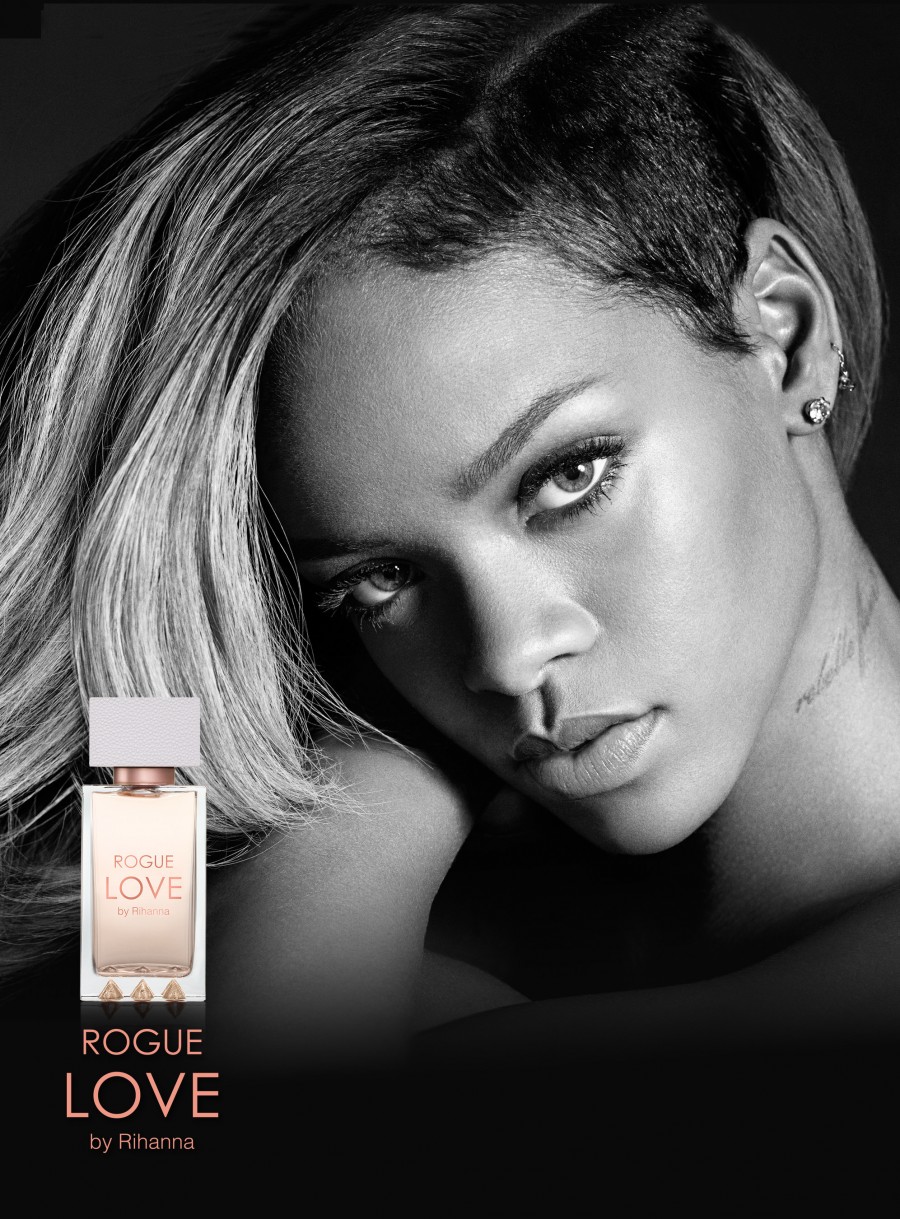 Rihanna announces the debut of ROGUE LOVE BY RIHANNA in time for holiday 2014 expanding her presence in the world of fragrance and giving her fans new fragrances for men and for women this holiday season. Just last month over 3,500 fans celebrated with Rihanna at Macy's Lenox Square in Atlantathe debut of ROGUE MAN, her first fragrance for men. ROGUE LOVE BY RIHANNA complements ROGUE MAN, and is a delicious floral fragrance dedicated to her female fans.
ROGUE LOVE BY RIHANNA captures that moment when love first hits you with a wild rush that goes through your whole body. Delicious fruits tempt your senses with notes of fresh citrus and succulent peach mingling with the temptation of juicy berries. Just as the facets of love take multiple twists and turns, the core of ROGUE LOVE BY RIHANNA is built with layers upon layers of lush, rich florals. A bit uncontrollable like the fluttering of the love-struck heartbeat, the petals are a radiant texture with vibrant colors of honeysuckle, jasmine and orchid splashed with the simply irresistible seduction of coconut.
In the background lies the pure beauty of the sophisticated sweetness of vanilla and golden amber. A mysterious femininity emerges as powerful, lingering notes of rich creamy woods are drizzled with an addictive hint of caramel.
THE NOTES:  Top:  Mandarin, Berry & Peach; Middle: Jasmine Sambac Absolute, Honeysuckle, Coconut, and Orchid; Base:  Creamy woods, Amber, Caramel, and Vanilla
THE PACKAGING:  ROGUE LOVE BY RIHANNA is housed in a sleek white-on-white stingray patterned carton trimmed with sensuous rose gold accents and features the ROGUE LOVE BY RIHANNA ad image on back.  The bottle design is a heavy glass with inverted spikes kissed in rose gold. A matte white cap complements the carton.
DETAILS:
125mL / 4.2oz EDP / $69.00 US MSRP
75mL / 2.5oz EDP / $49.00 US MSRP
30mL/1.0oz EDP / $39.00 US MSRP