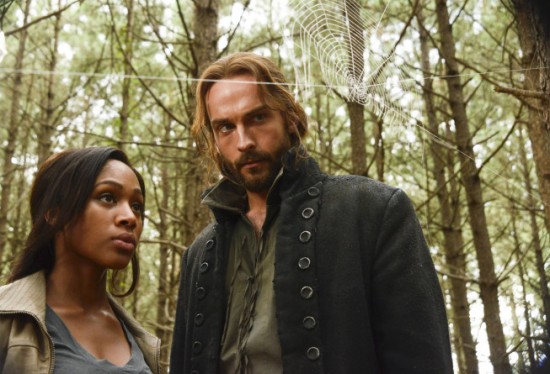 What better way to recover from tricks, treats, candy and costumes than a SLEEPY HOLLOW-EEN mini-marathon this Saturday, Nov. 1? FOX affiliates nationwide will present consecutive airings of the series' three most recent episodes (please check local listings for times in each city). From ghostly, scorned lovers to deadly Pied Pipers and teeth-baring demons, catch up on the wild ride by tuning in to this three-hour mini-marathon.
Episodes in the Marathon include:
"The Weeping Lady" – A ghostly apparition from Ichabod Crane's (Tom Mison) past comes to Sleepy Hollow in the form of the legendary "Weeping Lady," aiming to harm anyone connected to her true love.
"Go Where I Send Thee" – Abbie (Nicole Beharie) and Crane's search for a missing Sleepy Hollow child reveals a Pied Piper-esque creature, whose legacy with the child's family extends back to a centuries-old curse.
"And The Abyss Gazes Back" – An old friend of Abbie's returns from war a changed man – literally. In fact, he's a wendigo.
Then, don't miss an all-new episode of SLEEPY HOLLOW airing Monday, Nov. 3 (9:00-10:00 PM ET/PT) on FOX. In "Deliverance," Abbie and Ichabod learn that Katrina (Katia Winter) is in imminent danger and race against the clock to help her. 
Also, as Halloween approaches, SLEEPY HOLLOW will be celebrating across the country with a series of spook-tacular events, including a takeover of several New York pumpkin patches, Headless Horseman sightings at Halloween parades across the country and free rides Halloween night via Lyft. Join the conversation, share photos and tell family members and friends about these HOLLOW-een events using #SleepyHolloween.