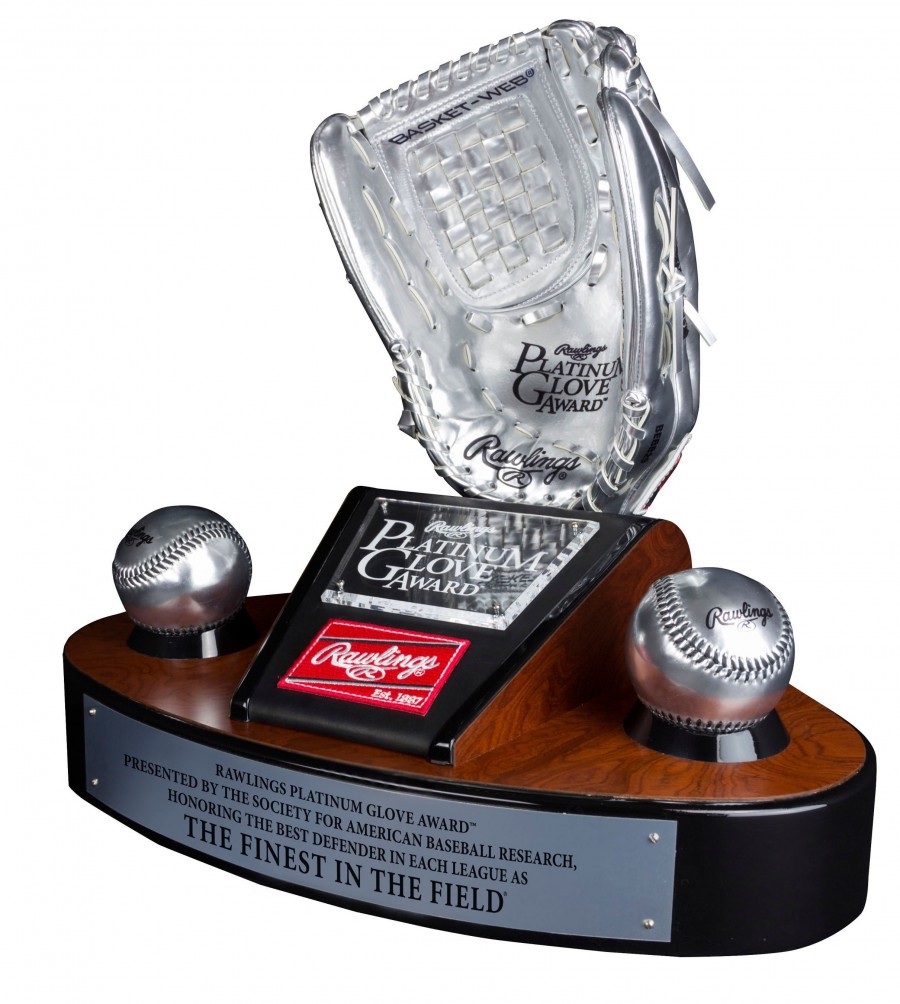 Rawlings Sporting Goods Company announced that Kansas City Royals™ left fielder Alex Gordon and St. Louis Cardinals™ catcher Yadier Molina won the 2014 Rawlings Platinum Glove Award™ presented by the Society for American Baseball Research (SABR) in their respective Leagues.  The winners were unveiled tonight during the 2014 Rawlings Gold Glove Award® Ceremony presented by Gold Sport Collectibles at The Plaza Hotel in Manhattan, where the game's defensive stars accepted their hardware from some of baseball's greatest legends.
Molina's win represents his third Rawlings Platinum Glove Award in the 4-year history of Rawlings' honoring the best defensive player among the nine Rawlings Gold Glove Award winners.  Molina earned 20.6 percent of the overall selection tally, edging New York Mets™ center fielder Juan Lagares (17.7 percent), and Atlanta Braves™ shortstop and 2013 Rawlings Platinum Glove Award winner Andrelton Simmons (15.5 percent) for the top honor in the National League™.
Gordon, celebrating his fourth consecutive Rawlings Gold Glove Award, received 21.6 percent of the total vote, besting Royals teammate and catcher Salvador Perez (15.9 percent) and Boston Red Sox™ second baseman Dustin Pedroia (13.2 percent) for the American League™ trophy.
The Rawlings Platinum Glove Award winners are determined by combining votes based on an adjusted SABR Defensive Index™ for each of the nine Rawlings Gold Glove Award winners in each League and the votes from baseball fans worldwide.
"Now in its fourth year, the Rawlings Platinum Glove Award fan inclusion platform continues to prove that baseball fans worldwide know, value and celebrate defensive greatness," said Mike Thompson, executive vice president of marketing for St. Louis-based Rawlings.  "This year's fan vote greatly exceeded our expectations; with passionate fans from countries across the globe letting us know who the best defenders are in baseball."
Based on the final SABR Defensive Index, Gordon led all American League outfielders with a 19.9 SDI, and Molina had the best SDI among all catchers in both Leagues with an 8.9 SDI.
"This year, the SABR Defensive Index and fan votes were closely aligned," said Vince Gennaro, president of SABR and chair of the SABR Fielding Committee.  "More and more fans are paying attention to defensive metrics, and it seems to be influencing their votes."
Voting began at the conclusion of the 2014 Rawlings Gold Glove Award Announcement Show presented by Dick's Sporting Goods on ESPN2's "Baseball Tonight" on November 4, 2014, and ended 24 hours later.  Fan discussion surrounding the Award on social media was fostered in part by some team's open campaigning for their respective nominees.  ESPN's Karl Ravech and SABR's Gennaro announced the winners live on stage during the Hollywood award show format.
Simmons and Baltimore Orioles™ third baseman Manny Machado won last year's Rawlings Platinum Glove Award in each League.