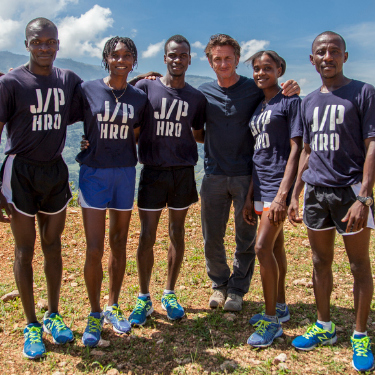 J/P Haitian Relief Organization (J/P HRO) is proud to celebrate the extraordinary efforts of Team J/P HRO which, for the second year in a row, took part in the 2014 TCS New York City Marathon to raise funds for "The Long Run for Haiti" campaign. One of the top ten fundraisers in the race, the team raised over $250,000 to support J/P HRO programs that continue to provide health care, education, construction, and the safe return to permanent housing for displaced earthquake survivors in Haiti.
Among those running on Team J/P HRO were supporter, actress and activist, Teri Hatcher and Adriana Henao, partner of Indy 500 winner Helio Castroneves; who joined the five returning Haitian athletes — Astrel Clovis, Jean Macksony, Bertine Lainé, Pétrus Césarion, and Carline Lamour – all of whom underwent rigorous training with two time United States Olympian distance runner Alan Culpepper.
Corporate sponsors, the St. Regis New York, JetBlue, Asics, Health Warrior, Ragaman Energy Drink, and Digicel Group supported Team J/P HRO in its campaign. The St. Regis New York served as the official hospitality sponsor for the J/P HRO 2014 marathon team, with the iconic hotel hosting the team's runners from around the world.  As part of their Inspire Humanity Program, JetBlue provided flights for all of the runners on Team J/P HRO, Asics provided apparel and shoes for the team.
On the heels of the successful "The Long Run for Haiti" campaign, J/P HRO has announced plans to launch a Haitian running club, shaped by the marathon team, to identify, train, and support the next generation of Haitian runners.
Founder and CEO of J/P HRO, Sean Penn, in commenting on the trajectory of the program, said "Supporting Haitian athletes proudly representing their country by competing in The TCS New York City Marathon was the first step in establishing this sustainable Haitian running club. This program will provide the structure and means for promising athletes in Haiti to train while giving communities a platform to rally behind a better future for this rising generation"
"We're thrilled that the TCS New York City Marathon was able to provide a platform for J/P HRO to raise critical funds and awareness for their important efforts in Haiti," said Mary Wittenberg, president & CEO of New York Road Runners and Race Director of the TCS New York City Marathon. "As an official charity partner of the marathon, J/P HRO's program is a shining example of how running can improve so many lives around the world and we're hopeful that the next generation of elite Haitian athletes will be running with us for years to come."
Following the tragic earthquake of 2010, J/P HRO mobilized a rapid and effective response to save lives and to manage the Pétionville Camp, which swelled to nearly 60,000 displaced earthquake survivors. J/P HRO quickly expanded its services in step with the needs on the ground, working to revitalize local Haitian communities through focused programs including: camp and relocation management, medical clinics, education, community development, livelihoods, engineering, rubble removal and construction. As of January 2014, J/P HRO has achieved a major milestone. The Petionville camp has been cleared and all residents returned to safe and sustainable housing.
J/P HRO has an established medical clinic to provide free emergency care and primary health services for a nominal fee. Each month, an all-Haitian medical staff sees and treats an average of 8,000 patients. The J/P HRO supported Ecole de l'Espoir (School of Hope) has completed four academic years, providing hundreds of children with quality, comprehensive education, as well as creating a model school district in the Port-au-Prince community of Delmas 32. J/P HRO is committed to build on its successes achieved to date and will raise funds and pursue strategic fundraising initiatives in order to continue to support and empower local communities as they rebuild.