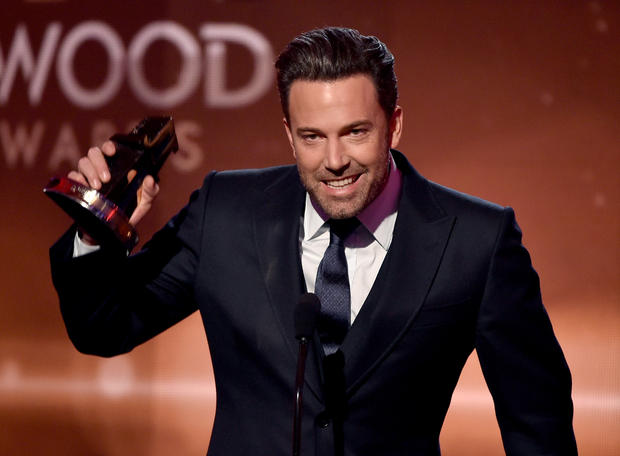 Photo: Credit: Kevin Winter/Getty Images
The 18th Annual Hollywood Film Awards made its television debut on CBS on Friday evening. The show, hosted by multi-talented Queen Latifah honored the best in film this year. Some of the biggest names in Hollywood took the stage, from Sandra Bullock to Benedict Cumberbatch, Harrison Ford, Johnny Depp and more. 
The recipients of the Hollywood Film Awards are selected for their body of work and/or a film that is to be released during the calendar year.
And the winners are…
Hollywood Film: "Gone Girl"
Hollywood Actor: Benedict Cumberbatch, "The Imitation Game"
Hollywood Blockbuster: "Guardians of the Galaxy"
Hollywood Documentary: Mike Myers, "Supermensch: The Legend of Shep Gordon"
Hollywood Actress: Julianne Moore, "Still Alice"
Career Achievement: Michael Keaton
Hollywood Animation: "How to Train Your Dragon 2"
Hollywood Comedy Film: Chris Rock, "Top Five"
New Hollywood: Jack O'Connell, "Unbroken"
Hollywood Ensemble: "Foxcatcher" cast
Hollywood Director: Morten Tyldum, "The Imitation Game"
Hollywood Song: Janelle Monae, "What is Love?" from "Rio 2"
Hollywood Screenwriter: Gillian Flynn, "Gone Girl"
Hollywood Breakout Performance Actor: Eddie Redmayne, "The Theory of Everything"
Hollywood Breakthrough Director: Jean-Marc Vallee, "Wild"
Hollywood Supporting Actress: Keira Knightley, "The Imitation Game"
Hollywood Breakout Performance Actress: Shailene Woodley, "The Fault in Our Stars"
Hollywood Supporting Actor: Robert Duvall, "The Judge"
Hollywood Cinematography Award: Emmanuel Lubezki, "Birdman"
Hollywood International Award: Jing Tian
Hollywood Visual Effects Award: Scott Farrar, "Transformers: Age of Extinction"
Hollywood Film Composer Award: Alexandre Desplat, "The Imitation Game"
Hollywood Costume Design Award: Milena Canonero, "The Grand Budapest Hotel"
Hollywood Editing Award: Jay Cassidy and Dody Dorn, "Fury"
Hollywood Production Design Award: Dylan Cole and Gary Freeman, "Maleficent"
Hollywood Sound Award: Ren Klyce, "Gone Girl"
Hollywood Makeup and Hairstyling Award: David White (Special Makeup Effects) and Elizabeth Yanni-Georgiou (Hair Designer and Makeup Designer), "Guardians of the Galaxy"