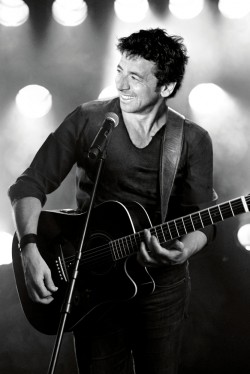 After waiting over thirty minutes, a restless crowd started clapping their hands, stomping their feet and whistling; hoping to speed up the appearance of the man they all came to see. When Patrick Bruel finally took the stage at the Orpheum Theatre in Downtown Los Angeles this past weekend, the delay seemed to be forgiven in a matter of seconds. I knew the name Patrick Bruel, who I was told commands the love of a devoted French public as well as the respect of his peers. However, I had no idea who he was, what he sang or what he stood for, therefore research was in order.
The Algerian-born accomplished artist immigrated to France with his mother in 1962 after Algeria received its independence. Early on, he developed an interest in music after discovering Georges Brassens and Jacques Brel in his mother's record collection. This was followed by a passion for the works of rock guitarists such as Eric Clapton, Jeff Beck and Jimi Hendrix. In the late 70's, as a fluke Bruel answered an ad in the newspaper that would launch a very prolific acting career, which today includes 50 films and TV roles, earning him a Cesar nomination for Best Actor in 2012 for "Le Prenom" (The First Name). Though his first single in 1981 faded into obscurity, two years later he released "Marre de cette nana-la!" which rocketed to the top of the charts and created millions of screaming fans overnight. 
With a constant demand from the film industry and lacking the time to juggle both acting and music, Bruel would only release his second album in 1989 "Alors regarde," a turning-point in his career, which made him a superstar. The country was officially under the spell of Bruel-mania. Judging by what I witnessed, it is still very much alive.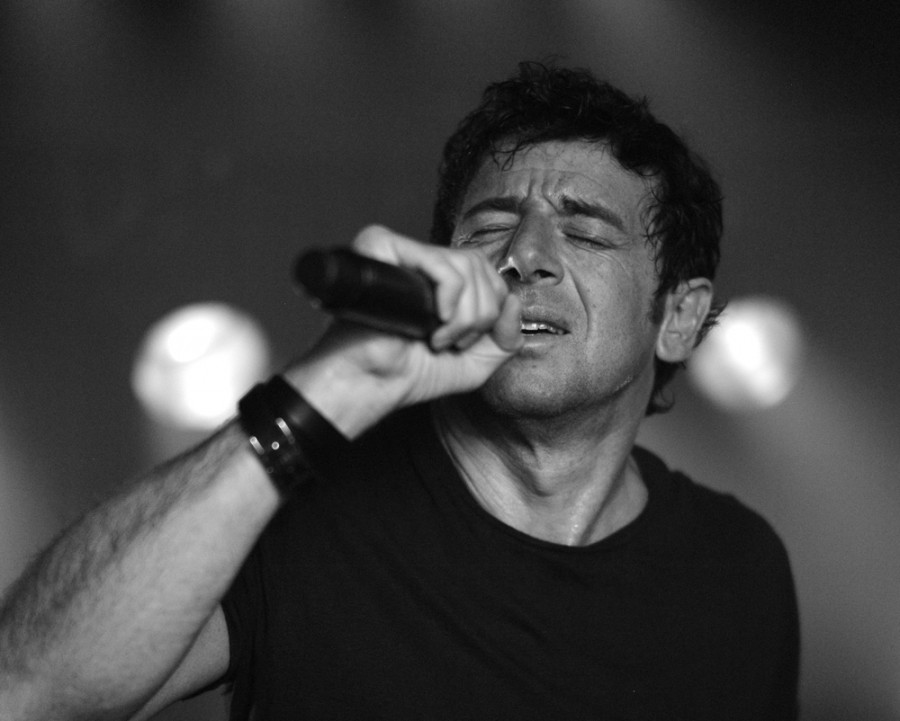 Bruel arrived guitar in-hand and delivered what his public came to hear, commencing with "Alors Regarde" followed by Je M'attendais Pas a Toi. He showcased his talent as an accomplished guitar player and musician altogether. Gifted with charisma and wit, Bruel has great control over the crowd, making his fans sing along to almost every song. He has the rare talent of communication and seems to create a one-on-one with each and every audience member. In the song "Maux d'Enfants," which addresses cyberspace bullying, Bruel raps the lyrics while reaching to the hearts of the concerned youth. He can rapidly change themes, from serious to fun and jokes with his attentive audience. During his concert, he embarked in what seemed to be a nostalgic vignette number with a touch of folklore from Tunisia "Au Café Des Delices." Then, as homage to Arlo Guthrie, Bruel Bruel offered his own version of "City of New Orleans" before transporting us back in time without warning to a series of French standards from the 40s, "Mon Amant de St Jean" (My Lover from St. Jean), a popular song from 1942, and others from Charles Trenet.
Besides the fact that the sound was far from outstanding, (I could not understand his words at times and I am French) Patrick Bruel's musical style is so eclectic that I was confused as to who he was. From rock n'roll and mid tempo, to ballad, rap, and including pop and folk; we ended up with standard tunes. I would have preferred to leave with the impression of knowing him and I did not. Often, French artists wonder why they cannot 'make it' in the US. The answer is because they are too French; after one hour on stage, not one song was sung in English. Though Bruel is a solid, gifted and talented artist, at the end of the day, my American guest who is a serious Francophile was not entertained. The answer is: you must learn how to adapt. Is the point of a North American Tour solely for the French and if so, why? Let's then call it 'A tour in America for French people.' Not a criticism just a valid observation.
By Michele Elyzabeth
The North American tour included: Miami Beach, FL. New York, NY. Boston, MA. Houston, TX. Washington DC. Los Angeles, CA 
Photos: www.patrickbruel.com (not from 11/8/14 concert)