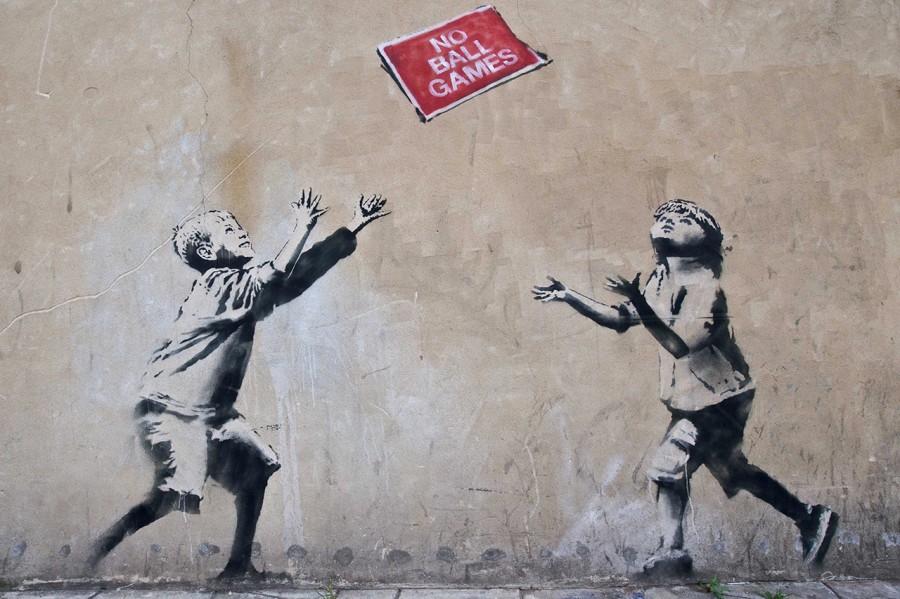 The elusive British street artist known as Banksy launched a self-proclaimed month-long residency in New York City, posting one unique exhibit a day in an unannounced location, sparking a 31-day scavenger hunt both online and on the streets for Banksy's work.         
Capturing this month of madness, BANKSY DOES NEW YORK incorporates user-generated content, from YouTube videos to Instagram photos, from New Yorkers and Banksy hunters alike, whose responses became part of the work itself, for an exhilarating, detailed account of the uproar created by the mysterious artist. Directed by New York filmmaker Chris Moukarbel (HBO's "Me @The Zoo"), the spirited documentary debuts MONDAY, NOV. 17 (9:00-10:20 p.m. ET/PT), exclusively on HBO.
Other HBO playdates: Nov. 17 (5:20 a.m.), 20 (10:15 a.m., 4:30 p.m.), 23 (2:00 p.m.) and 25 (1:30 p.m.), and Dec. 6 (11:30 a.m.)
HBO2 playdates: Nov. 26 (8:30 p.m.) and 29 (7:45 a.m.), and Dec. 15 (5:00 p.m.), 17 (11:15 a.m., 11:00 p.m.) and 29 (1:30 p.m.)
With installations spanning all five boroughs of New York City, and including a mix of stencil graffiti, sculpture, video and performance art, Banksy touched on such wide-ranging subjects as fast-food wages, animal cruelty in the meat industry, civilian casualties in Iraq and the hypocrisy of the modern art world. Daily News reporter Beth Stebner, who covered Banksy's residency, was struck by the wide array of people drawn to his work, noting, "You had art students, you had plumbers, you had gallery owners. It just brought New Yorkers out."
A pair of Banksy hunters and dog walkers using the handle @twowaytraffic chronicled their month-long search on camera, while Stephan Kezler, owner of a Southampton gallery that buys and sells the street artist's unauthorized, illegal, public work, sought out new — and valuable — pieces.
From Queens and Staten Island to Bushwick and the Lower East Side, each new piece was revealed daily on the artist's @BANKSYNY Instagram account and website, but the exact locations of the pieces remained secret. "He made a treasure hunt where you needed to go and find something in a part of the city you've never been in before," notes Steve P. Harrington, founder of the Brooklyn Street Art Museum.
Using Twitter hashtags and posts to Facebook, Instagram and Vine, art lovers and fans searched the streets for a new and often fleeting glimpse at Banksy's work. Banksy hunter Rebecca Encalad recalls, "We would post something and then hashtag it #TheBanksyPhenomenon. It trained us on how to find things on social media."
Adding to the thrill of the chase for Banksy fans was the uncertainty of whether a work would be altered or removed before they arrived to see it. Local graffiti artists took to tagging over the pieces, while some property owners removed or obscured the works in hopes of cashing in on the Banksy craze. Eventually, the artist in residence drew the attention of Mayor Bloomberg, who stated that Banksy was defacing public and private property. Though the NYPD denied they were hunting the artist, as the press claimed, one day of the residency was canceled due to police intervention.
On Oct. 31, the final day of Banksy's residency, balloon letters spelling "Banksy" were displayed near 5 Pointz, the soon-to-be demolished graffiti landmark in Queens. As a crowd formed below the work, a group of men attempted to remove it, prompting an outcry captured by videos posted to Facebook and YouTube.
"It's like the Internet's almost the graffiti wall," said one New Yorker, while another believed the residency could only be seen in person, arguing, "You can't re-blog this. You have to experience it." As the audio guide on Banksy's website observed, "The outside is where art should live, amongst us, where it can act as a public service, promote debate, voice concerns and forge identities. Don't we want to live in a world made of art, not just decorated by it?"
BANKSY DOES NEW YORK was directed by Chris Moukarbel; produced by Jack Turner; produced in association with Matador Content. For HBO: senior producer, Sara Bernstein; executive producer, Sheila Nevins.