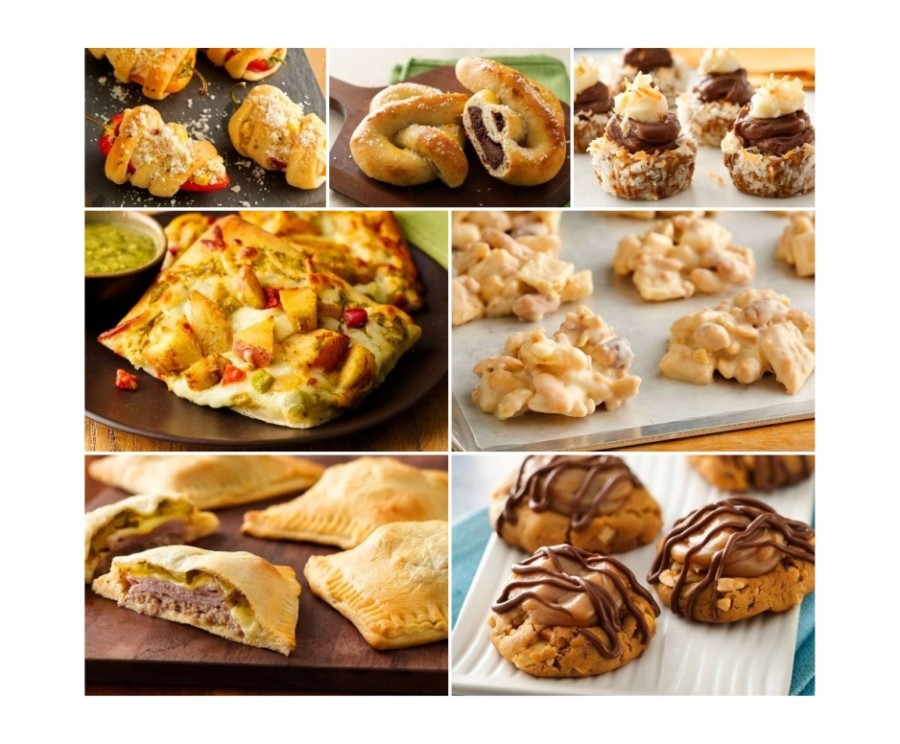 At the 47th Pillsbury Bake-Off® Contest in Nashville, Tennessee yesterday, 100 amateur cooks from across the country competed for their chance to win more than $1.3 million in cash and prizes. Late Monday evening, Bake-Off® Contest host and celebrity chef Carla Hallannounced the four category winning recipes selected by the judges to advance to the competition's final stage—an online public vote.
The four recipes in the running for the Bake-Off® Contest's $1 million grand prize are:
Amazing Doable Dinners Category Winner: Cuban-Style Sandwich Pockets by

Courtney Sawyer

of

Bellingham, Washington

Savory Snacks & Sides Category Winner: Creamy Corn-Filled Sweet Peppers by

Jody Walker

of

Madison, Mississippi

Simply Sweet Treats Category Winner: Peanutty Pie Crust Clusters by

Beth Royals

of

Richmond, Virginia

Weekend Breakfast Wows Category Winner: Chocolate Doughnut Poppers by

Megan Beimer

of

Alexandria, Virginia
Now it's up to America's vote to help determine the $1 million grand prize winner.
America to Help Determine the Grand Prize Winner
For the first time in the Bake-Off® Contest's 65-year history, the public is invited to help select the $1 million grand prize winner. America may go online to vote.bakeoff.com now to view and choose their favorite of the four recipes selected by the judges to compete in the public vote.
Voting will remain open until 9:59 p.m. CT on December 2, 2014. At the Contest Finals, the judging panel ranked and assigned points to each of the four recipes competing online; similarly, the four recipes will each receive points based on the results of the public vote (points awarded by the judging panel will account for 55 percent of the total possible points versus 45 percent for the public vote). The recipe that receives the most total points will be deemed the $1 million grand prize winning recipe, which Carla will reveal for the first time on the December 3, 2014 episode of ABC's popular lifestyle series "The Chew" (1:00 p.m. Eastern / Noon Central and Pacific).
Leading up to the grand prize winner announcement on ABC's "The Chew", Carla will chronicle the Contest and heart-warming stories of the talented home cooks competing for the grand prize. Tune in to ABC's "The Chew" on December 1-2, 2014 for Carla's behind-the-scenes look at the iconic Bake-Off® Contest as well as recipe demonstrations from the four category winners.