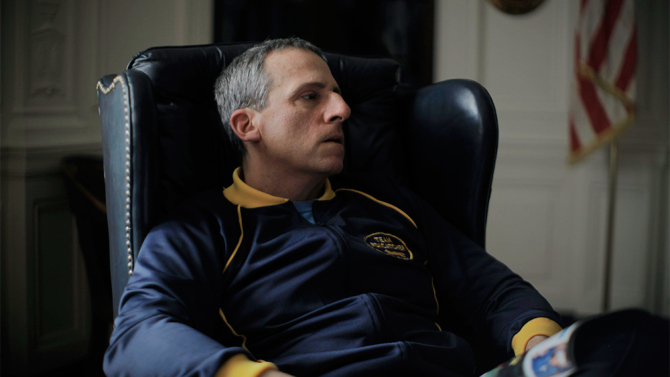 The tragic true crime story of Olympic wrestling brothers Mark and Dave Schultz is brought vividly to life in the long-gestating drama, "Foxcatcher," starring Steve Carell, Channing Tatum and Mark Ruffalo.
Originally scheduled to open the 2013 AFI Film Festival but pushed back a full year due to editing tweaks, this Bennett Miller directed prestige pic was well worth the wait. The definition of a slow-burner, "Foxcatcher" quietly builds in suspense until it reaches a devastating climax that's as unexpected as it is inevitable. An awards contender with career-best performances from a nearly unrecognizable Steve Carell and an internally combusting Channing Tatum, the quality of the acting alone warrants the price of admission. With a thought-provoking and emotionally authentic screenplay, a foreboding score that nicely captures the unsettling storyline, and evocative but understated cinematography that compliments the tale's tonal expansiveness, "Foxcatcher" is a distinctive drama that etches itself into viewers' minds.
Based on a stranger-than-fiction story that if you don't already know, I strongly suggest you keep it that way prior to viewing, "Foxcatcher" begins in rural Wisconsin, where Mark Schultz (Channing Tatum) lives a life of loneliness and borderline poverty in the years following his gold medal run in 1984. Forever living in the shadow of his older, more accomplished brother, Dave (Mark Ruffalo), also an Olympic gold medal winner, Mark's days revolve around training, job hunting and eating ramen noodles in the darkness of his shabby garage apartment. With his brother, now a successful wrestling coach, moving into a more domesticated life with his wife (Sienna Miller) and two kids, Mark feels the pressure more than ever to forge his own path, if only an opportunity presented itself.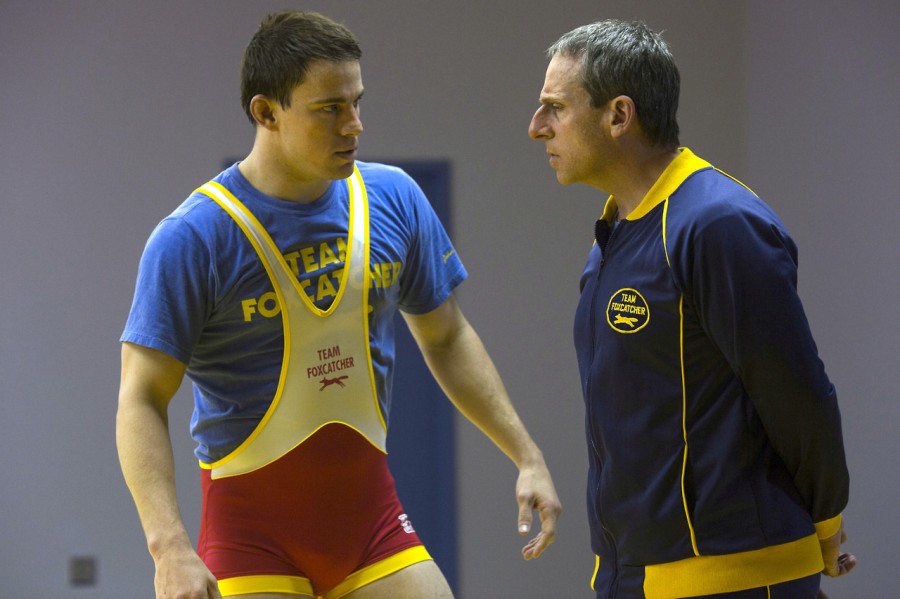 Just when things couldn't seem to get bleaker, Mark's big break comes in the form of John du Pont (Steve Carell), the eccentric, disgustingly wealthy heir to the behemoth DuPont chemical company. Desperate to earn the respect of his disapproving mother (Vanessa Redgrave), du Pont pours his resources into building a state-of-the-art gym at Foxcatcher Farms – his family's Pennsylvanian estate – and invites the Schultz brothers to form a wrestling team and train for the 1988 Olympics at his facility. Sensing a catch and not wanting to uproot his family, Dave declines the offer outright; Mark, though, jumps at this seemingly golden opportunity.
With a few minor exceptions, such as du Pont's general squirreliness and his insistence on being the head coach despite not knowing anything about wrestling, Mark's new gig is everything he hoped it to be: well-paid, respectable, and, most importantly, completely reliant on him. But as Mark continues his bid for Olympic gold, his relationship with du Pont degenerates into an unhealthy codependent father-son dynamic, causing him to lose sight of the goal at hand. When du Pont goes behind Mark's back and makes Dave an offer he can't refuse to join the team, it sets in motion a chain of events that forever changes the lives of everyone involved.
As evidenced by his two previous films, "Capote" and "Moneyball," director Bennett Miller plainly knows his way around character-driven material, allowing the drama to grow organically out of the tricky triangle at the story's center. Also like his previous films, Miller took a research-heavy approach to the project, interviewing everyone from the subjects themselves to their families, friends and associates, and the fruits of his labor are plain to see. Although the screenplay by E. Max Frye and Dan Futterman, who earned an Oscar nomination for his previous collaboration with Miller, is a well-oiled machine, there is a notable amount of silence in the film. Sometimes it stems from Mark's bottled anger, other times it grows out of du Pont's social awkwardness; but even with this stillness, not a single frame went by that I found anything less than captivating.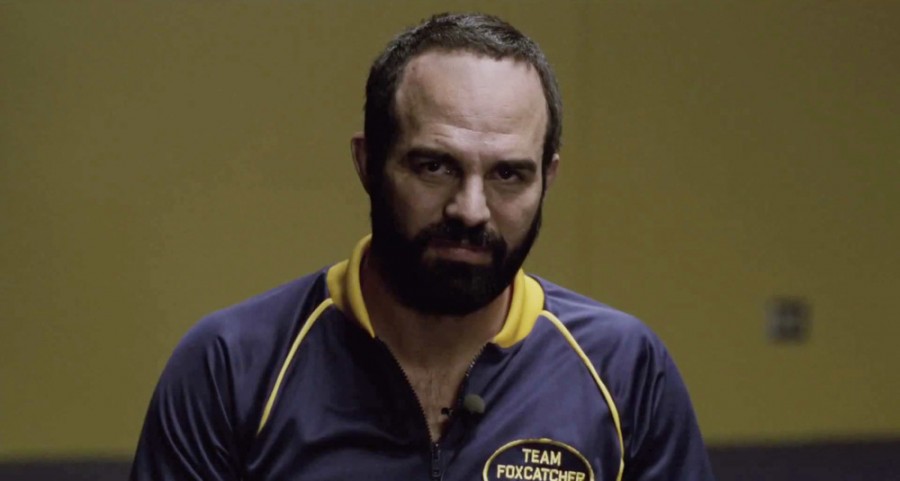 In the most unusual and dramatically demanding role of his career, Steve Carell is riveting as the emotionally damaged heir. Miller has stated that his intention was always to cast against type for this role, and Carell certainly isn't your typical antagonist, although neither is du Pont for that matter. Within the framework of the perfectly paced script, the filmmaker allowed his actors, all of whom fully inhabit their roles, the freedom to improvise, and Carell's background in this field clearly serves him well. It may be jarring to see the famed funnyman in such a different light, but his portrayal of this wayward soul pops right off the screen.
Looking like a scowling Statue of David in a leotard, Channing Tatum crushes it as the seething, self-destructive younger Schultz brother. In a physically and emotionally grueling role, Tatum handles it with ease, proving once again, as he did earlier this year in "22 Jump Street," that he's far more than a romantic lead or bankable action star. As the coolheaded and protective older brother, Mark Ruffalo doesn't have as showy a role as Tatum's or Carell's, but in many ways it's the most important, and he tackles it with dignity and grace.
As an overall film, "Foxcatcher" may strike academy voters as too eccentric for their tastes, but the A-list cast should help this quality flick stand out in a crowded awards season.
By Lucas Mirabella
Running Time: 134 minutes
Rated R for some drug use and a scene of violence.