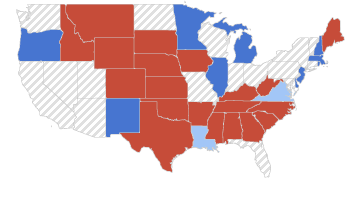 The biggest news rolling out of Election Day 2014: The Republicans have now captured majority control of the Senate, winning at least seven seats.
Their was a switch of political party seats in many states. In Arkansas, Colorado, Montana, South Dakota, North Dakota, West Virginia and Iowa, Republicans won Democratic-held Senate seats.
In response to the GOP take-over, President Obama said, "All of us in both parties have a responsibility. All of us have to give Americans a reason to believe the ground is stable beneath their feet. I plan on spending every moment of the next two-plus years doing my job the best I can…"

In California, Governor Jerry Brown secured his seat once again for another four years, winning 58.7% against Neel Kashkari's 41.3% at the polls. 
Democrat, Alex Padilla won Secretary of State over Pete Peterson. 5,005,422 voters registered with Republican Party preference and 7,708,683 with Democratic Party preference in California. 
In the national spotlight, Republican Mitch McConnell won more than just a sixth term to represent Kentucky. He'll soon be formally elected as Senate majority leader.
To see a full overview of California election results visit HERE.