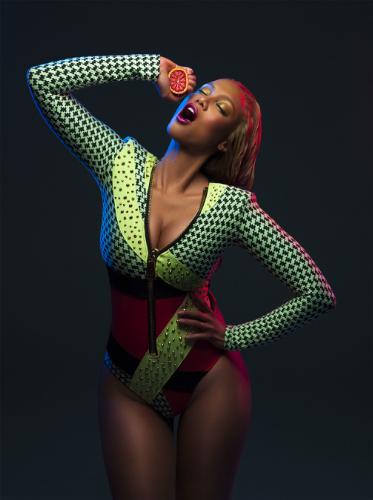 Tyra Banks has a big beauty announcement, "I'm launching my makeup brand called TYRA beauty!  It's not just a cosmetics line; it's a COSMETICS EXPERIENCE." For the past four years, Banks has covertly been developing the cosmetics experience and has surprised the world with what she has kept top-secret for all of these years.  After a mysterious blackout of her social media followed by a suspenseful countdown, Banks shook up all social media platforms by announcing the launch of TYRA beauty exclusively through her online megaphone reaching more than 32 million people worldwide.  Banks has radically overhauled the tyra.com website, that now introduces people everywhere to experience TYRA beauty and purchase the one-of-a-kind products.  TYRA beauty is wrapped in what Banks calls 'Beautytainment'—where beauty and entertainment collide.  With Banks' beauty secrets and secret beauty weapons, TYRA beauty is all about Beauty. Business. Badassery.
BEAUTY "Eye see your beauty… do you?" – Tyra Banks
TYRA beauty gives women the tools to transform what they've got into what they want.  "Without makeup, I would have never been a supermodel.  I don't wake up with naturally sculpted cheekbones—I paint them on!  I believe makeup is the great beauty equalizer," says Banks.  Expanding the definition of beauty is something that Banks has always preached, and TYRA beauty is taking a stance that natural beauty is kind of unfair.  Not all women were born with naturally long lashes or plump lips, but every woman has the power to be fierce with TYRA beauty.
As a young model, Banks studied how world-renowned makeup artists dramatically changed her face with cosmetics, and she mastered their craft.  From backstage at fashion shows in Milan, Paris, and New York where fellow models lined up for Banks to paint their faces, to taking the helm of America's Next Top Model 'TYover' makeovers for the last decade, Banks has cultivated the skill set to apply makeup and formulate products.  Now, it's time for Tyra to TY-YOU-over.
TYRA beauty is fierce from the outside in, dripping with product and packaging innovation that engages all of the senses.  The cosmetics experience launches with three high-tech pillars that each highlight a unique ingredient, story, or theme. 
TYover: The TYover pillar introduces easy-to-use products "in a Stick" for a fierce face…fast! Banks' secret application technique called "Four Fast Fierce Fingers" creates a complete transformation in six minutes or less without the use of a brush!  Through Banks' proprietary 'TY-Glide Technology,' the silky smooth application and easy blendability will have women werkin' their fiercest faces, Tyra-style. 
Smize: The Smize pillar offers new technologies to create the fiercest "Smize," one of Banks' famously coined words that means, "smiling with your eyes."  With rich products exclusively for the eyes, every woman can tantalize with the fiercest Smize!
It Factory: The It Factory pillar provides a mix of runway-inspired cosmetics infused with unique textures and innovative formulas.  These products will surprise and delight a woman's sense of touch, starting when she applies her fiercest lip!
BUSINESS "I'm a business, man.  And you can be, too!" – Tyra Banks
 As a fully self-funded startup, TYRA beauty sets out to be a successful brand without relying on Banks' celebrity.  "Two years ago, I graduated from Harvard Business School's Owner/President Management Program.  So many people questioned why I went back to school," says Banks.  "I did it to master what it takes to develop and lead this cosmetics experience."  Banks aims to flip the conventional business model on its head and change the way people, see, use, buy, and sell makeup.
"The first part of my career was focused on me—how many campaigns, fashion shows, and magazine covers I could do.  The second phase of my career is all about me sharing the power of entrepreneurship with everyone," said Banks.  TYRA beauty's direct selling model that Banks calls "CEOYou selling," the CEO of you, a/k/a Be Your Own Boss, bridges the gap between beauty and business by mobilizing a community of independent contractors called "Beautytainers."  TYRA beauty will offer online education through TyraU, a/k/a Tyra University, that fuels its Beautytainers with business tips, tricks, tools, and technology to run their own businesses on their own schedules. She wants to spread the message that every person has the power to be the CEO of their life.
BADASSERY "How do I spell beauty… B-O-O-T-Y!" – Tyra Banks