Photos: LATF USA
What's better than walking into a party where everyone has a smile on their face, drinking great beer, eating delicious food and dancing to entertaining music? Not much. I can't think of any other place I would want to be on a Friday or Saturday night in October than at Big Bear's Oktoberfest celebration. For 44 years, Big Bear Lake has hosted this amazing several week long party, which celebrates German style family fun! 
LATF first traveled to Big Bear in 2013 for our first Oktoberfest story and it was more than just a thrilling weekend away. To recap Oktoberfest history, Germany has been holding this Fall tradition for over 200 years. In Big Bear, Oktoberfest began in 1971 thanks to Hans and Erika Bandows. As we danced our way into German family tradition last year, we had to make the trip again for a fun-filled weekend.
If you time it right, your drive from Los Angeles, CA to Big Bear Lake can clock in at just over two hours! From palm trees to pine trees, it's simply refreshing as you approach the lake. It always feels like home when we're welcomed at Sherwood Forrest's Robinhood Resort, run by the Brewster family. Manager, Peter Busch will tell you all about the best sights and places to see in town. Not only is this a quaint, clean and comfortable place to rest your head for the weekend, but it's literally a hop, skip and a jump away from Big Bear Village. Step outside and you're there; right where the shops, food and tourist center are located. Robinhood Resort even has their own Nottinghams Tavern where you can enjoy a warm meal. As for accomodations, their deluxe rooms are wonderfully cozy with a fireplace and a classy wood cabin feel. (For Pricing visit site link below).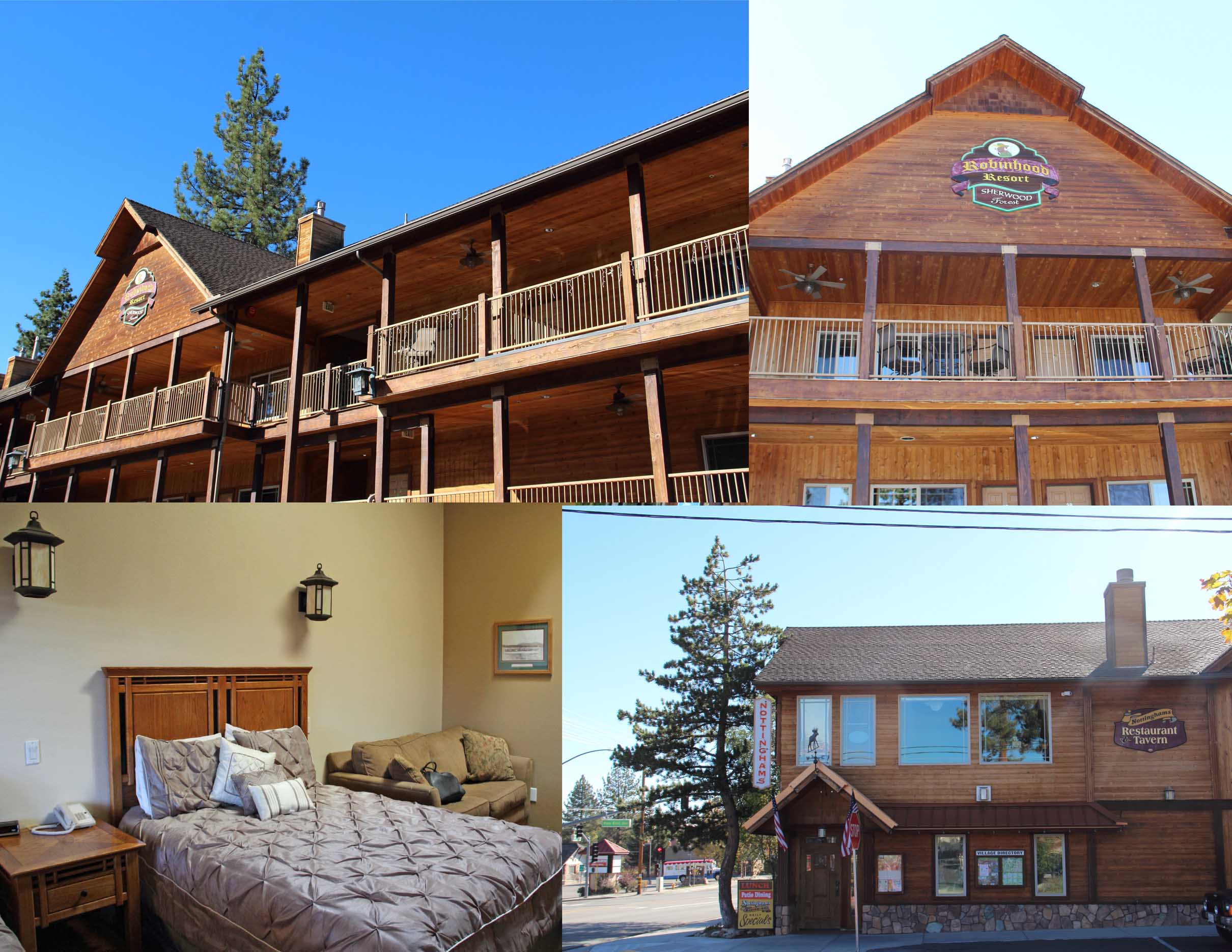 After discovering all that the village has to offer, I recommend taking a walk down by the docks. This is the best kodak moment right on the lake. Then you can stop by The Boathouse for a beer, chicken wings and the local band. But remember, save your energy for nighttime! The most important part of the trip: Oktoberfest. Festivities take over the Big Bear convention center with Autumn designs, blue picnic patterned table cloths and plenty of plaid wearing locals and guests of all ages from near and far.
Outside, vendors and small business owners; from candle makers to Halloween Arts & Crafts are lined around for your perusal. The crisp Fall weather was perfect with a warm bag of roasted nuts and music on the outdoor stage. Inside is where the party is. This year, has not one, but two German bands on the second, third and fourth weekends of the seven-weekend stretch until October 25th!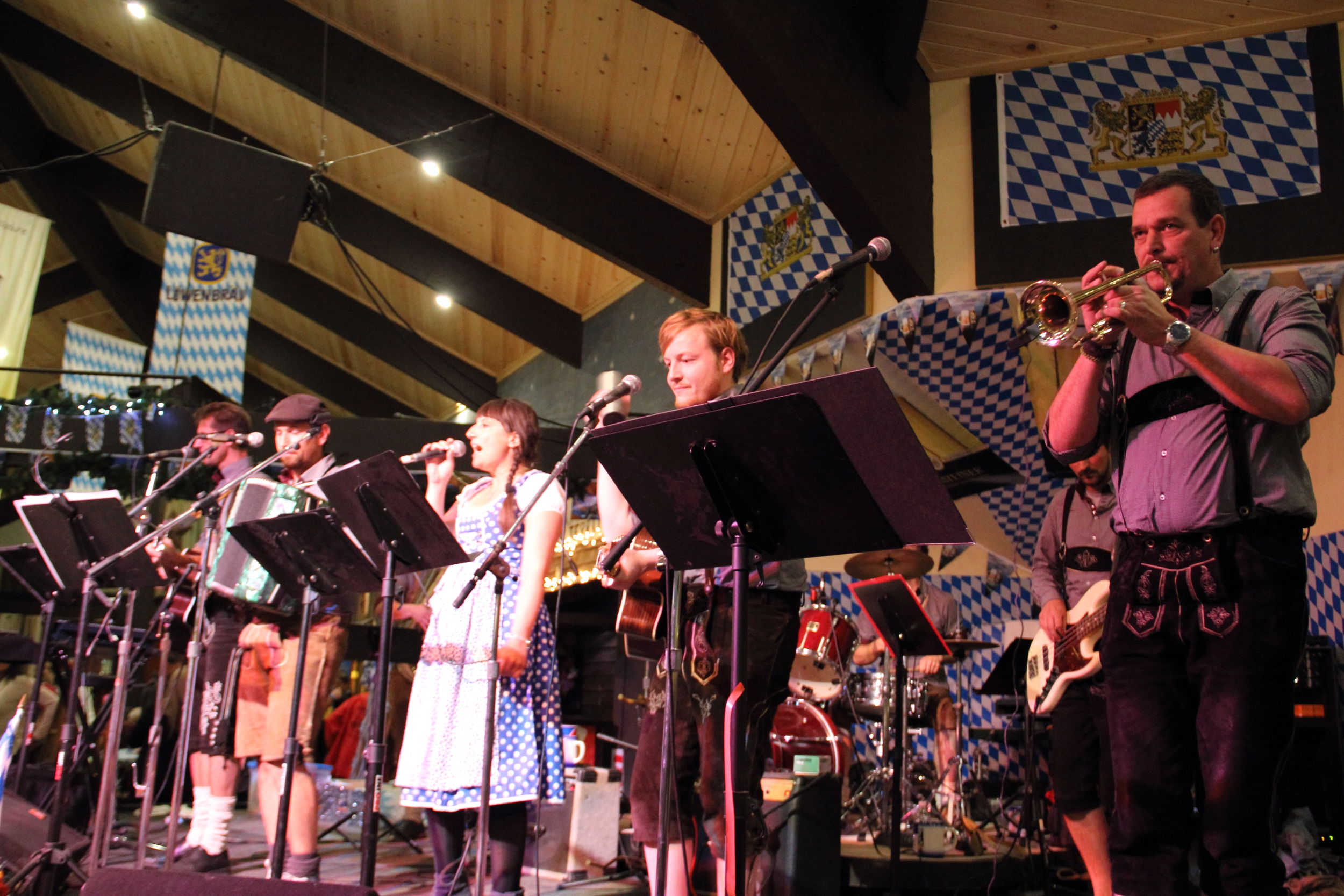 Each band performs traditional polkas and sing-alongs mixed with today's hottest dance hits. 99 Red Balloons was a hit! The Goldeizen Band, an eight-piece band that hails from Bavaria, performed throughout September. The Goldeizen Band has gained the attention of its fellow countrymen when it was nominated in 2013 for the Best Oktoberfest Hits CD produced by the world-renowned Munich Oktoberfest. The Aalbachtal Express, also from Southern Germany, performed September 28th, October 3, 4 and 5. This 11-piece band has played together for 35 years strong, and has grown a solid reputation throughout Europe for its authenticity and upbeat live shows. The Express Band, Southern California's premier German band perform the first weekend (Sept. 13-14) and final two and a half weekends (Oct. 11-12, 18-19, and 25).
"It's the bands that really bring a feel-good vibe to our Oktoberfest," said Monica Marini, director of The Convention Center at Big Bear Lake. "They always get the dance floor moving!" And moving they were! From conga lines to limbo lines, by 10PM, you needed to break for a second wind. 
Now for one of the most important parts of the evening; beer and food. My choice beer: Shock Top's Lemon beer flavor. It was smooth and delicious. For dinner, there are chicken, polish sausage and Bratwurst with, of course, a side of sauerkraut.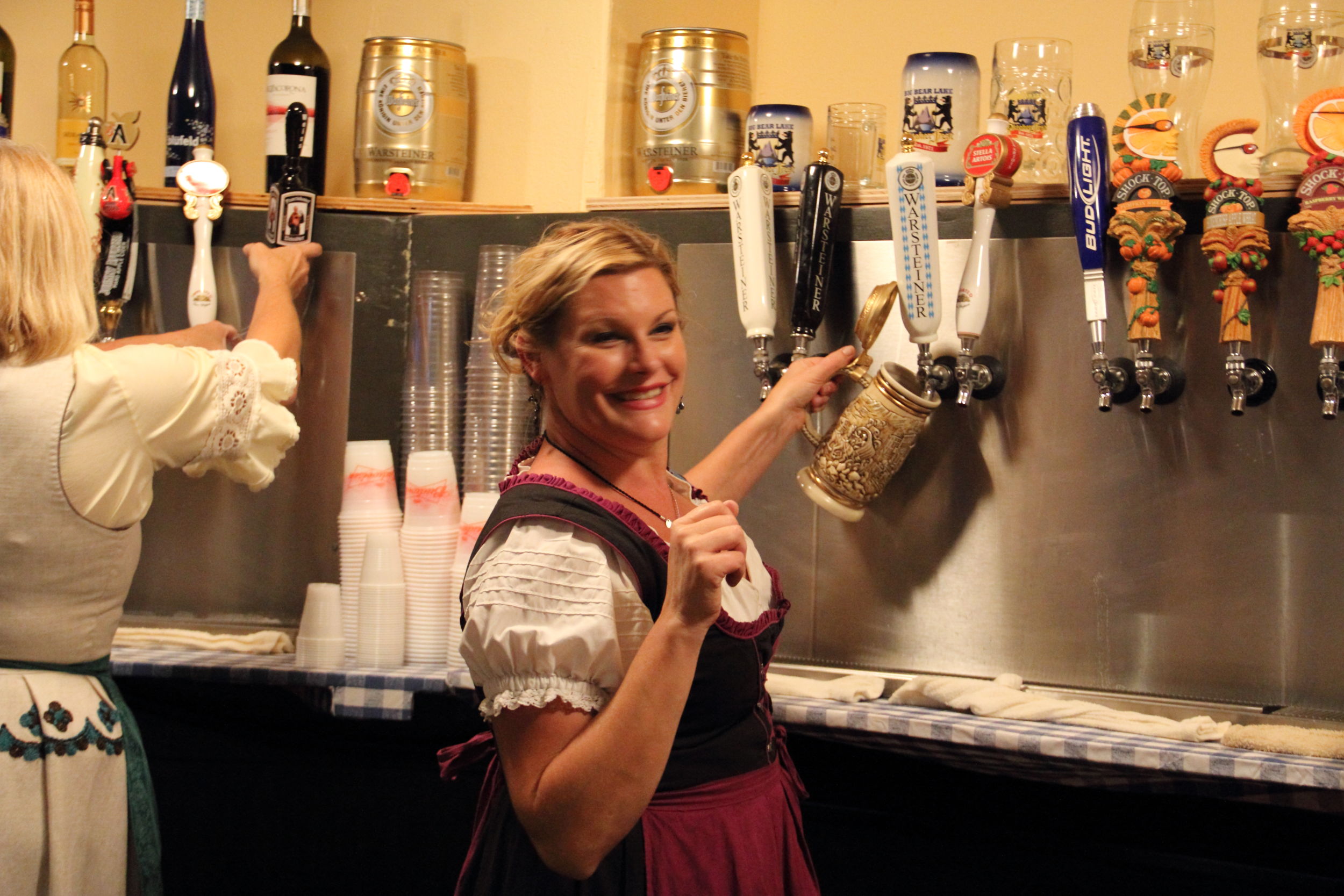 After all of the dancing and music, you're certainly tired out and ready to go back to your comfortable bed, fireplace and flat screen TV at Robinhood Resort.
Oktoberfest is one of the best weekend-away events of the year. It's a must for your travel/road trip bucket list!
We'll see you next year Big Bear!
By Pamela Price
The next four weekends (Oct. 4 to Oct. 25) general admission on Saturdays is $18 for adults, $14 for seniors (65+), and $8 for children 12 and under; Sunday admission prices $9 for adults, $5 for seniors with children 12 and under FREE. Oktoberfest Unplugged events on October 17 are $97 per person. For more details regarding online ticket savings, Burgermeister and Über Burgermeister Party Packs, Kindermeister Party Packs (kid's fun packs) and general information, log on to www.BigBearEvents.com or call 909-585-3000.  
For all there is to see and do in Big Bear, make lodging reservations or request a free Visitors Guide log on to www.bigbear.com or call 800-424-4232. 
To book your room: http://robinhoodresorts.com/