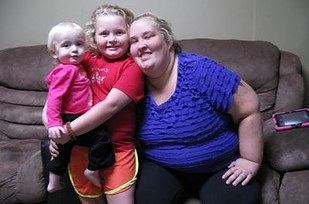 Why it took this long to cancel the odd phenomenon, "Here Comes Honey Boo Boo," is beyond our knowledge and understanding. Alas, after four seasons, TLC has canceled the show.
The "Toddlers & Tiaras" spinoff was suffering from controversial issues after Honey Boo Boo's mother, June Shannon, came under scrutiny on Oct. 23 when TMZ reported she was dating a man who was convicted and served time for aggravated child molestation of one of Shannon's relatives.
TLC said in a statement, "TLC is not currently in production on Here Comes Honey Boo Boo. We are very concerned about this new information and are reassessing the future of the series."
Well the reassessment is that… there is now future for the series. 
Bye Bye Honey Boo Boo
Photo: TLC