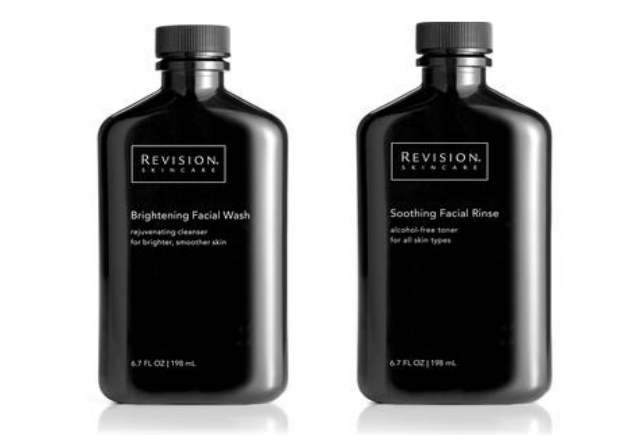 Two must-haves! 
Brightening Facial Wash: Rejuvenating cleanser for brighter, smoother skin Great for all skin types, especially mature or sun-damaged skin. This cleanser with Alpha and Beta Hydroxy Acids and brightening botanicals, removes the day's impurities, leaving skin clean and hydrated.
Brightens skin with radiant-boosting extracts of Vitamin C, Licorice and Lily. It exfoliates dead surface cells for softer, smoother skin. It combines White Tea Extract and Vitamin E for antioxidant benefits. It cleanses skin without stripping it of its natural moisture content.
Soothing Facial Rinse:
Alcohol-free toner for all skin even those with sensitive skin. This calming, oil-free formula gently hydrates and refreshes skin after cleansing without making it feel dry or tight. It conditions the skin with a blend of plant and Algae extracts. it  contains a blend of Arnica Montana Extract, Grape Seed and Vitamin K and restores skin to its pH level.
For more info visit: www.revisionskincare.com