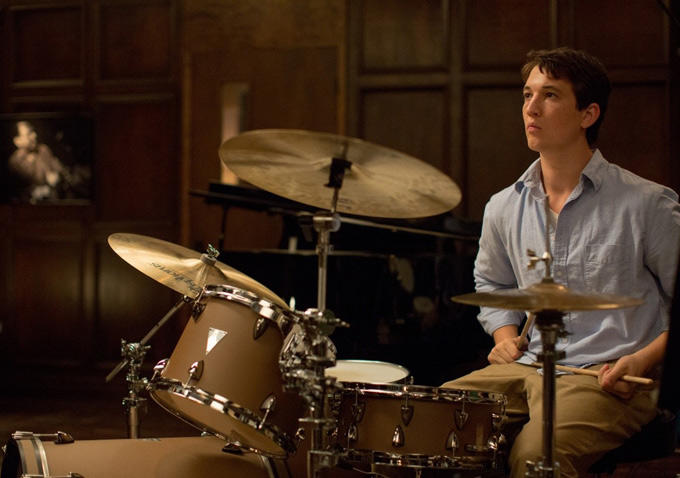 What does it take to achieve artistic greatness? Moreover, is it worth the sacrifice? These are the questions explored in "Whiplash," an exceptional jazz-infused drama starring Miles Teller and J.K. Simmons.
Based on his experiences in a highly competitive high school jazz orchestra, writer-director Damien Chazelle has brought to the screen a deliriously energetic film that succeeds on two fronts: as an inside look at the competitive world of music conservatories, and as a daring depiction of the often tension-racked relationship that exists between teacher and student. Funny, inspired, and bursting with the exhilaration that stems from creative endeavors, "Whiplash" has the contradictory qualities of the music at its center: freewheeling yet controlled, manic yet relaxed, showy yet restrained. With an engaging screenplay that has the ring of authenticity, a jazzy score that nicely evokes the story's dramatic highs and lows, and ferocious performances from the two leads, this is a winner whose beat stays with you long after the drum solo has faded away.
Set in Manhattan at an elite music conservatory, "Whiplash" centers on Andrew Neiman (Miles Teller), a passionate jazz drummer consumed by the desire to best his peers and emerge at the top of his class. Practicing into the late hours one night, Andrew comes face-to-face with Terence Fletcher (J.K. Simmons), the school's most feared conductor.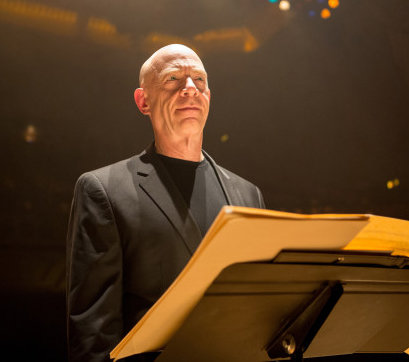 A man whose abusive teaching style has generated as many first-chair performers as nervous breakdowns, Fletcher runs his classroom like a drill instructor preparing his soldiers for battle. Although he wouldn't dare offer the budding musician any praise during their first encounter, Fletcher soon extends the ultimate pat on the back when he invites Andrew to join his prestigious band the next day.
Initially serving as an alternate, Andrew eventually gets his turn to shine when he permanently replaces the lead drummer, who loses his sheet music during a competition. While Andrew's fast-track to the core drummer's chair doesn't sit well with his bandmates, it does bring him in closer proximity to Fletcher, which proves beneficial to his artistry but detrimental to his emotional state. Meanwhile, outside the conservatory, Andrew finally works up the courage to ask out the concession girl (Melissa Benoist) at the local movie theater. But with a Carnegie Hall performance looming and his perfectionism wreaking havoc on his personal life, we watch with gripping suspense as Andrew's musical journey reaches its crescendo.
With just his second feature film, Damien Chazelle displays a maturity well beyond his years, both in his writing as well as his cinematic vocabulary, even if he's a Harvard alum who made his feature debut ("Guy and Madeline on a Park Bench") while still an undergrad. Although his screenplay does hit a few predictable notes and the romantic subplot with Melissa Benoist basically fizzles out, Chazelle's undeniably accurate characterization of this unfamiliar world feels so vivid, and the mentor-pupil dynamic is so richly realized, that the film's minor flaws are easily overlooked.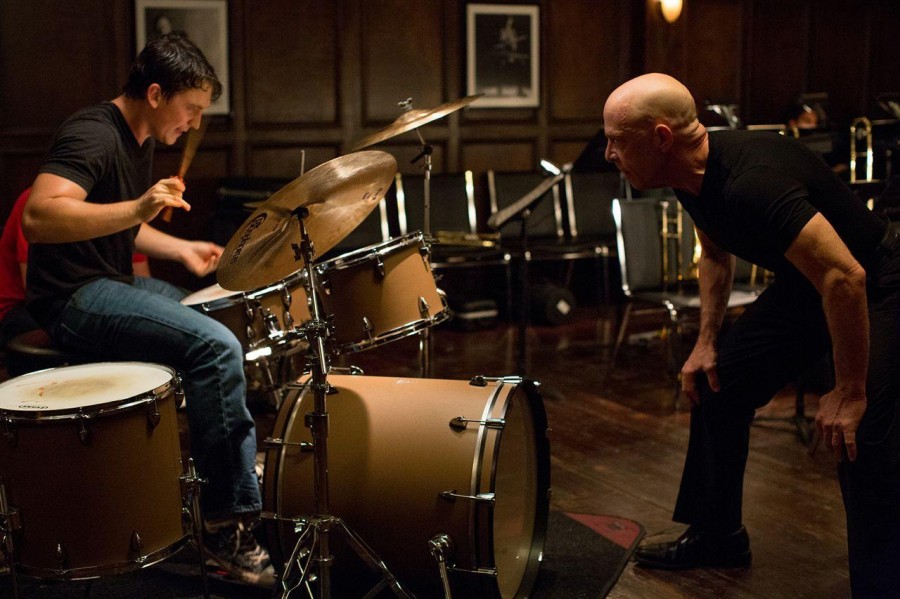 From the bleeding hands and broken drumsticks to the panicked musician desperately trying to maintain the proper tempo, Chazelle's attention to detail heightens the sensory experience, creating intimacy between audience and performer, and before long he has us gripped as if we were watching a nail-biting thriller. Sharone Meir's lush cinematography, Tom Cross' rapid-fire editing, and Justin Hurwitz's essential score also contribute enormously to bringing Chazelle's vision to life.
Among the many virtues of "Whiplash," none stand out more than the bravura lead performances by Miles Teller and J.K. Simmons. Since coming on the scene in the 2010 Nicole Kidman starrer, "Rabbit Hole," Teller has consistently impressed, exuding easy charisma and surprising vulnerability as he's jumped from teen comedies ("Project X" and "21 & Over") to rom coms ("Two Night Stand") to more dramatic fare ("The Spectacular Now"). In order for this film to be as affecting as it is, the audience needs to experience the agony that the protagonist is subjected to, and Teller sells it remarkably well. That being said, J.K. Simmons has the juicier role and leaves the more lasting impression. If it's true that the best actors are good listeners, then Simmons definitely fits the bill, because it isn't just his cymbal tossing and vulgarity spewing that keeps us captivated, it's his hilarious reaction shots as well. Simmons' music teacher makes the drill sergeant in "Full Metal Jacket" look tame, and it's good to see a veteran character actor capitalize on a long-overdue leading role.
Overall, "Whiplash" is a film that will leave you in no hurry to sign your kids up for music lessons, but glad that you made the trek to the theater.
By Lucas Mirabella
Running Time: 106 minutes
Rated R for strong language including some sexual references.