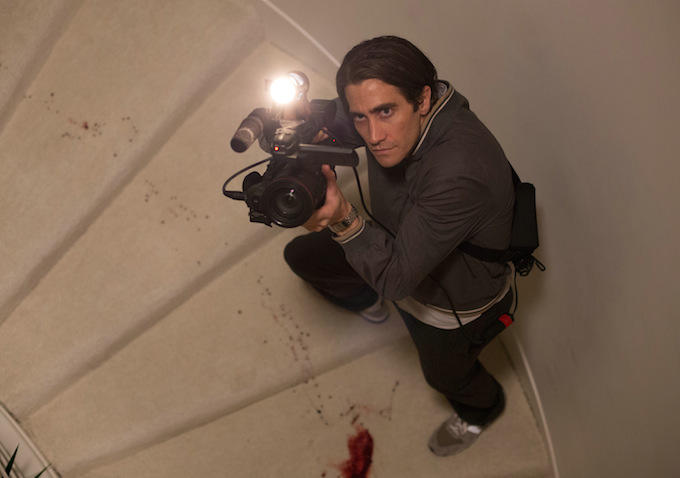 Jake Gyllenhaal's maturation into one of the standout actors of his generation is evident in "Nightcrawler," a dark comic crime thriller costarring Rene Russo, Bill Paxton and Riz Ahmed.
Set in Los Angeles in the seedy underworld of freelance newshounds, screenwriter Dan Gilroy's ("The Bourne Legacy") explosive directorial debut is as much a pitch-black satire of tabloid news as it is an edge-of-your-seat crime thriller. Tonally reminiscent of "Drive," another atmospheric LA-set crime thriller, but with a vibe all its own, "Nightcrawler" features a juicy premise, sleek cinematography, adrenaline-pumping action sequences, knockout performances and a whip-smart screenplay full of rich dialogue, tongue-in-cheek humor and unexpected twists. Given its morbid humor and capacity for chills, this film offers the kind of thoroughly spooky experience audiences are looking for over the Halloween weekend.
"Nightcrawler" kicks off with Lou Bloom (Jake Gyllenhaal), an intelligent but clearly sociopathic twentysomething, as he boosts some fencing from an industrial area and sells it to a scrapyard. When Lou isn't pulling similar scams to survive in this cutthroat city, he's scouring the internet, pumping his brain full of information on a wide range of subjects that will hopefully one day translate to dollars and cents.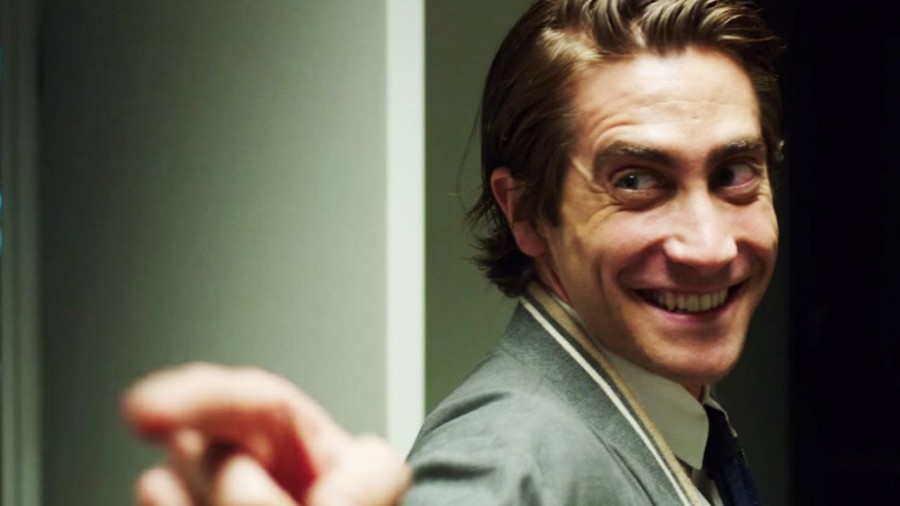 Driving home to his dingy apartment one night, Lou stumbles upon a fatal freeway accident and pulls over to get a better look. Before he knows it, he's surrounded by "nightcrawlers," freelance cameramen who use police scanners and some serious pedal-to-the-metal driving tactics to capture crime, death, fires – anything they can sell to the local TV news stations who pay a premium for shocking footage. When his attempts to talk his way into a job with the head nightcrawler (Bill Paxton) prove fruitless, Bloom, a self-starter if ever there was one, instead steals a bicycle and swaps it at a pawn shop for a low-grade camera and a police scanner. And just like that, he's off and running in his new profession.
Bloom's first foray into the world of nightcrawling is initially unsuccessful, but his fortunes eventually take a turn for the better when he beats his competitors to a particularly gruesome crime scene and sells the footage to Nina Romina (Rene Russo), the veteran director of the lowest-rated news channel in town. Now equipped with a better camera, a homeless intern (Riz Ahmed) and Nina's support, both personal and professional, it doesn't take long before Bloom is making some serious coin and giving the other nightcrawlers a run for their money. But as his maniacal drive toward success becomes all-consuming, he begins to take increasingly drastic (and illegal) measures to get top-dollar footage, leading him down a dangerous path that could land him on the wrong side of the news.
Working with indispensable cinematographer Robert Elswit ("There Will Be Blood"), Gilroy does a bang-up job capturing Los Angeles in a way that few films manage, with scintillating shots of winding canyon roads, neon-lit boulevards and tree-lined residential communities. Los Angeles has a surreal quality at night that meshes perfectly with the nightcrawling netherworld the story revolves around, and Gilroy exploits it to the fullest extent. Adding to the electrifying air of the film is the work of Gilroy's brother, editor John Gilroy, who keeps the energy at full throttle and whose skills are most evident in the car chase and newsroom scenes, masterfully crosscutting between the on-camera and behind-the-scenes mayhem. However, it is Dan Gilroy's restraint as a writer-director that really makes "Nightcrawler" so unsettling, resisting the urge to moralize the character of Lou Bloom and allowing the audience to reach their own conclusions about this sociopathic genius.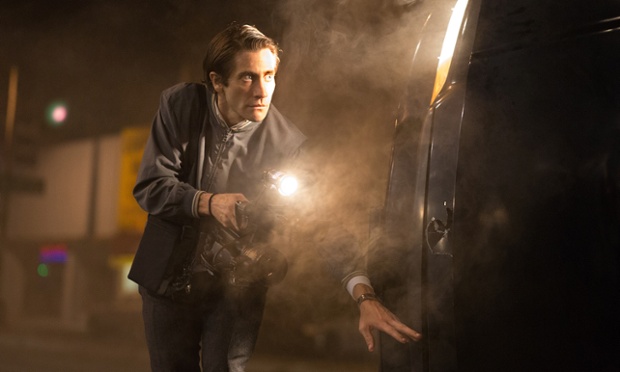 Between "End of Watch," "Prisoners," "Enemy," where he played dual roles, and now "Nightcrawler," actor Jake Gyllenhaal is in the midst of one of the more memorable hot streaks of recent memory. Emaciated, with sunken eyes, slicked-back hair and an impenetrable grin, Gyllenhaal's Lou Bloom definitely puts the "C" in creepy and operates with an almost robotic determination to succeed. Combining the obsessiveness and wiry energy that propelled his performance in "Zodiac," as well as the unpredictability of his Detective Loki in "Prisoners," Gyllenhaal's Lou Bloom is a remarkably realized and completely unique character unto itself. Bloom lives by the code that one man's tragedy is another's opportunity, and Gyllenhaal's commitment to such an amoral character is what will make audience's skin crawl. It's an award-worthy performance, plain and simple. 
As for the other actors, Rene Russo makes a very welcome return to the silver screen after a nearly decade-long absence (excluding "Thor"), and she's still every bit the sassy seductress she was in her heyday; Bill Paxton is excellent as the crass nightcrawling vet who makes the fatal mistake of introducing Bloom to his world; and Riz Ahmed ("The Reluctant Fundamentalist") brings humor and pathos to his overworked and underpaid intern.
A wickedly enjoyable film that also comments on the diminishing morals of contemporary society, "Nightcrawler" is a thrill ride that will leave you horrified of what some will do to get ahead in this world.
By Lucas Mirabella
Running Time: 117 minutes
Rated R for violence including graphic images, and for language.