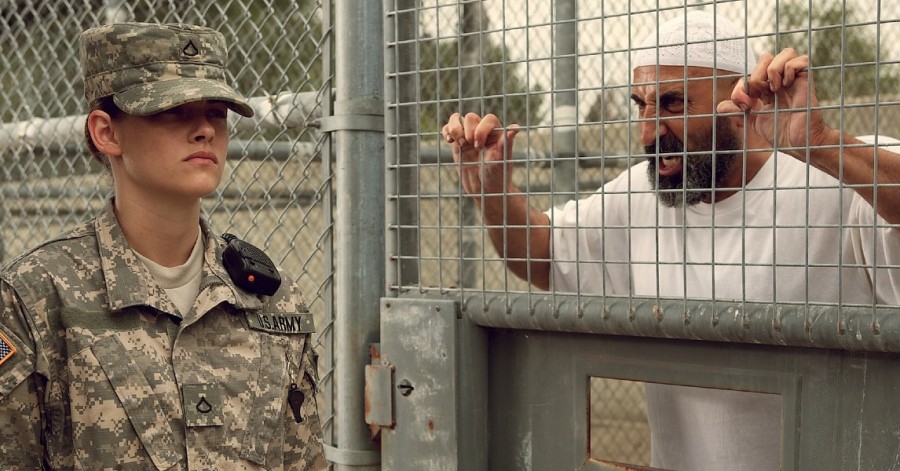 The human side of the War on Terror is explored in "Camp X-Ray," a Guantanamo Bay-set drama starring Kristen Stewart and Peyman Moaadi ("A Separation").
Written and directed by first-time filmmaker, Peter Sattler, "Camp X-Ray" is laudable for its verite-style attention to detail, starkly beautiful cinematography, morally profound script, and commanding performances from Stewart and Moaadi. In spite of its slow pacing and occasional heavy-handedness, the filmmaker's case study approach to this hot-button topic ultimately proves to be a winning formula, peeling back the attention-grabbing headlines and humanizing both sides of the battle. Though the somber prison atmosphere is a far cry from the box office smashing "Twilight" territory Kristen Stewart once inhabited, this small-scale drama should find an audience among the socially conscious arthouse crowd.
Set in the late 2000's, "Camp X-Ray" features Stewart playing Private Amy Cole, an idealistic small-town Florida gal who joins the Army with hopes of fighting the good fight overseas. Instead, she is assigned guard duty at Guantanamo Bay, keeping a watchful eye over detainees, many of whom were wrongfully arrested after the attacks on 9/11. As Cole's superior officer Randy Randsell (Lane Garrison) makes clear during orientation, there is no room for compassion in this line of work; just follow the standard operating procedure, avoid conversation and under no circumstances befriend the detainees.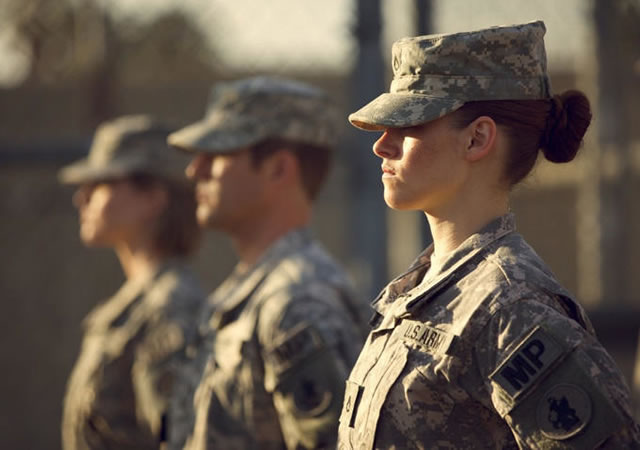 Cole's first week on the job is a rough one, resulting in a black eye, a spat-on face, and a uniform covered in feces, the latter attack perpetrated by Ali Amir (Peyman Moaadi), an aggressive German-born Muslim unjustly imprisoned for the past eight years. Despite this humiliation, when Cole learns of the severe punishment Ali receives as a result of this attack, she grows sympathetic towards him, which soon develops into an unlikely friendship. Clever and persuasive, with a gift of gab, Ali engages Cole in conversations about everything from "Harry Potter" books to the Sudoku puzzles he creates, which then lead to larger discussions about their cultural differences and the senselessness of his detainment. As their friendship blossoms and Cole becomes increasingly alarmed by the daily abuses to which the detainees are subjected, her disillusionment reaches a breaking point.
Although the subject of detainee abuse has been covered in documentaries like "Standard Operating Procedure" and "Taxi to the Dark Side," writer-director Peter Sattler's fictional account takes a markedly more intimate approach. The Gitmo setting functions as a backdrop to explore the relationship between two characters on either side of the war and the many cultural barriers and misconceptions that have fueled the longstanding conflict. Sattler's obsessive focus on the minutiae of day-to-day life in Guantanamo, for prisoners and guards alike, is certainly commendable, and succeeds in capturing the behind-closed-doors realism the filmmaker is after, but it also undermines the film by decelerating its narrative drive. Still, with his debut feature, Sattler confirms his adeptness with handling sensitive material, and all signs point to a promising career behind the lens.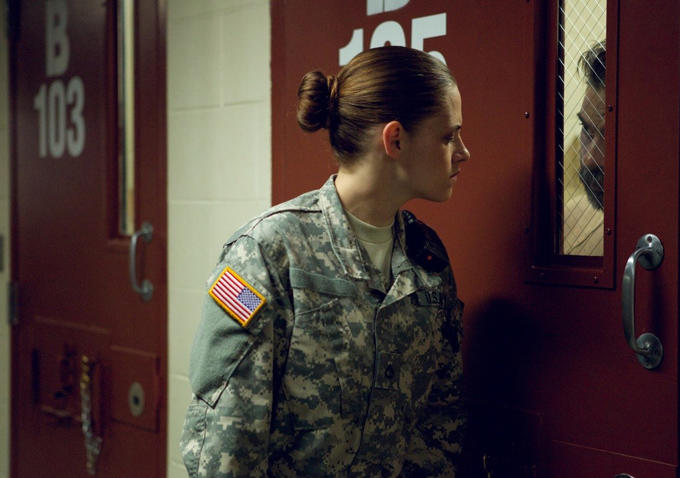 Kristen Stewart may not be the first name that pops to mind when thinking of a female prison guard, but the low-key intensity and vulnerability that define her acting style are a perfect match for the character of Private Cole, or Blondie, as Ali playfully refers to her. Essentially revolving around four or five long, dialogue-heavy scenes between Cole and Ali, the film's effectiveness largely hinges on the credibility and chemistry of these two actors, and they both shoulder the burden with impressive results. 
If you're looking for a point-by-point breakdown of our nation's long-drawn-out fight against terrorism, this film will leave you wanting. However, "Camp X-Ray" proves that a personal approach to a topical subject can sometimes yield the most absorbing results.
By Lucas Mirabella
Running Time: 117 minutes
Rated R for language and brief nude images.