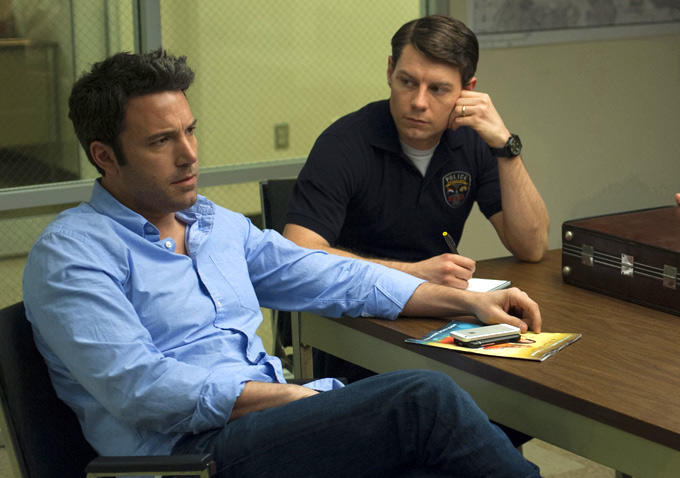 Marriage can be murder… or so says the NY Times Bestseller turned David Fincher (The Social Network) directed film "Gone Girl." Starring Ben Affleck in a rare pre-Batman performance, Fincher turns Gillian Flynn's pulse-pounding hit novel into an equally riveting thriller. The director certainly has a knack for tapping into the messed up human psyche. He is the same filmmaker that brought "Seven," "Fight Club," and "Zodiac" to life, after all. But with "Gone Girl," he takes messed up to a whole new level. Thankfully, this is a good thing.  
Before I go ahead and start spoiling any of the film's dirty, dark secrets, let me take a moment and introduce the real star of the movie Amy Eliott-Dune (Rosamund Pike).  The NYC born and raised stunner might look aloof when it comes to interacting with normal society, but don't let her appearance fool you. She has a razor sharp mind.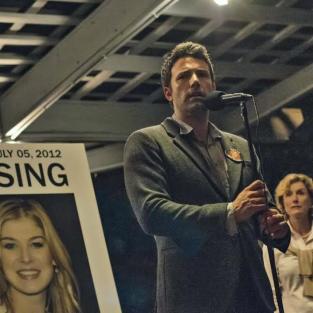 No one knows Amy better than her husband of five years Nick Dunne (Ben Affleck). Whereas Amy is a prim and proper city gal, Nick is a much more rough around the edges Heartland kind of guy. Doing what opposites do best, the audience is treated to a few flashbacks of Amy and Ben falling in love and starting their lives together first in New York and then again in Nick's hometown of St. Louis after the pair lose their jobs during the recession.
The happy couple's past bliss is nothing like the present. In fact, they couldn't be farther apart. That's because when Nick comes home on the day of their fifth anniversary, he finds that his wife has simply disappeared. Soon the police, media, and even his own family begin to question whether or not the once loving husband has turned into a cold blooded killer.
David Fincher is not a novice when it comes to creating riveting murder mysteries and the director definitely doesn't strike out on this occasion either. He — along with Gillian Flynn — takes this tried and true Lifetime original movie setup and flips it on its head with twist after twist too crazy to divulge here. Sorry, you just have to trust me.
Fincher also does an excellent job assembling the perfect team of creative collaborators. Together all parties assist in miraculously creating an interesting on-screen vibe that fluctuates between storybook and nightmare. Jeff Cronenweth's (One Hour Photo) cinematography constantly places Nick and Amy away from one another, which only adds to their assumed alienation from each other. Also deserving some love are composers Trent Reznor and Atticus Ross's (Seven) hollow score that heightens the urgency of Amy's disappearance.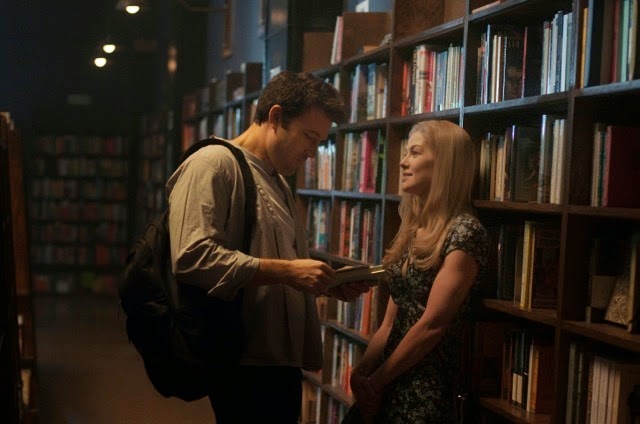 For a movie so entrenched in social scripts, it is important to bring together an impressive on screen cast as well. Fincher and company hit it out of the park again. Ben Affleck is perfect as the boyish womanizer with a proclivity for coming off poorly to the press and even worse to the police involved in the investigation. Although his character seems emotionally distant, the talented actor gives the audiences passing glimpses of the hurt and sorrow brooding deep in the character's soul.  
Affleck is great, but as I mentioned before, the real star of the show is Rosamund Pike. Best known for her days playing a Bond girl 12 years ago in "Die Another Day," Pike has somehow eluded celebrity status over the years.  Not anymore.  With her ghostly complexion and steely resolve, her Amy Dunne character is a ferocious on screen treat. In navigating Amy's unraveling marriage, Pike puts in a sly, stunning, and incredibly seductive performance.
As for the supporting cast, Neil Patrick Harris is a surprise hit as Desi, an old boyfriend of Amy's who also becomes a prime suspect in the disappearance case. Tyler Perry is equally well-cast as a big time TV lawyer who takes on Nick's case.
Novelist turned screenwriter Gillian Flynn should be given the biggest commendation of all, however, for being able to translate her own material into a big screen success. For anyone that has read the book, the plot follows along the same trajectory in the movie version.
The author does, however, give the picture a much more sarcastic undertone. This black humor works for the most part, but occasionally feels awkward in comparison with the more thrilling moments.
Few directors make whodunits with the chilling complexity of David Fincher. The director loves dark fantasies and Flynn has given him a whopper of a tale. Halloween might be a few weeks away, but every man in America will be having nightmares about Amy Dunne (Rosamund Pike) for quite some time.
By David Morris
Rated R for a scene of bloody violence, some strong sexual content/nudity, and language
Running Time: 145 minutes