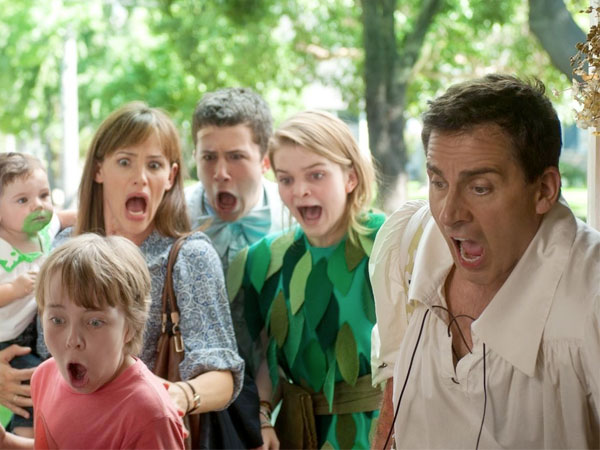 How do you make a family film that parents will enjoy as much as their children? If the content is too immature, you run the risk of alienating the parents. If it's too adult-friendly, much of the material will fly over the kids' heads. Finding that delicate balance between demographics has helped some of the most popular family films endure after all these years, and it's a goal that is impressively achieved in "Alexander and the Terrible, Horrible, No Good, Very Bad Day," a live-action Disney film starring Steve Carell, Jennifer Garner, Kerris Dorsey, Dylan Minnette and Ed Oxenbould. Based on Judith Viorst's classic children's book from 1972, "Alexander" revolves around the misadventures of eleven year-old Alexander Cooper (Ed Oxenbould), an adorable kid with a love of all things Australian, who finds himself inextricably stuck in the worst day of his life.
Alexander's terrible day starts off with gum in his hair and only gets worse when he gets to school and learns that his birthday party staged for that evening is being overshadowed by that of his rival classmate.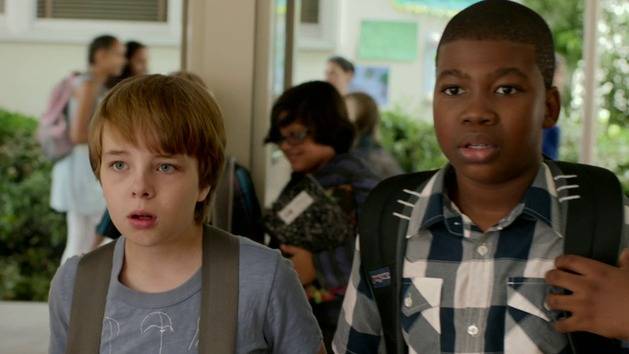 It soon becomes clear that Alexander's day is cursed and anyone in his orbit better proceed with caution. While the original story focused exclusively on Alexander's bad day, in order to expand the 32-page picture book to feature length, screenwriter Rob Lieber found it essential for the rest of the Cooper family to experience some misery of their own. This includes Alexander's dad (Steve Carell) forced to take his misbehaving baby to an important job interview; his breadwinner mom (Jennifer Garner) grappling with a full-fledged PR disaster at work; his under-the-weather older sister (Kerris Dorsey) realizing too late the perils of chugging an entire bottle of cough syrup before performing in "Peter Pan;" and his older brother (Dylan Minnette) struggling with a driver's test, a high-maintenance girlfriend, and a monstrous zit, all on prom night.
Director Miguel Arteta discovered that having such a steady stream of chaos on-set was surprisingly beneficial. "Usually, mayhem and chaos is something that is there naturally on a film set," Arteta suggested. "In this case, it was very helpful to have that around. We were thriving on it for the purpose of the story. We had babies, kids, animals, car accidents, fires – we wanted to create this big hectic thing." Despite the overdose of mayhem, "Alexander" remains emotionally grounded, which Cooper family patriarch Steve Carell attributes to the specificity that the director brings to all his projects ("Cedar Rapids," "The Good Girl"). "I worked with Miguel on "The Office" and thought he was a great director for it," Carell said. "He had a handle on the characters and the comedy of it, but also the subtleties within the interpersonal relationships.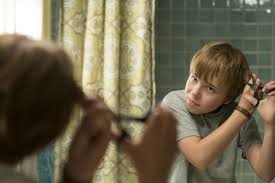 To translate that to this kind of movie I thought was a really good move on Disney's part. It could've very easily just been straight down the middle, completely broad and nothing else. I think he was able to find a very human quality to it."
Both the director and screenwriter found inspiration in the films of their youth, namely the work of John Hughes. "I looked at "Sixteen Candles" quite a bit," Arteta said, "especially for the emotional weight of it. It's the ultimate movie about parents forgetting your birthday. I just like the warmth of those movies. I wanted it to be really funny and also have that heart. Those movies feel more authentic." To strike that authentic note he was after, Arteta underwent a mind-boggling 500 person casting session in order to find the right child actor to play Alexander. As for what he was looking for in his ideal Alexander, Arteta explained, "I wanted to find a kid that had the ability to be very happy for other people and generous of heart. At that age it's not easy to think of anything but yourself. This is a movie about discovering your family again and learning to love them and help them through bad days, so we really needed someone who had those qualities."
When asked how she deals with her own children's bad days, Jennifer Garner conceded that it's a necessary part of growing up. "Your kids need to be allowed to have a bad day," she said, "and you need to show them that it's okay to have a whole range of emotions – rage, anger, sadness – so there's a lot of room for joy and happiness as well. This is a film that will make families feel more like a family and remind you that, whatever happens, you're all going through it together." If you're in the market for a feel-good family film with plenty of laughs and about as much controlled chaos as you could possibly squeeze into 81 minutes, "Alexander and the Terrible, Horrible, No Good, Very Bad Day" is a sure thing.
By Lucas Mirabella
Rated PG for rude humor including some reckless behavior and language. Running Time: 81 minutes.