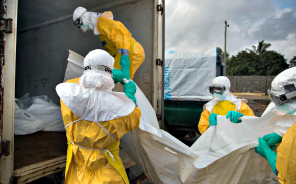 Here come the big corporate donations. After Facebook CEO Mark Zuckerberg announced a $25 million donation to Ebola research, Microsoft co-founder Paul G. Allen ups the ante, giving $100 million to the cause. According to his personal website, Allen is also calling on the global community to join the cause. Allen is leading the following initiatives:
Funding the development and manufacture of two medevac containment units, which the U.S. State Department will use to safely evacuate medical professionals from West Africa. In addition, Allen has partnered with the World Health Organization to increase its capacity to coordinate the logistics required to transport international aid workers.
The Microsoft co-founder has established the Ebola Medevac Fund, designed to address the gap between what insurance will cover and the actual transport costs. The $2.5 million fund is designed as a dollar to dollar matching grant with the Paul G. Allen Family Foundation.  
Allen is donating to UMMS to help provide training, medical workers and lab equipment for relief efforts in Liberia. The partnership with UMMS will focus on providing decontamination and lab equipment to district hospitals as well as community outreach and education to provide monitoring and support to staff in order to reopen closed district hospitals.
Allen also has created a way for individuals to contribute to specific organizations and fund critical response needs through TackleEbola.com. The donation platform is designed to coordinate and optimize individual global giving.
Donations of all sizes will go to funding the solutions required to treat, contain and prevent the spread of Ebola. Donors will be able to select the need that they are most interested in funding and 100 percent of that contribution will be applied to that need. The site also offers a way for donors to view the impact of their combined contributions with updates on progress towards goals.
"The Ebola virus is unlike any health crisis we have ever experienced and needs a response unlike anything we have ever seen," Allen said.  "To effectively contain this outbreak and prevent it from becoming a global epidemic, we must pool our efforts to raise the funds, coordinate the resources and develop the creative solutions needed to combat this problem. I am committed to doing my part in tackling this crisis."
Source: http://www.paulallen.com