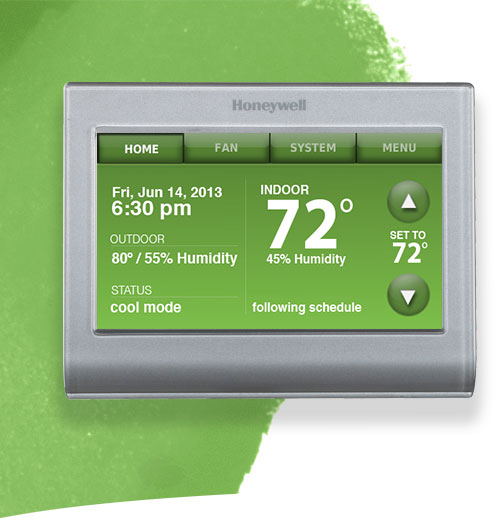 Photo: honeywell.com
Honeywell and power provider Constellation introduced an energy-saving service plan available to millions of homeowners and small businesses across 23 states. By enrolling in the plan to meet their gas and electricity needs, customers can lock in competitive prices and receive up to a $200 gift card from Constellation for buying any Honeywell Wi-Fi thermostat, including the new Lyric. These modern, app-driven thermostats provide comfort, convenience and an opportunity to reduce energy consumption every day through easy programming and remote connectivity.
Customers can get the Wi-Fi devices at low or no cost with a gift card — $100 for home electricity service, $100 for gas service or $200 for both. The offer doubles for small businesses. Plus, a six-month or longer service agreement with Constellation, one of the leading energy suppliers, provides affordable, fixed rates and protection from price volatility. "Competitive rates, stability and energy management provide an excellent value for consumers and businesses," said Bruce Stewart, senior vice president and chief marketing officer for Constellation. "Honeywell and Constellation are offering great customer service and technology, and that means value without having to sacrifice quality or comfort."
Constellation customers can choose from a variety of Honeywell Wi-Fi connected thermostats available online and in retail stores, as well as through local contractors. Retail products include the Honeywell Lyric Thermostat (MSRP: $279); the Wi-Fi Smart Thermostat (MSRP: $249); the Wi-Fi 7-Day Programmable Touchscreen Thermostat (MSRP: $149) and the Wi-Fi 7-Day Programmable Thermostat (MSRP: $119). These devices can be set and managed from virtually any computer, tablet or smartphone using Total Connect Comfort, the top-rated thermostat app on iTunes and Google Play, or the Lyric app.
For additional detail on the Constellation plan and to verify eligibility, residential customers can visit www.constellationaffinity.com/HONB. Small business owners should call 855-544-3827.