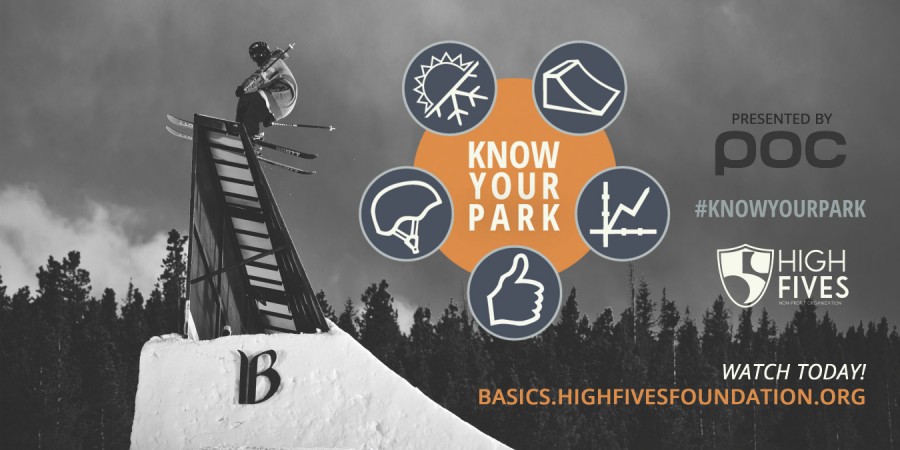 The High Fives Foundation announced the release of the fourth installation of their B.A.S.I.C.S. Program Service in a documentary titled, "#KnowYourPark." The film is available online paralleling the world premiere cinematic event in Truckee, Calif.
#KnowYourPark is a public service announcement, filmed and edited in a ski documentary format to educate snow sport athletes of all ages about the inherent risks and rewards of skiing and riding within the terrain park. Five core values will be presented in the film. They include:
Know Your Protection
Know Your Conditions
Know Your Terrain Park Features
Know Your Ability
Know Your Etiquette.
These core values are the building blocks that educate athletes and pro­­­mote smart decision-making to prevent unnecessary injuries.
The film accentuates each of the core values with help from a cast of 12 world-class skiers and snowboarders including: Winter X-Games Gold Medalist Freeskier Nick Goepper, and US Snowboarding Team Member Toby Miller, side-by-side with 11 High Fives athletes. High Fives Athletes featured include snowboarder Cody Walker and pro freeskier Giray Dadali – both recovering from life-altering injuries sustained in the terrain park.
Roy Tuscany, High Fives Foundation Executive Director, said, "Our goal is simple: promoting terrain park safety and smart decision-making demonstrated by the five core values shown in the film."
The B.A.S.I.C.S. Program Service of the High Fives Foundation stands for Being Safe & Aware In Critical Situations. It is designed to promote safety and awareness through world-class fundamentals coaching, education, and video presentations to winter action sports enthusiasts.
Since its creation in 2012, B.A.S.I.C.S. has developed four safety awareness documentaries covering the "Five Critical Mistakes" made by skiers, "Avalanche Awareness," "Helmet Safety," and now presenting "Terrain Park Safety." To date these documentaries have reached more than 70,500 individuals through live presentations and online views.
To watch all of the B.A.S.I.C.S. Safety Documentaries and other films produced by the High Fives Foundation, visit the High Fives Vimeo page: http://vimeo.com/hi5sfoundation.