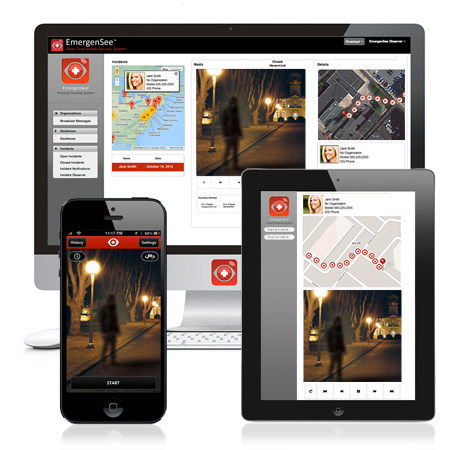 EmergenSee, a personal security app, to rival 911, will be appearing on ABC's Shark Tank, Friday, October 24th at 9 PM.  Founder, Phil Reitnour will present his company EmergenSee, a high tech Personal Security System that transforms your smartphone into a personal safety device.
Phil Reitnour, the entrepreneur behind the EmergenSee App, will be demonstrating all the built-in emergency features. The free version of EmergenSee enables users to stream live video and GPS data to designated friends and family, who can follow the events in real-time, while alerting the proper authorities, if necessary. "The Free EmergenSee App also has an option to include a monitoring service on-call 24 hours a day for only $8.99/ month.
Your Family or Friends may not be in a position to immediately respond to an emergency, especially in the middle of the night. But knowing a Professional Emergency Trained Monitor will instantly be watching in real time and notify the proper authorities of your exact location, seems like a very reasonable price for this added security,"  as stated by Shark Tank Success.
"Another feature is the timer which people can use if they're going out alone. When activated, the app starts a timer that requires the user to notify the app again when they arrive; if they don't an alert is sent out. The app has three patents associated with it as well," states Rob Merlino, Shark Tank Blog writer.
"The live video feature of the app has drawn a lot of national attention to the app," adds Rob Merlino. "The video log is always saved, even if the phone is destroyed, meaning that in cases of assault, the footage can be used as evidence."