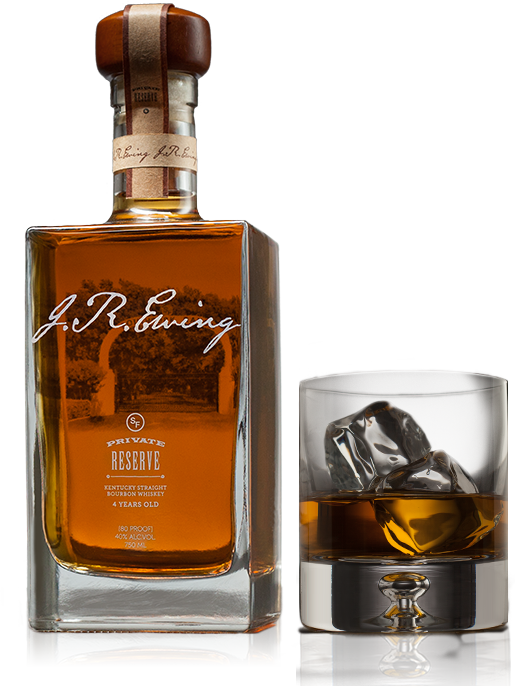 When you hear the name, J. R. Ewing, it conjures up images of the late Larry Hagman as the title character in the nightly soap opera, "Dallas." His namesake bourbon, "J. R. Ewing Private Reserve," is a Kentucky straight bourbon whiskey launched just this year. Distilled in Kentucky, each batch is aged 4 years in charred, American oak barrels, with the finished bourbon being presented in a clean, classic, and luxurious package, as rich as the Ewing fortune.
When you crack open the bottle, you are taken back to the days of the Rat Pack — Dean Martin, Sammy Davis, Jr., and Frank Sinatra — furs, steaks, cigarettes, Hitchcock blondes… and, of course, the shenanigans of Danny Ocean and the gang in "Oceans 11." Who wouldn't want to belly up to the bar and grab a seat between "Old Blue Eyes" and Dino? I can just picture telling a Vegas bartender at the Sands, "Bring me a J.R. on the rocks with a water…", and then kicking back with Frank, Dean and Sammy.
For a bourbon that is only 4 years old and 80 proof, this whiskey is remarkably mild, with no burn and a light spicy taste and surprising honey softness. As you swirl the liquor around the tip of your tongue, you can also pick up a vanilla and orange sweetness, softened with hints of nougat, almonds and oak. Exceptionally smooth and elegant when sipped over ice, J.R. Ewing Private Reserve will bring a touch of Rat Pack coolness to any whiskey connoisseur.
J.R. Ewing Private Reserve Kentucky Straight Bourbon Whiskey, initially distributed in the Lone Star State, is now expanding nationwide. It retails for approximately $35/750ML.
By Deborah Bauer