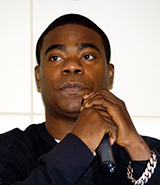 In June, "Saturday Night Live"and "30 Rock" star Tracy Morgan was airlifted to a hospital in New Brunswick, New Jersey after being seriously injured when his limousine was struck from behind by a Wal-Mart truck. Morgan suffered from leg and rib injuries. James McNair was killed and several others were injured.
Over four months later, Brooke Buchanan, a spokeswoman for Wal-Mart Stores Inc. issued a statement Tuesday saying the company filed the response as legally required "that included facts and defenses that may impact the case moving forward." This means that Wal-Mart is not taking full responsibility for the accident. 
The Georgian truck driver, Kevin Roper pleaded not guilty to death by auto and assault by auto charges in a New Jersey court. Roper was recorded driving at 65 m.p.h. at the time of the accident. Due to construction, the 55 m.p.h. speed limit was lowered to 45 m.p.h. 
In a statement released by Morgan's publicist, the comedian said, "I can't believe Walmart is blaming me for an accident that they caused. My friends and I were doing nothing wrong." 
Although Walmart said the following in June: "We are profoundly sorry that one of our trucks was involved. If it's determined that our truck caused the accident, Walmart will take full responsibility;" they have turned the tables with a defense.

Photo: http://www.tracymorgan.net