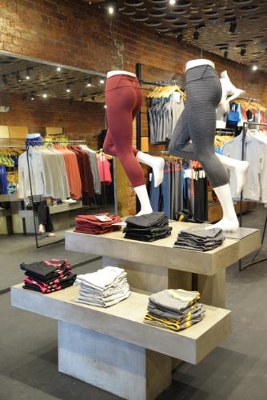 YOGASMOGA®, the designer, manufacturer and retailer of Yoga inspired athletic apparel and accessories is opening their Townhouse on Greenwich Avenue, which will be the brand's first retail location. The Townhouse will host an official launch party on Wednesday, September 17th.
"Greenwich CT is a very discerning audience and we are excited that the Greenwich community has welcomed us with open arms. To see our line of apparel on women and men from the yoga mat to the gym, in line at the grocery store or wherever life takes them is thrilling" said YOGASMOGA Founder and CEO Rishi Bali. "The shoppers on Greenwich Avenue have an excellent eye for quality, function and fashion and we are looking forward to suiting their fitness and lifestyle needs."
YOGASMOGA partnered with John Beckmann of architecture and interior design firm Axis Mundi to create a unique experiential retail space.  John noted, "We worked with YOGASMOGA to completely transform the Townhouse space, which was the original Greenwich Firehouse with the use of beautiful design and raw, natural materials." 
Following the opening of their first level, the second level of the Townhouse will soon be completed offering a special community space for yoga, wellness and community. Greenwich realtor Amie Claps commented "It's heartwarming to see a company go over and beyond to create such a wonderful experience for consumers. Having worked in retail on the avenue, creating a warm and modern space is just what the avenue needs." Plans are also underway for a second retail location in Brentwood, California.
Founders and siblings Rishi and Tapasya Bali have an authentic and passionate connection to yoga having grown up in the Himalayan region of India.  After busy careers on Wall Street they have found true joy and balance by combining their business sensibility with the principles, spirit and practice of yoga to create the YOGASMOGA lifestyle brand. "We could have opened a store in New York City, which is where we are headquartered but we specifically chose Greenwich CT as we want to be close to our core audience.  The YOGASMOGA Townhouse with over 4,500 square feet gives us the ability to open both a retail store and a community lounge," said Rishi Bali, the Founder and CEO.
"We've meticulously designed every aspect of YOGASMOGA to embody the soul of yoga – from the top quality fabrics, innovative colors and designs, product technology, store design and our NAMASKAR  foundation of giving," commented Tapasya Bali, Founder and COO. "The name YOGASMOGA is a nod to our Indian culture where it's common to rhyme words.  YOGA is the genesis of our company and SMOGA refers to "things that go with YOGA" since we hope to bring a little more than just yoga into our consumers active lives."
Yoga apparel is up 45%, according to Matt Powell, an analyst for SportsOneSource, a sporting-goods industry tracker, and the growth of athletic and leisure apparel coined "Athleisure" is changing the fashion-fitness landscape.  Rishi commented on this phenomenon saying, "we had a belief back in 2010 that authenticity and a new level of emotional connection to yoga apparel would be in demand.  The growth in "Athleisure" proves that our work in developing the best fabric technologies is being appreciated by the consumer.  We are confident and excited to be a major player in this segment."