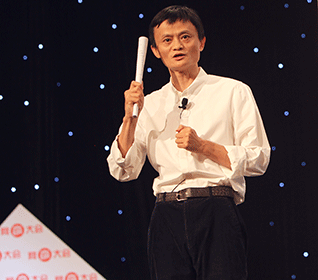 Photo: Jack Ma, Alibaba Chairman
According to the Wall Street Journal, Alibaba is China's, and by some measures, the world's biggest online commerce company. That's right. Amazon may have been the first name to come to mind, but tomorrow Alibaba could take its place. 
The online company will go public on Wall Street and is expected to be one of the most valuable tech companies currently running. On Monday, the WSJ reported that Alibaba is expected to price its IPO on Thursday and start trading publicly in the U.S. market on Friday.
The company raised its pricing range to $66-$68 versus $60-$66 due to strong demand. The tech co.hosts three  main sites: Taobao, Tmall and Alibaba.com. Each has hundreds of millions of users, and host millions of merchants and businesses. Alibaba handles more business than any other e-commerce company
Jack Ma is Alibaba's leading founder and, since May 2013, has served as the executive chairman.
Jack currently serves on the board of SoftBank Corp., one of the company's ma major shareholders and a Japanese corporation listed on the Tokyo Stock Exchange. He is also a director of Huayi Brothers Media Corporation, an entertainment group in China listed on The Shenzhen Stock Exchange, as well as chair of The Nature Conservancy's China board of directors and a director of its global board of directors. In September 2013, he joined the Breakthrough Prize in Life Sciences Foundation as a director.
Check back for the Wall Street updates.