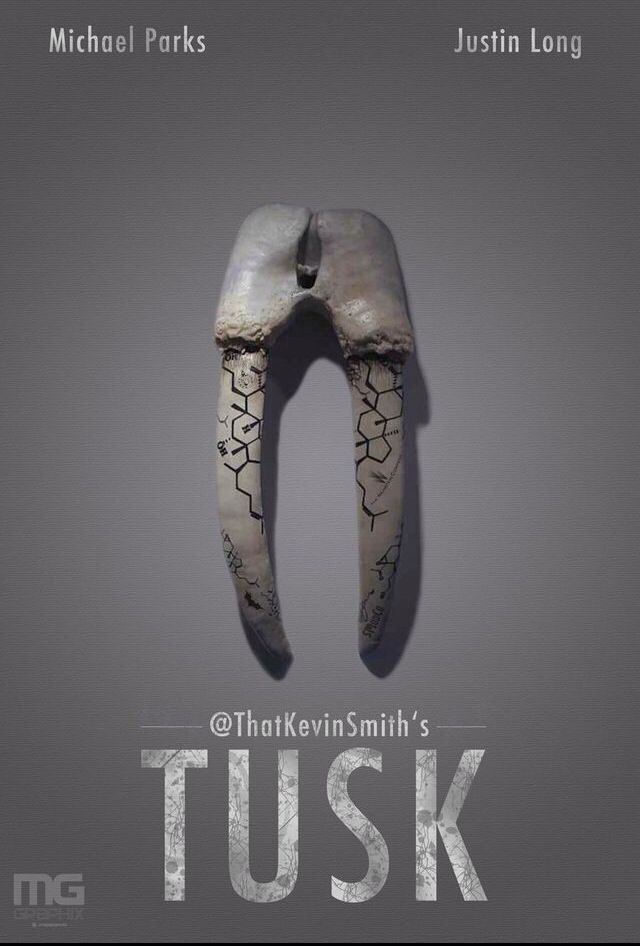 Few films have a stranger origin story than Kevin Smith's latest horror pic, "Tusk." It began with a discussion between Smith and producing partner Scott Mosier during a taping of their popular weekly podcast. The subject of the discussion was an ad posted on Gumtree, the British equivalent of Craigslist, where someone was offering free lodging, with one very peculiar caveat: the tenant must dress like a walrus. Inspired by this insane ad, the duo proceeded to riff on the topic, and somewhere along the way realized it would make for a fascinating film. The result of this bizarre undertaking is a kind of comedy-horror fantasia that is truly something to behold.  
"Tusk" tells the story of Wallace (Justin Long), who, along with Teddy (Haley Joel Osment), hosts the popular Los Angeles based podcast, The Not See Party. For their latest installment, Wallace travels to Canada to interview a YouTube star named The Kill Bill Kid. As soon as Wallace touches down north of the border, the interview falls through and he finds himself in Manitoba in search of a backup story. But when he stumbles upon an ad for free lodging at the home a well-journeyed seafarer with stories to share, Wallace jumps at what seems like podcaster gold. 
Upon arriving at the remote estate, Wallace shares a pleasant discussion over tea with the handicapped mariner, Howard Howe (Michael Parks), during which one thing is made abundantly clear: Howe has a strange obsession with walruses. Unfortunately, the nice old man act is all a ruse; Howe's actually a serial killer who laced Wallace's tea with sedatives. When Wallace awakens from his drug-induced stupor, he's one limb shorter and in the hands of a madman who has his sights set on transforming him into a walrus. As Howe's freak experiment nears completion, Teddy and Wallace's girlfriend (Genesis Rodriguez) head north to investigate his disappearance. Along the way, they team up with eccentric ex-cop Guy Lapointe (an unrecognizable Johnny Depp) who's been on the serial killer's trail for years.
Sporting a wicked mustache and no shortage of arrogance, Justin Long is at his snarky best as the wisecracking Wallace whose poor life decisions have landed him in quite a predicament. As cohost Teddy, Haley Joel Osment ("The Sixth Sense") capitalizes on his limited screen time, proving that his transition to more mature roles will be an easy one. In the film's standout role, Michael Parks is superb as the maniacal, cartoonishly creepy Howard Howe. If the premise seems too absurd to produce legitimate frights, Park's spine-tingling performance will alleviate those concerns, so fully does he commit to the walrus-loving psychopath. Finally, as Guy Lapointe, Johnny Depp is downright hilarious; it's hands-down his most enjoyable performance in years.
Best known for his films set in the New Jersey-based View Askewniverse ("Clerks,"  "Mallrats"), Smith has heretofore been defined by his stoner comedies and knack for witty dialogue. And while "Tusk" is awash with Smith's unique brand of humor, his deft handling of the genre mash-up and its abrupt tonal shifts mark a definite step forward for him as a filmmaker. Watching "Tusk," it becomes clear that Smith's visual language has also expanded exponentially, as his previous films have taken a critical lashing for their lack of flair. With two more films planned in his True North trilogy, "Tusk" being the first, it will be interesting to see how Smith outdoes this incendiary installment.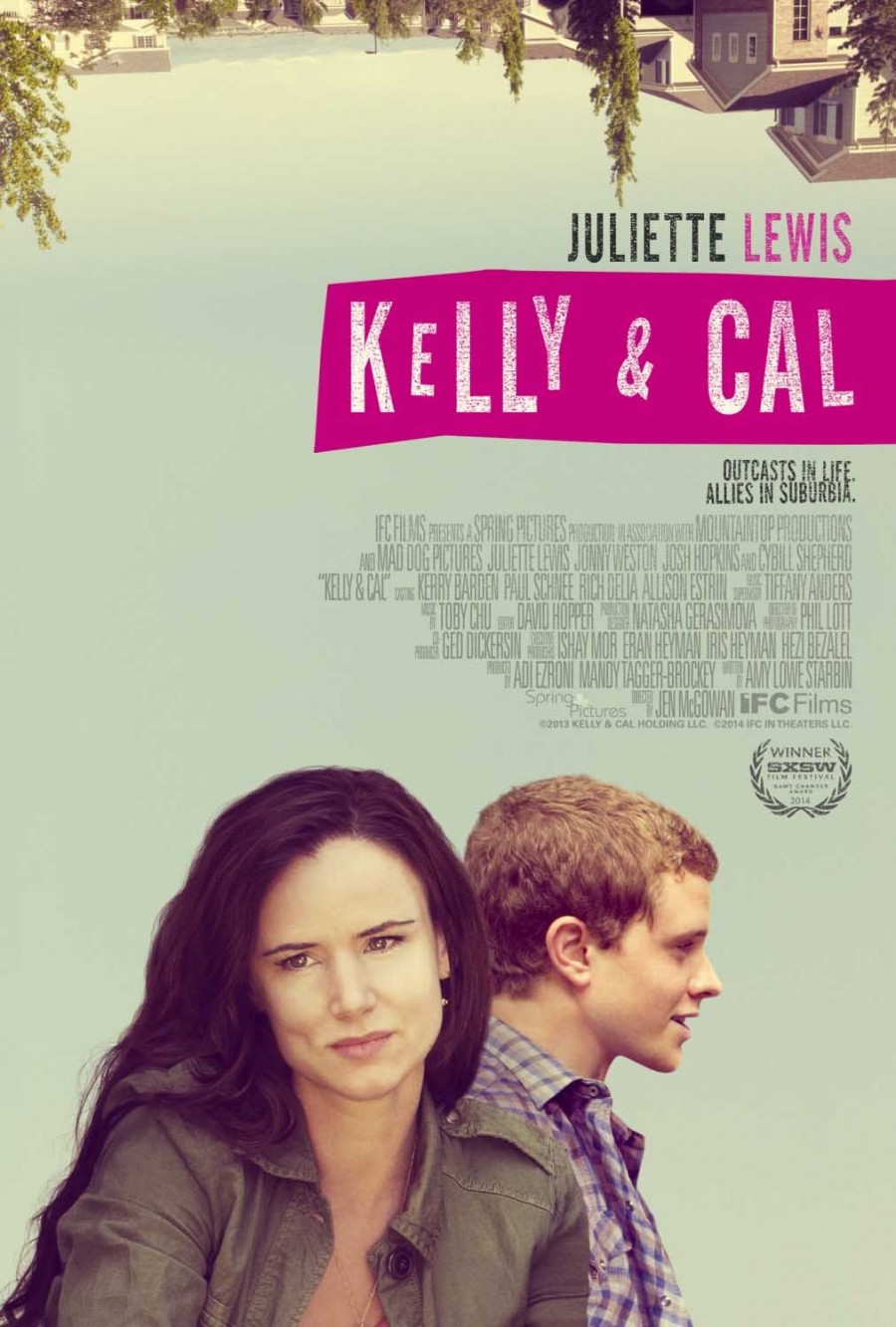 Another of this week's specialty releases worth checking out is "Kelly & Cal," a coming-of-age drama starring Juliette Lewis, Jonny Weston, Cybil Shepherd and Josh Hopkins.
Set in the Los Angeles suburb of Glendora, "Kelly & Cal" focuses on Juliette Lewis' title character, a thirtysomething punk rocker turned housewife struggling to adjust to domestic life with her ad exec husband (Josh Hopkins) and newborn baby. Unable to connect with the Stepford wives of her community, Kelly instead strikes up an unlikely friendship with Cal (Jonny Weston), her handicapped seventeen year-old neighbor.
Compared to the mechanical mothers that surround her, Kelly considers Cal a breath of fresh air, the first "real person" she's met since moving to her neighborhood. Initially put off by his crass humor and occasional come-ons, it doesn't take long to realize they're kindred spirits. However, as one might expect from a burgeoning friendship between an oversexed teenager and a pretty housewife, things quickly grow complicated, with more than one occasion where the pair push the limits of appropriateness.
With a wonderfully subtle screenplay by newcomer Amy Lowe Starbin and sensitive direction by Jen McGowan – also her debut – "Kelly & Cal" is the kind of compassionate character study that is sadly too often relegated to the stockpile of offerings on Netflix, which is a shame indeed considering the quality of the material at hand. Although the premise might seem a little simplistic, the film's singular focus on the character dynamics keeps the storyline always fresh and engaging.
More than anything, "Kelly & Cal" serves as a showcase for the seemingly limitless talents of the criminally underused Juliette Lewis, who is indispensable here in one of her juiciest roles in recent memory. Also putting in stellar work as Cal is Jonny Weston, who you may remember as Gerard Butler's protégé in "Chasing Mavericks." I wasn't convinced of Weston's acting chops when I saw that film, but here his talents are undeniable, lending dramatic credibility to the whirlwind of emotions that accompanies his character's crippling injury. Other notable performances include Josh Hopkins as Lewis' business-minded husband, and Cybil Shepherd as the overbearing mother-in-law.  
Strong word-of-mouth will hopefully help this little gem of a picture find the audience it deserves in theaters and on VOD.
http://www.ifcfilms.com/films/kelly-cal
By Lucas Mirabella