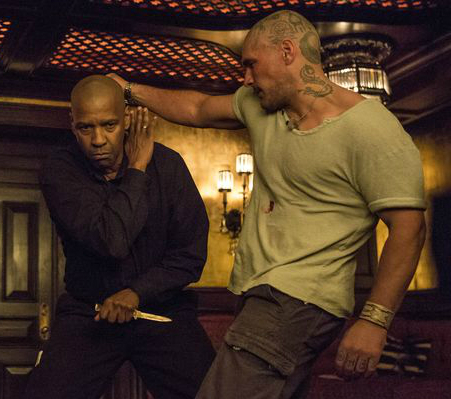 It has been over a decade since Denzel Washington solidified his mark in Hollywood with his Oscar winning performance as corrupt cop Alonzo Harris in 2001's "Training Day." This Friday, the leading man goes back to the well with the same director that helped him achieve his mark in Tinsel Town — Antoine Fuqua — for a reboot of the 1980s TV series "The Equalizer." Violent, gritty, and entertaining as hell, there's no question Fuqua brings out the bloody best in Washington. "The Equalizer" is a fast-paced rollercoaster ride that will thrill both devoted fans of the show and new ones alike. 
Not following in the direct footsteps of original star Edward Woodward's cult series, Fuqua and Washington make it glaringly obvious that this isn't a simple reboot. Adopting the title and certain character names only, the duo's brutal creation is 100% their own. Screenwriter Richard Wenk, who penned the Bruce Willis cop flick "16 Blocks," was also given full reign to redefine the titular character for a millennial generation.
Despite the notion that Russell Crowe was originally considered for the role, the film opens with Washington playing the film's hero Robert McCall. On most days, Robert wakes up in the morning and goes to work in a Home Depot style hardware store. Work. Sleep. Eat. Repeat. That's his routine. Even on his nights off, the middle-aged man doesn't like to mix things up much.  He typically heads to the local diner for his obsessive-compulsive habit of a cup of hot tea and some peace and quiet to read.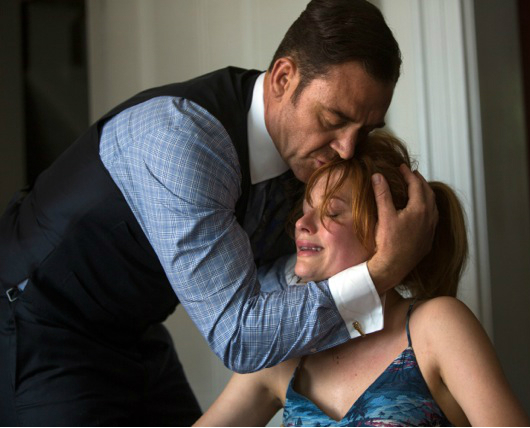 This clandestine lifestyle is flipped on its head, however, after he comes across a teenage Russian prostitute, Teri (Chloë Grace Moretz), and strikes up a friendship with her.  This Father/Daughter type relationship is taken even further after McCall attempts to buy the girl's freedom after an unsatisfied customer roughs her up. When kind words and an almost $10,000 peace offering don't work out, the normally boring McCall doesn't hesitate to turn into the most ferocious killer of all time. He easily kills her employer and his cronies, subsequently sending half the Russian mafia after him, led by the ruthless Teddy (Marton Csokas). What follows is a relentless cat-and-mouse game, between McCall and his pursuers, which generates enough violence to keep the fake blood companies in business for at least the next couple of months.
Look. I know what you're thinking. How can a soon to be retired Home Depot employee suddenly turn into a cold-blooded killer? Ridiculous right? Luckily Washington's, cool, calm and collected on-screen presence is so believable, it turns out to be incredibly easy to go along with McCall's shady governmental agency background that is never really explained in the script. After throwing common sense out the window, I didn't care that Washington was twice as old as any of the people he was killing. I just wanted to see more carnage!
Washington is excellent, and so is Marton Csokas who does an outstanding job doing what he does best — playing terrifying bad guys. He did it in the "Bourne Supremacy." He did it in "XXX." And now he lends his skin-crawlingly awesome villainous prowess to McCall's central adversary Teddy.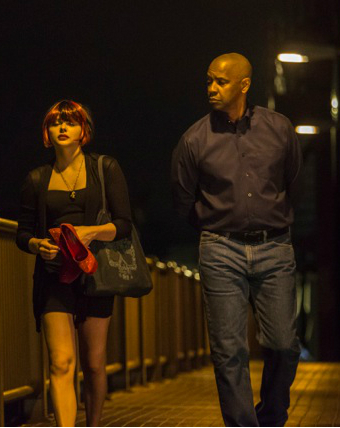 On the downside, it would have been nice to see more than just a bookend performance from "Kick-Ass" star Chloë Grace Moretz. She really only comes into the picture at the beginning and the end of the film. Nonetheless, she is well cast as the teenaged prostitute and definitely has a distinct knack for humanizing otherwise unsavory characters.
Rounding out the cast is Bill Pullman and Melissa Leo, who play a married couple with previous ties to McCall. The two settle for small roles without virtually any substance, but it's always nice to see familiar faces — no matter how fleeting — on the big screen.
After a fairly lengthy introduction to McCall's ordinary life, Fuqua is relentless once our hero decides to leave his sedentary lifestyle behind and start kicking some ass. While this type of ridiculous, over the top storytelling might not win Washington another Oscar, it sure is a lot of fun to watch. 
In the end, Fuqua and Washington prove that lightning can strike twice — in movie theaters of all places — because "The Equalizer" is definitely a reboot worth the ticket price.
By David Morris
Rated R for strong bloody violence and language throughout, including some sexual references. Running Time: 131 minutes