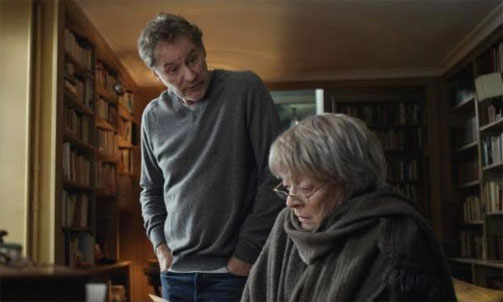 Kevin Kline has been a busy man as of late. Just weeks after portraying notorious Hollywood playboy Errol Flynn in "The Last Of Robin Hood," he is back on the big screen alongside Dame Maggie Smith in "My Old Lady," a romantic drama that marks the directorial debut of celebrated playwright Israel Horovitz.
Adapting his own hit play for the big screen, Horovitz masterfully blends humor, romance and family drama into an intellectually stimulating film that subtly gains depth as the story progresses. Boasting stellar performances from Academy Award winning actors at the top of their game, astute direction from the first-time filmmaker, and a genuinely intriguing premise revolving around an unfamiliar concept to most non-French audiences, "My Old Lady" should play well to intellectually minded moviegoers of a certain age.
The movie begins with Matthias Gold (Kevin Kline), a troubled, money-starved New Yorker, arriving in Paris to inspect the Parisian apartment he inherited from his estranged father. Selling this idyllic estate would put Matthias' economic troubles aside, and based on the pep in his step as he strolls the streets of Paris, a bright future appears to be on the horizon.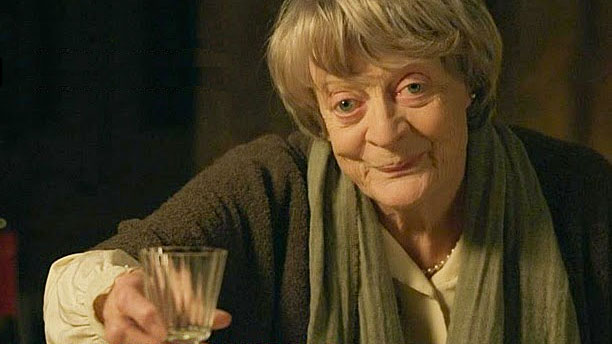 However, to his surprise, when he comes upon the apartment, he finds a 92 year-old woman named Mathilde (Maggie Smith) already occupying the property.
After a pleasant albeit awkward introduction, Mathilde informs Matthias that, in fact, the apartment is what's known as a viager – "an ancient French real estate system with complex rules pertaining to its resale." Due to these ancient rules, Mathilde and her lovelorn daughter, Chloe (Kristin Scott Thomas), who have been living in the apartment for many years, not only can't be forced out; they can contractually collect monthly payments from Matthias until Mathilde dies. In other words, Matthias inherited a debt rather than an apartment, and now he's put in the tragicomic predicament of having to wait until Mathilde meets her maker in order to cash in.  
Penniless and without a place to stay, Matthias works out a living arrangement with Mathilde that will allow him to stay in the property for the time being, much to Chloe's chagrin. As the tension between Matthias and Chloe escalates, Matthias surreptitiously reaches out to a private real estate developer (Stephane Freiss) in hopes of finding a loophole that will allow him to sell the property.  Amidst the quarreling, Matthias and Chloe unexpectedly bond over similarly neglectful and abusive childhoods, and Mathilde reveals some life-altering secrets about her past that bring the trio together in a most unpredictable fashion.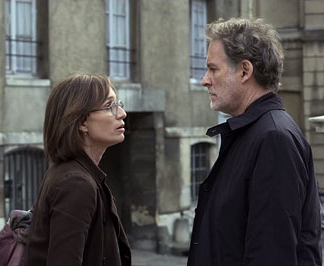 As a directorial debut, Horovitz proves to be a confident helmer, striking a gentle tonal balance between drama and wry humor. In terms of the screenplay, some story elements fall flat, particularly a subplot involving an affair between Chloe and a family man that feels like filler, and there's a slightness at times to the proceedings; but overall "My Old Lady" packs an emotional wallop and the humor remains steady. Horovitz's work with cinematographer Michel Amathieu ("Into The Storm") also enriches the experience, lovingly capturing Paris in all its picturesque beauty. 
Enlisting the services of the talented international cast was also a wise move on Horovitz's part. Playing the world-weary Matthias Gold, Kevin Kline proves that he hasn't lost a step. Equal parts funny, despicable and somber, the role runs the emotional gamut and Kline definitely rises to the occasion. Dame Maggie Smith is no slacker either. One might assume that an elderly actress playing an "old lady" would be a walk in the park, but the role is multidimensional and physically demanding and Smith positively nails it. As Mathilde's daughter, Kristin Scott Thomas transcends her slightly stock character, adding another impressive performance to her already formidable filmography. And considering it's the third time Scott Thomas has portrayed Maggie Smith's daughter on film (the previous two occasions were "Gosford Park" and "Keeping Mum"), it's a role that fits her quite snugly.
Despite its release at the onset of awards season, "My Old Lady" is unlikely to receive many accolades, but it's a quality drama with skillful performances and will likely be a hit with the older crowd.
By Lucas Mirabella
Running Time: 107 Minutes
Rated PG-13 for thematic material and some sexual references.