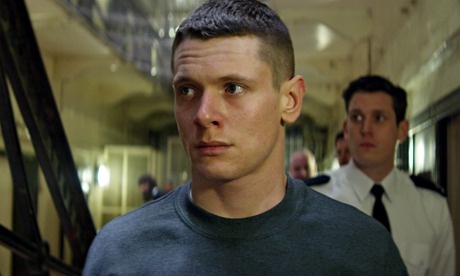 Before he makes his Hollywood debut as Olympian and WWII hero Louis Zamperini in Angelina Jolie's highly anticipated awards season drama, "Unbroken," audiences should acquaint themselves with British actor Jack O'Connell. Even though the aforementioned film will offer this promising young actor plenty of opportunities to captivate audiences, for confirmation of his immense talent, you need not look further than his ferocious performance in "Starred Up," an Irish prison drama costarring Ben Mendelsohn and Rupert Friend.
Written by former prison therapist Jonathan Asser and directed by UK filmmaker David Mackenzie ("Young Adam"), "Starred Up" is both brutally violent and emotionally complex, a gritty and unflinching look behind the bars of a British prison that peels back the stereotype of inmates as coldblooded thugs and exposes the humanity beneath the hardened façade. Presented with a commendable eye toward authenticity in every aspect of the filmmaking, and featuring dynamite acting from the mostly British cast, David McKenzie's eighth feature film marks his best work to date and will transfix audiences willing to take the plunge into this dangerous world.
Starred up is a term used in the British prison system that refers to the premature relocating of a teenager from a juvenile institution to an adult prison, and the film serves as a fictional case study of one such delinquent. 
Our subject is Eric Love (Jack O'Connell), an emotionally abused, extraordinarily violent nineteen year-old who has been in and out of institutions his entire life. We meet him on the day he becomes "starred up" and follow him through such routine activities as being strip searched, arranging his cell, exercising, and making a shiv out of a razorblade and a toothbrush. In a place this grim, one must prepare for the worst.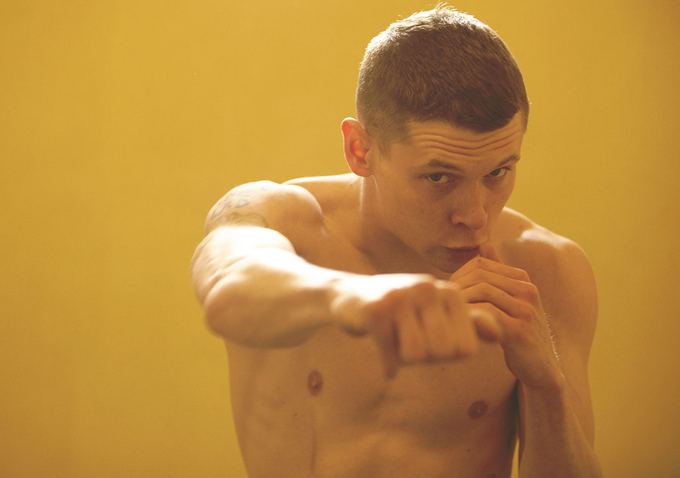 It doesn't take long for Eric's violent nature to come to the fore. Before his first day is even through, he makes an enemy out of a drug-dealing prison cook; pummels another inmate over a misunderstanding; gets in a crazy standoff with prison guards; and is thrown in segregation. Given the amount of bad blood Eric has already stirred up on both sides of the prison bars, retaliation seems inevitable; but since his father is Nev Love (Ben Mendelsohn), one of the most feared and respected inmates at the very same prison, he is offered a lifeline. Nev uses his clout to get Eric transferred back to general population, but under one condition: that he joins an anger management class led by an innovative therapist (Rupert Friend).
Initially resistant to the notion of rehabilitation, Eric makes considerable progress once he befriends the other classmates, who also serve as mentors. But when Nev sees the growing camaraderie between Eric and his classmates, it upsets him to no end, and before long it's unclear whether he's trying to help his son or sabotage his progress. Meanwhile, outside the classroom, fear of reprisals is a constant cause for concern, which adds a relentless tension to the proceedings.
Inspired by starkly realistic prison dramas like "A Man Escaped" and "Birdman of Alcatraz," director David McKenzie ("Young Adam") made some bold choices with this picture, such as shooting the film entirely in a former prison and in sequential order – a rare commodity in modern filmmaking. Working with cinematographer Michael McDonough ("Winter's Bone"), McKenzie favors long tracking shots that emphasize the lead character's perspective, creating intimacy by allowing audiences to experience this environment as he does, and the washed-out color palette adds to the setting's bleakness. Along with the stellar camera work, Jonathan Asser's authoritative script and Jake Roberts and Nick Emerson's indispensable editing perfectly capture the daily rhythms of prison life, allowing the drama to flow organically from the environment at hand.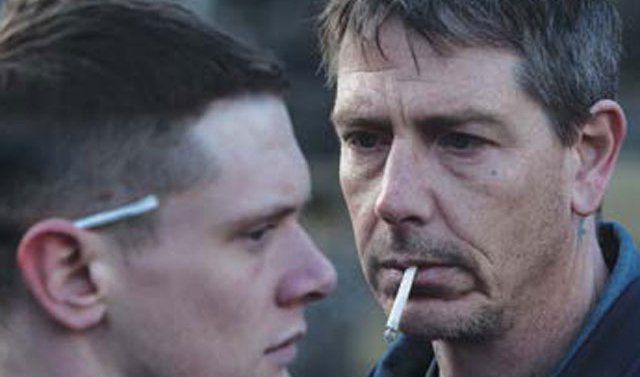 Best known for his work on the British teen drama "Skins" as well as a string of overseas films like "This Is England" and "Harry Brown," actor Jack O'Connell is nothing short of revelatory as the emotionally abused teenager at the story's center. When audiences see how fully he inhabits this role, they'll be amazed to learn that he wasn't pulled straight from a correctional facility. Nary a false note can be found in his star-making performance, and the same can pretty much be said for the film as a whole.
The supporting performances in "Starred Up" are also memorable, most notably Australian actor Ben Mendelsohn in the role of Eric's father. His character is a ticking time bomb, full of ambivalence over his status as an absentee father, and Mendelsohn's scenes simmer with unpredictability. It may be a little early in the season for awards predictions, but it's safe to assume his name will be in the conversation for Best Supporting Actor at the end of the year. And as the volunteer prison therapist whose privileged background belies anger issues of his own, Rupert Friend ("Homeland") gives a credibly restrained performance as well.
Adjusting your ears to the thick-as-stew British dialects featured in "Starred Up" admittedly takes some time, but if you embrace the challenge, the results are ultimately very rewarding.
By Lucas Mirabella
Running Time: 106 minutes
This Film Is Not Rated
http://tribecafilm.com/tribecafilm/filmguide/starred-up