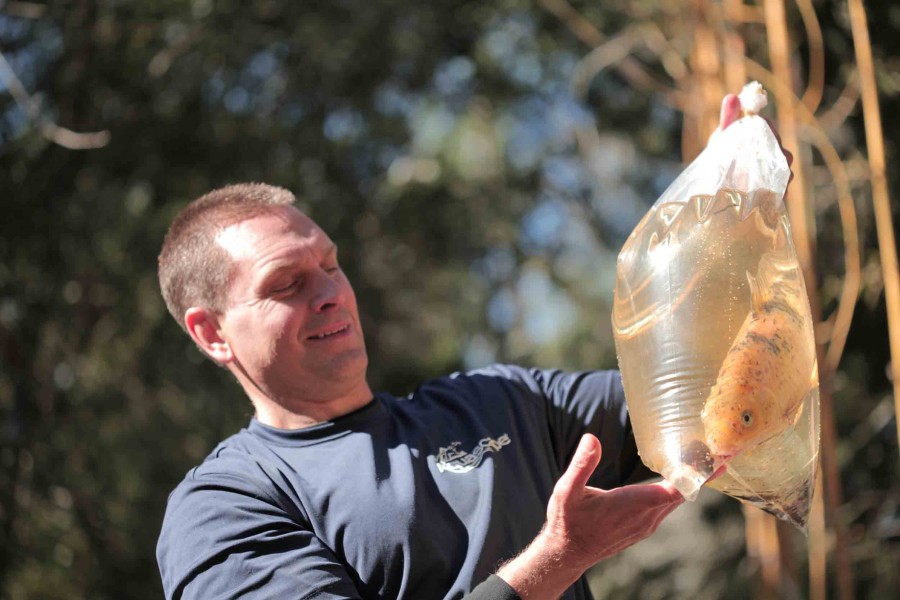 Photos: National Geographic
You won't find a bigger pond enthusiast than Chicago-based Greg Wittstock, owner of Aquascape. Greg and his team are the fresh faces of Nat Geo Wild's series, "Pond Stars," which premieres Tuesday September 9th at 10PM. For Greg, it's not just about making a pretty pond in someone's yard. It's about going back to basics and creating an ecosystem for wildlife to survive and a beautiful pond to flourish on its own natural foundation. The show follows the wild world of pond building as Greg and his team travel across the country to construct some of the most unique pond worlds you've ever seen!
The first job is for an environmental center, creating a pond specifically for rescued turtles. The turtle pond will be used as an outdoor classroom for an upcoming kids camp, IF the team can finish in time. The second project is for the birds, literally. Greg and his guys build a 35-foot waterfall and 600-gallon, underground reservoir that will have wildlife flocking to this suburban backyard.
LATF learned a lot from Greg. If we ever have an office with a yard, believe us, we'll be calling Greg. Let's take a look at how he became a pond expert and where the show will go!
How did "Pond Stars" come to be? Were you discovered?
GW: A production company out of LA was looking for aquatic plants for her pond and she saw our Youtube Channel, watched a video and said, "Wow, these guys are interesting." She approached us and we had been approached multiple times throughout the years. Animal Planet had originally picked up the show and then passed on the show and ended up going with this guy named "Pool Master." It was a three year journey to get to Nat Geo Wild. On my show, I'm just one of the characters. We are much more about the process. We talk about the animals, wildlife and nature. Our show is really about reestablishing nature in people's yards. Ours is more educational, whereas "Pool Master" is more project based, which we are as well.
What is your background?
I got a degree from Ohio State University in Interpersonal Communications, which was the least amount of math. So nothing to do with what I do now! I was a hobbyist when I was twelve years old. I built my own turtle pond at that time. I lived on a lake when I was a kid. This was a time before video games. I spent all of my time catching turtles and playing sports. When we moved to New Jersey, my Dad promised I could take eleven of my pet turtles with me. The second day I was there, I dug a hole to make a pond for them to live in. I went to the library and found all of the books on how to care for them, which at that time were from Europe and England. They said to make a concrete pond. Unfortunately, my turtles migrated away.
How would you title your profession?
I was a hobbyist that MacGyver'd up and built up my filter systems. My backyard became my classroom. People would come in my yard and say, "This is so beautiful. I want one of these." So I thought to myself, "This could be a business." When I was 21 years-old, I started my business to build ponds in Chicago.
Now you have experts to help you.
Yes, a team. Ed is the scientist on the show. When it comes to the animals, we all know that stuff because it's been self taught.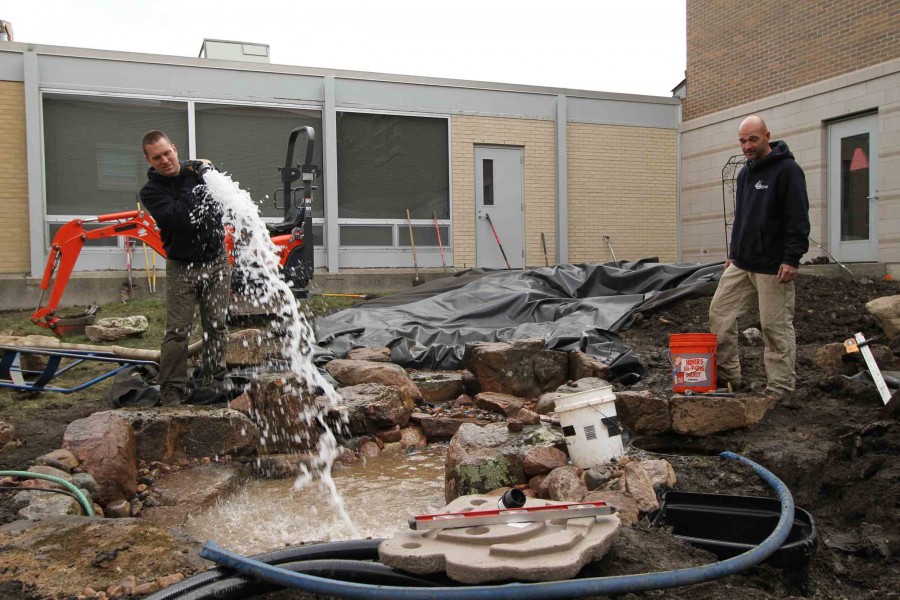 It seems important to your team that it's, not only beautiful, but it protects the animals, nature, etc.
We want to attract nature back into people's environments. The urbanization of society and lawns… lawns are the least valuable resource wise for animals because they are basically devoid of nutrition. We want to do native landscaping and water features. Everyone should have a pond. It's not a lot of work if you make an ecosystem. Now people are into lawns. Post WWII, that's what happened.
You use natural resources.
We capture the rainwater. In Atlanta, I built a pond that they haven't filled once all year. It's sustainable. It's more money to make it but it's less maintenance, which is what the customer wants.
What is the most extensive and unusual project you've done?
The largest water feature I've ever built is a $1 million pond at my corporate headquarters. We had over 300 people help build it. So I use it for education and training on my Youtube channel. For the show we did a trout pond in Wrightwood. It was about a 40 ft long stream and maybe a 30 ft x 50 ft pond with 70 tons of stone.
Do you get celebrity clientele?
All of the people in season one are regular consumers. We do supply celebrities. I just got a picture from William Shatner's pond!
You can follow Greg's journey through pond building on National Geographic Wild!
By Pamela Price