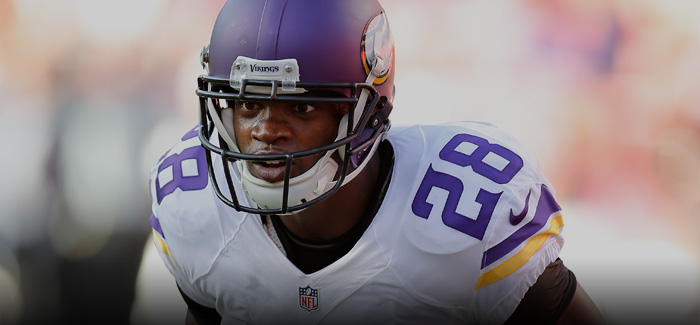 Photo: http://www.vikings.com/
There seems to be no end to scandals and controversy in the sports' world. From the NFL to the NBA, major athletes and team owners are taking over media headlines. Donald Sterling was forced to sell the Los Angeles Clippers due to recorded racist remarks. Atlanta Hawks co-owner Bruce Levenson publicly announced that he will sell his controlling interest in the team after an offensive e-mail Levenson wrote to team executives in 2012 has surfaced. After TMZ released video footage of Baltimore Ravens' running back Ray Rice abusing his wife in an elevator, the player is suspended indefinitely from the NFL.
Now, NFL running back Adrian Peterson is in the scandal spotlight after turning himself in to authorities in Texas early Saturday on a felony charge of child abuse, according to the Montgomery County Sheriff's Office said. Peterson is accused of using a switch to discipline his son, according to his attorney. The Minnesota Vikings football player was freed on a $15,000 bail.
The Vikings released a statement saying they have deactivated Peterson for Sunday's game: "The Vikings are in the process of gathering information regarding the legal situation involving Adrian Peterson. At this time, we will defer further questions to Adrian's attorney Rusty Hardin."
Although there wasn't much information revealed in the statement, it is clear that the NFL must tread lightly due to recent abuse cases. The question is, will the heat let up?
Hardin said, "He [Peterson] used the same kind of discipline with his child that he experienced as a child growing up in East Texas. Adrian has never hidden from what happened. He has cooperated fully with authorities and voluntarily testified before the grand jury for several hours. Adrian will address the charges with the same respect and responsiveness he has brought to this inquiry from its beginning."