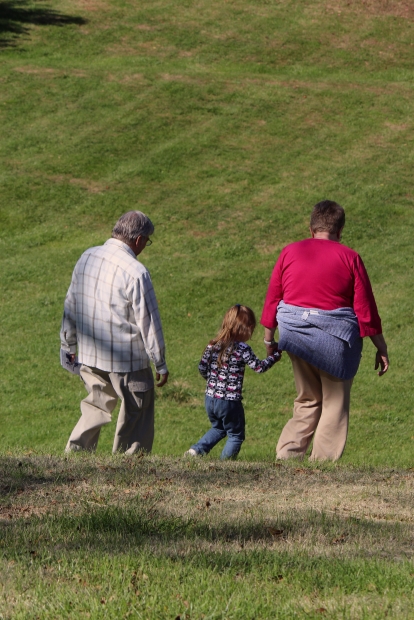 In 1979, President Jimmy Carter signed a proclamation declaring the first Sunday after Labor Day would annually be honored as National Grandparents Day. What most people today are not aware of, however, is the history behind this holiday. Marian McQuade, a housewife from West Virginia, is known as the initial advocate of Grandparents Day. A lifelong advocate of the aging, McQuade encouraged grandchildren across the country to relish in the rich history and wisdom of their grandparents' years.
National Grandparents Day, an often overlooked holiday, falls on Sunday, September 7th this year. It is a time to bring family members of all generations to spend time together.
Planning fun, engaging activities makes it easy to bridge the gap between multiple generations. On National Grandparents Day, New York City is a great place to find these intergenerational activities, no matter where your interests lie. New York Foundation for Senior Citizens (NYFSC), the only non-profit, non-sectarian social service organization serving elderly throughout New York City's five boroughs, recommends the following activities:
 
1.    Picnic: Take a trip to the local market or grocery store and pick up lunch foods to restore the lost art of picnicking in the park, whether it is Central Park or the nearest one to you. On a fall afternoon, it is the perfect weather to sit outside and enjoy a meal together. Consider bringing lawn chairs to maximize comfort. http://www.nycgovparks.org/
 
2.    Art: Stop into a pottery painting studio.  Since the ceramics are bare, you can set your creative spirits free. At the end, you will have a nice take-home to remember the day. Studio fees range from $0 to12; pottery pieces range from $4 and up. http://www.timeout.com/new-york-kids/things-to-do/where-to-paint-your-own-pottery-in-nyc
 
3.    Touring: Book a riverboat tour on the Hudson River. Relaxing on the water is a great way to see New York City from a new perspective, and maybe even learn a new fact or two. Cruises last between one to two-and-a-half hours and prices range from $20 to $40 per person. www.circleline42.com
 
4.    Theatre: Purchase tickets to enjoy a Broadway spectacle together. Enjoy a classic musical together such as Lion King, or opt to see a fun, edgy performance like Kinky Boots.  http://www.stubhub.com/theater-tickets/
 
5.    Sports: September is a great time to attend a sporting event. Take advantage of your proximity to the US Open and attend an intense tennis match. Baseball games, whether you're a Yankees or Mets fan, are an American classic.
 http://usta.usopen.org/US-Open/ticket_plans/
http://newyork.yankees.mlb.com/ticketing/index.jsp?c_id=nyy
http://newyork.mets.mlb.com/nym/ticketing/seating_pricing.jsp
 
            While these activities are a fun, daylong bonding experience, caring for our elderly ones is done year-round. NYFSC has been helping New York's seniors for almost half a century to enjoy healthier, safer, more productive and dignified lives in their own homes and communities.
Today, NYFSC manages 10 subsidized buildings that include over 900 units of housing, seven of which offer Enriched Housing Programs, which provide services that prevent their frail elderly residents from premature institutionalization.
One of the most visible NYFSC initiatives is the intergenerational Home Sharing Program, a free matching service that pairs "hosts" who have extra private bedrooms in their homes or apartments to share with responsible, compatible "guests" seeking suitable affordable housing.   Either the "host" or the "guest" must be 60 years of age or older.
Additional highlights of NYFSC initiatives include a Respite Care Program that supplies affordable certified home attendants to provide short term in-home care for the frail elderly when their regular caregivers need time off and/or when they need help following hospitalization.  Its Home Repair Program provides free home maintenance and repair services (materials may cost extra) to low/moderate income elderly homeowners to maintain their homes.  The Home Care Program provides the services of Certified Home Attendants, Certified Home Health Aides and Housekeepers for Medicaid and dual eligible, Medicaid/Medicare, home care recipients residing throughout New York City's five boroughs.
Take advantage of NYFSC's various programs to help your loved ones lead a better life.
 
Funding for New York Foundation for Senior Citizen's programs is received largely from federal, state and local government, with some contributions coming from the private sector.
 For more information, please call 212-962-7559 or visit: www.nyfsc.org.