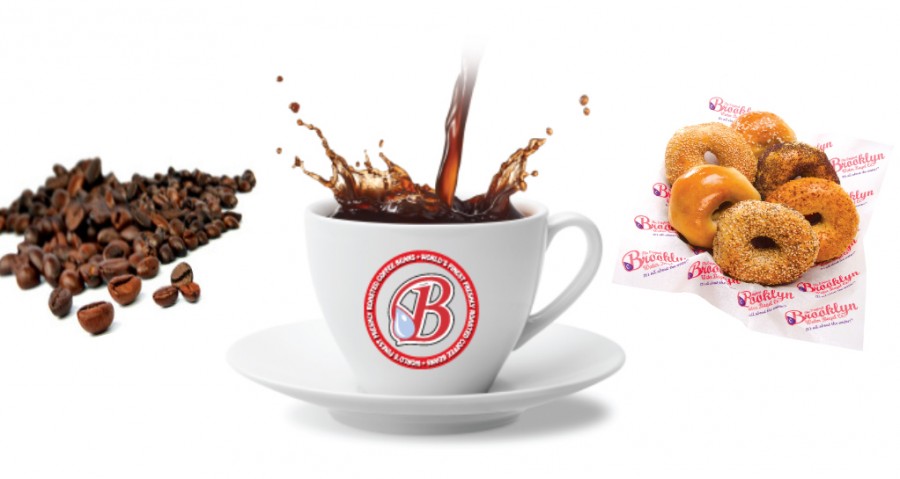 This upcoming Manic Monday, September 27th marks National Coffee Day! The Original Brooklyn Water Bagel Co.® is brewing up a special offer in celebration of the caffeinated holiday. You can stop by any location and receive a FREE cup of freshly roasted hot or iced coffee with the purchase of any menu item.
Mike Welch, Chief Operating Officer at The Original Brooklyn Water Bagel Co.® said, "National Coffee Day is one of our company's favorite days of the year. Our philosophy is that food and drinks are created equal in that our coffee is just as delicious and appealing as our bagels. On this special day, we believe that customers should not have to settle for either a high-quality bagel or a great cup of coffee. At The Original Brooklyn Water Bagel Co.®, our guests can always enjoy both by pairing our authentic New York bagels with the perfect cup of freshly roasted coffee."
To find your location visit:  www.brooklynwaterbagels.com/locations.
The Original Brooklyn Water Bagel Co.®, which is well known for its freshly baked bagels that are boiled and then baked in the traditional New York way, is dedicated to providing guests with quality products, including freshly roasted coffee. The restaurants use a proprietary water treatment system, known as "Brooklyn Water Works," as a crucial element in successfully replicating the natural composition of the water found in the Catskill Mountains. This proprietary water, which is cold, clean and purified, is used in the restaurant products that guests order. As The Original Brooklyn Water Bagel Co.® proudly declares, "It's all about the water!®"
Following its commitment to quality products, The Original Brooklyn Water Bagel Co.® uses high-quality Arabica coffee beans that are selected from the leading coffee producing regions of the world to make its coffee on-site at the company's coffee roasting operation. These specialty-grade coffee beans are roasted fresh daily in small batches for a more controlled roasting process and combined with the best water around – the restaurant's proprietary water. The entire roasting process is carefully conducted by Christopher Conover, Corporate Roastmaster at The Original Brooklyn Water Bagel Co.®, who follows a precise temperature and time profile to accentuate the unique characteristics, such as flavor and aroma, of each artisan blend of freshly roasted coffee.
The Original Brooklyn Water Bagel Co.® offers guests a variety of artisan blends of hot and iced coffee to choose from, including light, medium and dark, as well as decaffeinated. The restaurant's signature Iced Coffee Cubsta®, featuring ice cubes that are made completely out of freshly roasted coffee, has quickly attracted a loyal following among coffee drinkers nationwide. Using only the freshest, highest-quality ingredients, the restaurant specifically brews coffee to be frozen and used in its Iced Coffee Cubstas®. In addition to gourmet bagels and freshly roasted coffee, the made-to-order menu at The Original Brooklyn Water Bagel Co.® includes other New York favorites, such as specialty breakfast sandwiches, signature sandwiches, over-stuffed bagelwiches, and muffins.