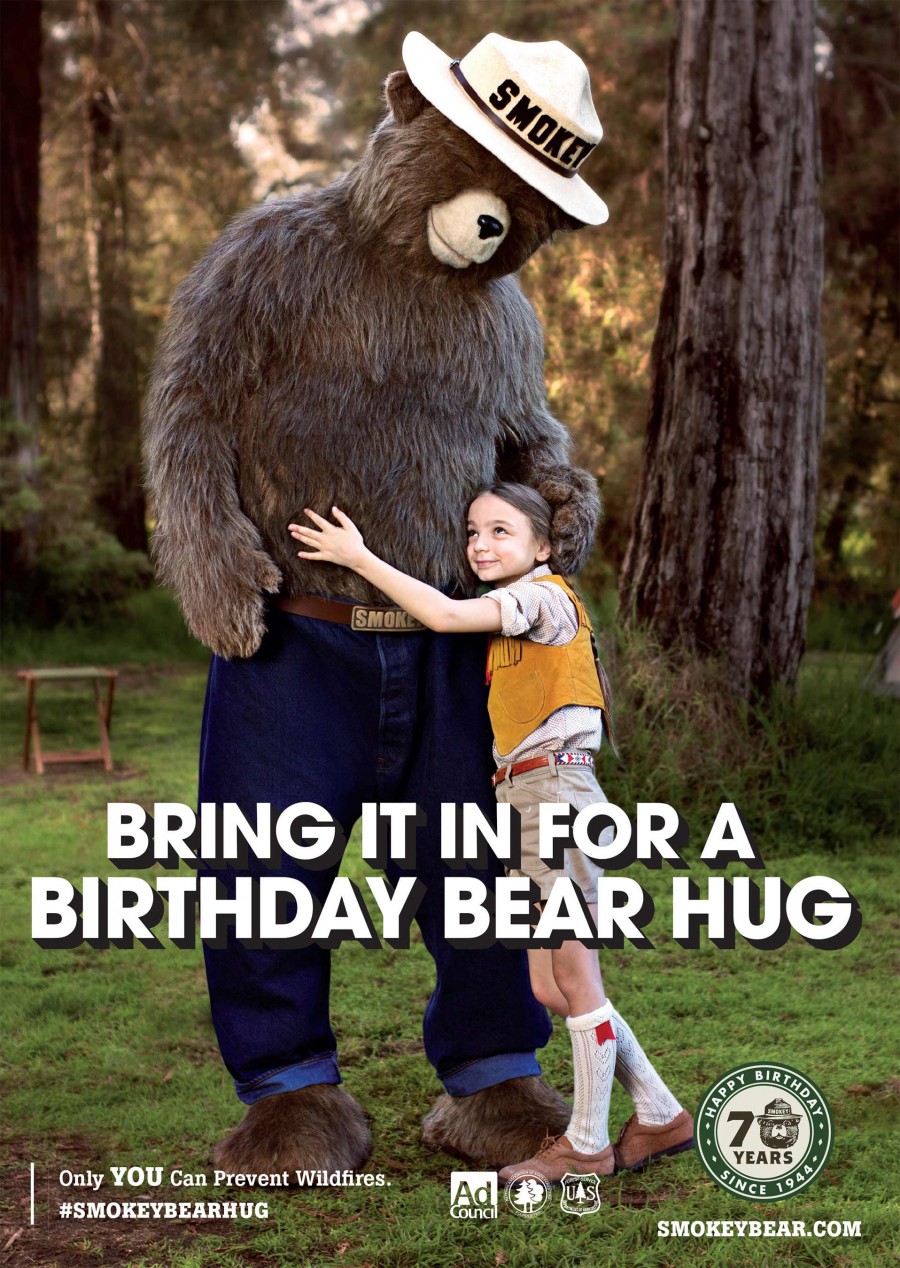 Smokey Bear, the icon featured in the longest running public service campaign in U.S. history, turns 70 years old on Saturday, August 9, 2014. Created in 1944 by the U.S. Forest Service, the National Association of State Foresters and the Ad Council– Smokey Bear, along with his trademark, "Only You Can Prevent Wildfires," –has helped reduce the number of acres burned annually by wildfires from 22 million in 1944 to an average of 6.7 million annually today.
"Smokey Bear is part of the fabric of our lives, and his presence at this time is even more important as wildfire seasons grow longer," said Chief Tidwell. "It is an honor to celebrate a figure that has inspired millions of Americans and continue to communicate his message. We look forward to continuing his legacy for years to come."
Smokey Bear was first created during World War II out of fear that enemy shelling would cause forest fires out west while most firefighters were busy overseas. By 1952, Smokey's popularity had grown so large that he was taken out of public domain, protected under U.S. federal law and was given his own zip code as a place to receive and collect fan mail. That zip code, 20252, re-launched this summer in celebration of his 70 years.
Actor Sam Elliott, known for movie roles in Roadhouse, The Big Lebowski, and Tombstone, has served as the voice of Smokey Bear since 2008 and coincidentally shares the same birthday, turning 70 years old as well on August 9th.
"I'm proud to help celebrate Smokey Bear's 70th birthday and the extraordinary impact his wildfire prevention campaign has had on our country," said Elliott. "Living in Southern California, I have seen firsthand the devastation that wildfires can have on communities, and it reminds all of us about the importance of Smokey's message of personal responsibility."
Since launch of the campaign, the Wildfire Prevention public service advertising (PSAs) have run exclusively in time and space donated by the media. In the last seven decades, that equates to more than $2 billion worth of media support, with research showing that his is recognized by 96 percent of U.S. adults.
"From the first PSA in 1944, Smokey Bear has been integral to the fabric of Ad Council as well as American culture," said Peggy Conlon, President and CEO of Ad Council. "As our culture has shifted over the past 70 years so has Smokey with his engaging online presence today appealing to an entirely new generation of Americans."
"Wildfire prevention efforts are happening all over the United States on all types of forest ownerships. Every citizen can do their part to help Smokey, foresters, and wildland firefighters protect forests—simply take precautions to make sure all fires are cold before leaving them unattended," said Lynn E. Fleming, New Jersey State Forester and a member of the Cooperative Forest Fire Prevention. "People who use fire carelessly are the number one cause of forest fires here in New Jersey, as in much of the country."
This past April, the campaign released PSAs to commemorate Smokey's 70 years. Created pro bono by FCB West, the new TV, web, print, radio and outdoor ads show outdoor lover celebrating Smokey's 70 years of service by thanking him with a hug. This is an extension of the last round of PSAs where Smokey rewards those that take steps to help prevent wildfires by giving them a hug; viewers can participate online using #SmokeyBearHug. In recent years, Smokey has expanded his digital presence, cultivating robust communities to communicate his wildfire prevention messaging. In addition to his website, www.smokeybear.com, Smokey also has a large following on Facebook, YouTube, Instagram, and Twitter for more information about wildfire prevention.