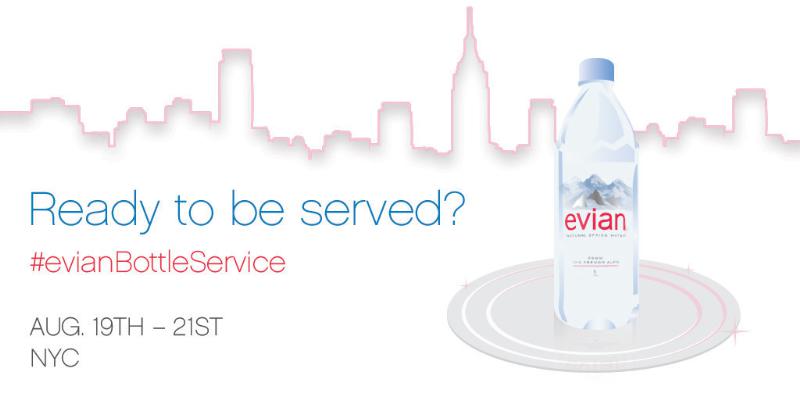 When you're melting from the heat in Madison Square Park you'll do anything for a bottle of water and some relief from the sun. evian® Natural Spring Water is offering the ultimate solution to the summer temperatures in NYC this August with evian Bottle Service.
Forget "reserving a table" or charming the bouncer because ordering is just a tweet away. Starting on August 19, consumers can use the hashtag #evianBottleService to have free water delivered on-demand to select locations throughout New York City.
Evian will begin serving up Bottle Service on Tuesday, August 19 around Bryant Park and will continue to keep the city hydrated near select parks around the city on Wednesday and Thursday, August 20th and 21st. Exact locations and times will be announced via the brand's social media channels and the best way to see if you're in the delivery zone will be by following @evianwater on Twitter.
The redesign is the brand's first in 10 years and the new packaging features a transparent and label-less look. "It's all about celebrating the unique liquid inside the bottle, so we leaned on the purity of our water for inspiration and kept the design as clean as possible," said VP of marketing Osminkina-Jones. "Our source is what sets our product apart and we're excited to have the design reflect that. After all, no water in the world comes close to evian in the naturalness and electrolyte content. It takes over 15 years for every drop of evian to end up in our new transparent bottle." 
The new one-liter bottle is now available at stores nationwide for a suggested retail price of $2.19.