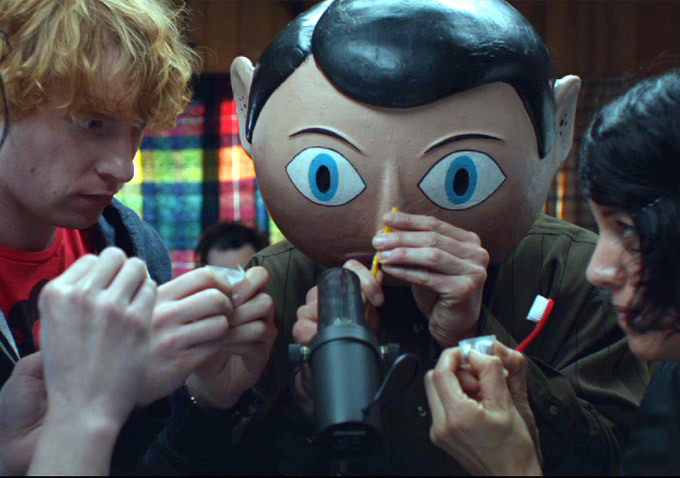 "Frank" is an unusual and wonderfully offbeat comedy about an eccentric pop band starring Michael Fassbender, Maggie Gyllenhaal, Domhnall Gleeson and Scoot McNairy.
Directed by Lenny Abrahamson and written by Jon Ronson ("The Men Who Stare At Goats") and Peter Straughan ("Tinker Tailor Soldier Spy"), "Frank" boasts a hilarious, highly imaginative screenplay reminiscent of Wes Anderson and Charlie Kaufman in its mixture of quirkiness and heart, superb performances by the talented international cast, tonally precise direction and a soundtrack full of awesomely out-there original songs. A commentary on the creative process run amok, told with a unique voice that manages to stay emotionally grounded even as the story and characters spin out of control, "Frank" has the potential to overcome its admittedly weird premise and reach a more mainstream audience.
Even though the title would suggest Fassbender's character is the lead, that duty actually falls on the shoulders of Domhnall Gleeson ("About Time"), who plays Jon, a nerdy London office worker with unrealistic musical aspirations. When Jon isn't tweeting about his mind-numbingly boring life, he's writing songs that could be generously described as uninspired. Despite his musical limitations, Jon's keyboarding skills are passable enough that when he happens upon an American rock band with the intentionally unpronounceable name of the Soronprfbs, he is hired on the spot as a replacement to their suicidal keyboardist.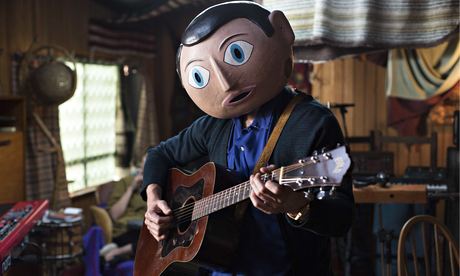 As Jon soon learns, The Soronprfbs aren't your typical band. Unquestionably talented but about as audience-unfriendly as they come, the band take their cues from their virtuoso lead singer and creative nucleus, Frank, whose most defining characteristic is the giant fake head that he refuses to take off. Jon is immediately drawn in by the enigmatic Frank and his indefinable genius; and even though his first gig with the band is a magnificent failure, he is invited to join them in creating their next album at a remote cabin on an Irish island.
Given the band's experimental style, the recording sessions don't go as smoothly as expected, and months pass before they get around to recording the album in earnest. In the meantime, tensions within the band reach a fever pitch, particularly between Jon and Clara (Maggie Gyllenhaal), who as Frank's protector and closest collaborator, feels threatened by Jon's desire to push the band's sound in a more commercial direction. As the sessions drag on and the band faces countless setbacks, Jon's tweets chronicling the band's misadventures generate enough audience interest to land them an important gig at the South By Southwest Festival.
With "Frank," director Lenny Abrahamson continues to prove, as he did with his previous films, "Adam and Paul" and "Garage," that he has a soft spot for outcasts who operate on the fringes of society. The members of The Soronprfbs, particularly Frank, could have easily come off as one-note weirdos, but with Abrahamson's gentle touch, along with Ronson and Straughan's expertly crafted screenplay, unexpected emotional depths are slowly revealed, unmasking the underlying sadness from which Frank's genius stems. The most telling sign that a film has been well directed is if the audience feels as though they're in good hands, and "Frank" has a tonal assuredness that's an absolute delight to be in the presence of, nailing every laugh, awkward silence and genuinely sincere moment it's after.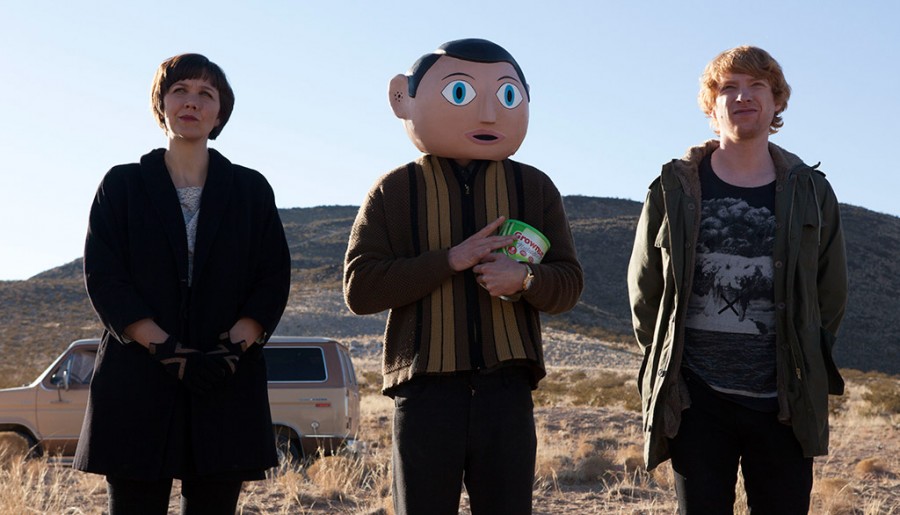 Actor Domhnall Gleeson exhibits his versatility in the lead role of Jon, transforming from a naïve office boy to an assertive band member with a scary desperation for musical stardom. Placed in the role of the observer, the audience experiences the wonderfully weird world of The Soronprfbs through the innocent doe eyes of Jon, and much humor is generated from his reaction shots.
As impressive as Gleeson is, the standout performance of the film belongs to Michael Fassbender, who takes on the seemingly impossible task of acting while wearing a giant fake head. One would think this to be an insurmountable limitation, but Fassbender proves why he is one of the most in-demand actors of the moment in a role that relies almost entirely on voice and body movement to convey his personality. Having demonstrated his dramatic prowess in films like "Shame" and "12 Years A Slave," Fassbender shows here what a comically gifted actor he is as well. Rounding out the talented cast is Maggie Gyllenhaal as the crazy funny and intensely protective Clara, whose icy interactions with Gleeson are a definite highlight; and Scoot McNairy as the mentally deranged band member trying to overcome an unhealthy addiction to mannequins.
Best-suited for indie fans but universally appealing, my advice is to check out "Frank" when it comes rocking into theaters mid-August.
By Lucas Mirabella
This film is unrated; 94 minutes