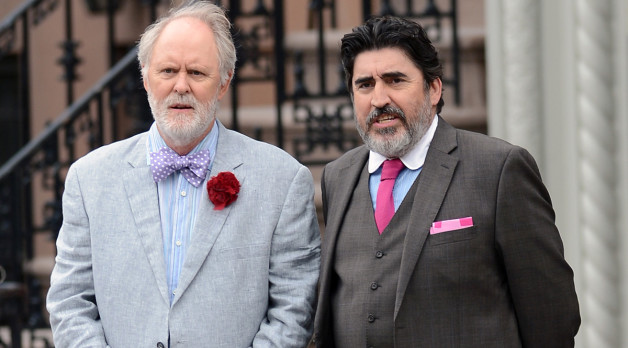 With the exception of "Milk" and, to a lesser extent, "The Kids Are Alright," gay rights is a topic that has been explored in documentaries and smaller projects directed at the LGBT community but seldom tackled in mainstream cinema. That has now changed with the arrival of the compassionate new film called "Love Is Strange," starring John Lithgow and Alfred Molina.
Inspired by the experiences of his great-uncle as well as his own dealings with marriage equality, writer-director Ira Sachs ("Keep The Lights On"), who co-wrote the screenplay with Mauricio Zacharias, presents the subject in a very progressive, matter-of-fact manner. Even though "Love Is Strange" deals with issues of gay marriage, the film is more than anything a love story about a couple who happens to be gay, and the filmmaker uses subtlety in place of soapbox speeches, achieving a quietly powerful effect in the process. And while the film has a very deliberate pace that may strike some as sluggish, considering the quality of the acting, the hypnotic cinematography, the melodious Chopin piano score, and the generally benevolent nature of the project, "Love Is Strange" is a film worth seeking out.
The film begins in celebratory fashion, as Ben and George (John Lithgow and Alfred Molina), an aging Manhattan couple, decide to take advantage of New York's new marriage laws by tying the knot after thirty-nine years together. Sadly, the honeymoon is short-lived, because when the Catholic school where George works as a music teacher learns of his marriage, he is swiftly given the boot on the grounds that their union violates church law. Since up until this point, George was the breadwinner – Ben is a painter with an unsteady income – this unexpected blow to their financial stability forces the couple to sell their condo and begin the arduous process of finding affordable housing in the city. Not exactly an ideal way for the newlyweds to begin the next chapter of their lives together.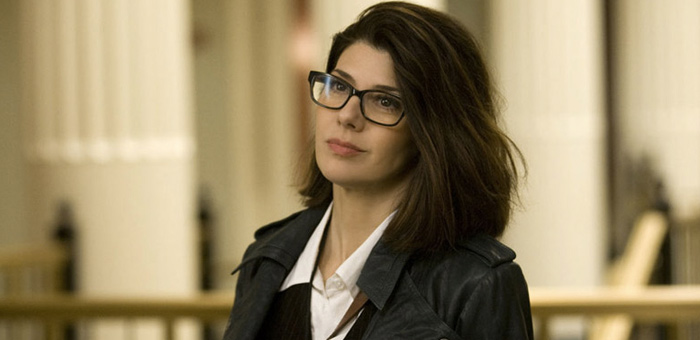 Essentially homeless, Ben and George reach out to those closest to them in hopes of finding temporary housing; but since space in the city is precious, they're forced to live apart for the time being. George moves in with his neighbors – a pair of hard-partying gay NYPD officers (Cheyenne Jackson and Manny Perez) – while Ben moves in with his nephew (Darren Burrows), his wife (Marisa Tomei), and their sensitive teenage son (Charlie Tahan) in Brooklyn.
Despite being a beloved uncle to his nephew's family, Ben's presence inevitably disturbs their delicate dynamic, with the teenager resentful of having to share his room and the wife irritated by the disruption to her writing schedule. Meanwhile across town, George has difficulty settling into the chaotic lifestyle that his housemates lead, with friends and neighbors constantly showing up unannounced and partying into the wee hours. As the pair struggles with finding housing and living apart, the strength of their union is put to the test.
Influenced by postwar Japanese and European cinema, where the minutiae of daily life provided all the material needed for powerful storytelling, writer-director Ira Sachs has constructed a very realistic character study. Watching the principals interact, whether they're sharing a laugh or talking about what they had for dinner, not a second passes where we don't fully believe that they've been together for the better part of forty years. It's a testament to the acting, but before that comes the screenplay, and Sachs and Zacharias really bring the story to life through keen observations of human behavior. And unlike "Milk," which was a powerful film but took the activist approach of its subject, "Love Is Strange" makes its points understatedly, such as using the subplot involving the family problems at Ben's nephew's home to underline the ripple effect of the catholic church's antiquated stance on gay marriage.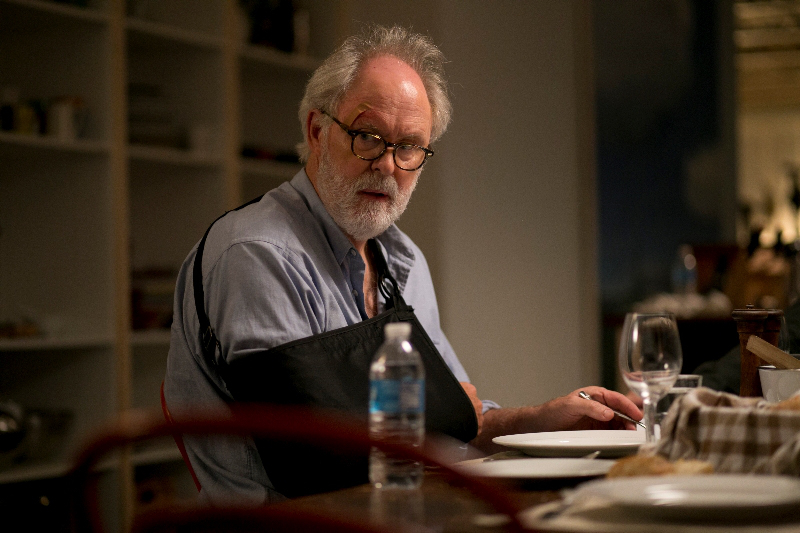 Considering the acting talent involved, it may come as no surprise that the strength of the performances is what stands out most in "Love Is Strange." Alfred Molina and John Lithgow have never worked together before, but based on their undeniable onscreen chemistry here, they should definitely make it more of a habit. Instead of being presented as overly flamboyant caricatures, which is unfortunately common in most Hollywood films that actually have gay characters, these characters are merely humans dealing with very relatable issues – aging, job security, affordable housing – which in turn makes the film much more accessible to those outside the LGBT community. Kudos to the actors for bringing credibility to their roles.
On the supporting side, Marisa Tomei makes the most of her screen time, bringing pathos to the role of a working mother struggling to raise her teenage son, and demonstrating yet again why she is an Academy Award winning actress with a career spanning four decades. And speaking of that teenage son, Charlie Tahan ("Charlie St. Cloud") makes an indelible impression as a moody adolescent whose conflicting feelings about his uncle provide one of the film's emotional high notes.
Notable technical credits include Christos Voudouris' cinematography, which creates intimacy through the use of close-ups and brings Manhattan to life with picturesque shots of the city and allowing scenes to linger after the action dissipates. Also memorable is the Chopin piano score, which, with its fluctuation between the melancholic and the lighthearted, captures the film's gentle tonal shifts and the rhythms of the city in a way that is reminiscent of Woody Allen's "Manhattan."
By Lucas Mirabella
Running Time: 98 minutes
Rated R for language