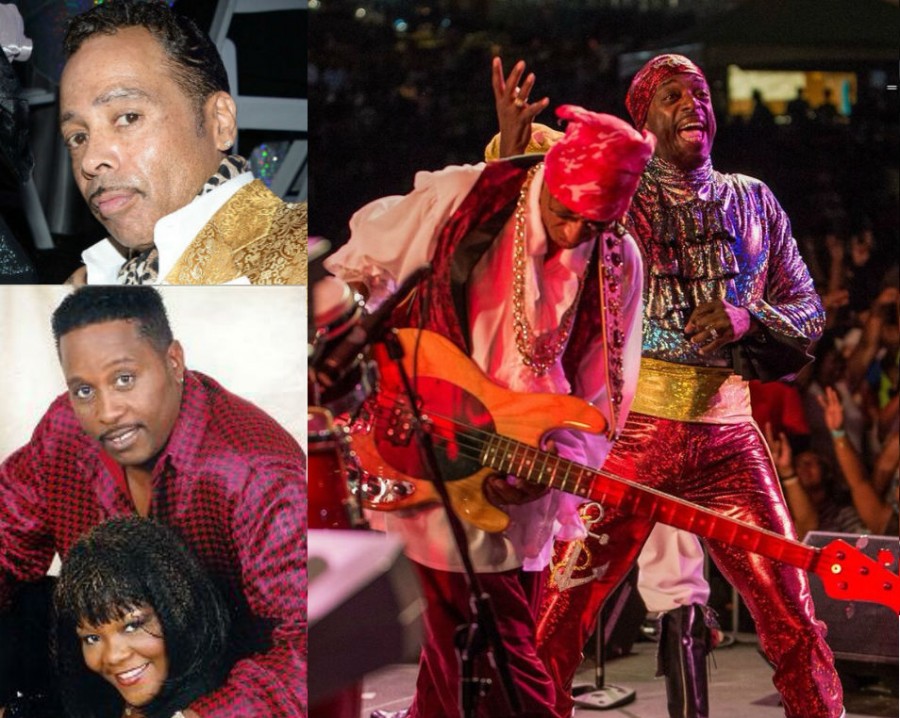 Over 5,000 fans were in attendance Saturday night when Hot 92.3 presented their annual Old School Night at the Greek Theatre, and this year's lineup featured some returning acts, as well as some that haven't been on the scene in a while. The show opened with husband and wife duo Yarbrough & Peoples, who are best known for their number one R&B hit "Don't Stop The Music." Performing to a music track, Alisa Peoples didn't seem to find that as a handicap because her energy and vocals were inspired as if there was a full backup band. Yarbrough's backing vocals and keyboard accompaniment added a cool ambiance to the proceedings as they made the most of their hits like "Guilty" and "I Wouldn't Lie." But everyone clearly was waiting on their signature song "Don't Stop The Music," which rocked the crowd and set the tone for the evening.
Next up was Taste Of Honey, which used to be a duo consisting of Janice Marie Johnson and Hazel Payne, but now is a one-woman show starring Janice Marie. Dressed in a bright-orange, beautifully-decorated Japanese kimono, Johnson gamely tackled her songs kicking it off with the well known #1 R&B hit "Sukiyaki," which got the crowd going. Then her band and background singers came on stage; God only knows why she was performing with them to a music track, but she was. Playing for only  a short 15 minutes, there wasn't much time to do more than a couple of songs, but she made sure to close her set with her Hot 100 #1 smash, "Boogie, Oogie Oogie" and the crowd's response of screams and hoots let her know that's what they were waiting for.
A quick intermission, and out came a hefty Alexander O'Neal, who has been missing in action from everything musical for years. Also a prisoner of the prerecorded music track, O'Neal did his best to hype the audience, and probably missed his old duet buddy Cherrelle, with whom he had a couple of pretty big R&B hits. But during his brief set, he finally managed to get the crowd up when he broke into his only #1 R&B hit "Fake."
After a set change, we were finally treated to some live music when funk band Lakeside hit the stage. And hit the stage they did… literally. Several members came down the aisles of the theater dancing and interacting with members of the crowd before jumping onto the stage. From that point, the Greek was transformed into a huge party room with everyone standing on their feet dancing and rocking for an all-too-brief 25-minute set. Funk classics like "All The Way Live" and finally their #1 R&B smash "Fantastic Voyage," took us to the land of funk. A highly energetic and powerful musical set left the audience out of breath and sorry to see it end so soon.
The next act, Ready For The World, should have opened their set with the "Mission Impossible" theme, because their mission — whether they liked it or not — was to try to keep the crowd where Lakeside had left them. Unfortunately, whoever was in charge of the lineup schedule didn't take this into account. RFTW, who also played live instruments, bravely took on the task, but struggled because of a weaker catalogue not filled with songs comparable to that kind of live energy. However, they persevered until they got to their #1 R&B hit "Oh Sheila," which saved their set.
The final intermission ended when headline act Morris Day And The Time made their entrance to the funky Prince-inspired "Get It Up." Day, attired in a gold suit with white shoes and white accents, was in full ultra-cool mode as he teased the women with his "I'm so cool," shtick, prancing around the stage. The Time rolled through their hit catalogue touching on crowd-favorites like, "Cool," "777-9311" and "Pandemonium," while their tight 5-piece unit with Monte Moir, who, besides Day, is the only other original member, kept the crowd grooving. Day has managed to make a career out of playing his pimp-like, street-wise alter-ego, who can still get away with lines like: "Ain't nobody bad like me." Well, apparently, he wasn't wrong. He had the audience in his hands whenever his new "Jerome" (not original Time member Jerome Benton), would break out a mirror so Day could primp and comb his hair or when he would yell his signature; "What time is it?!" The crowd partied when they fired up their #1 R&B hit "Jerk Out" and of course the smash from the "Purple Rain" soundtrack, "Jungle Love." There's no denying that without the charisma of Morris Day, the Time would be just another funk band. But with Day, they're still pretty cool.
By Michele Elyzabeth