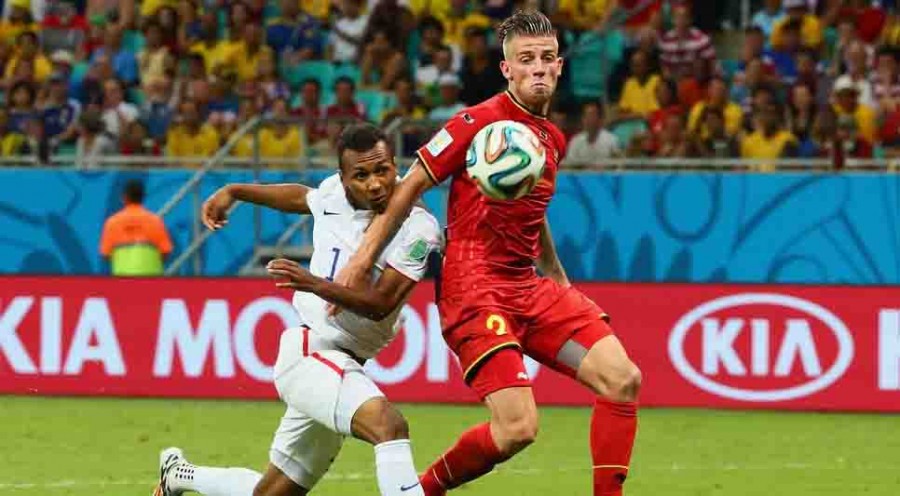 Photo: http://www.espnfc.com 
In thrilling fashion, Belgium advances to the World Cup quarterfinals after a 2-1 victory over the U.S. in extended time. Belgium, the Group H winner, will play Lionel Messi and Argentina in the next round. For the Yankees, the run is over. 
That does not do the Americans justice. The entirety of regulation was a standstill, nil-nil–all three goals were not scored until the extended period. Time of possession favored the U.S. at 53 percent, and stateside goalkeeper, Tim Howard, set a World Cup record for single-game saves with 16. 
Howard was a man possessed, the accolade was truly earned. For each worthy Belgian possession, his name ended the play. If the American offensive had played with the same valor as their brick wall in goal, their travel plans would have be postponed.
If anyone is to blame it is the defensive line. Belgium racked up 36 shots, with 27 on goal, over the course of a match. At that staggering rate, a connection or two was inevitable. 
But tip your hats to the Belgians, especially Kevin De Bruyne. It was his go-ahead goal in the 93rd minute to draw first blood, and his assist to Romelu Lukaku in the 105th to cushion the lead. 
The U.S.'s lone goal was a Michael Bradley skip to a streaking Julian Green for a spectacular strike in the 107th minute. With 13 minutes remaining, the Americans gave it their all, but to no avail. 
But a statement was made. The U.S. was competitive every match, escaping the treacherous Group of Death. The residual effects of Ronaldo's equalizer in group play still hurt, and it's difficult to believe the next cup is four years away. 
Until then, America will wait eagerly. A state of anticipation that has never been expressed towards soccer. Perhaps that is the greatest takeaway. 
By Kyle Edwards