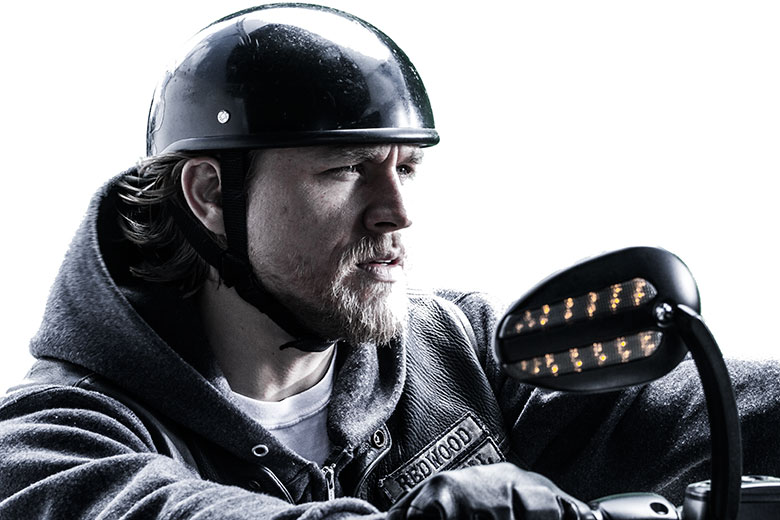 It all comes down to this. "Sons of Anarchy," the highest-rated series in the history of FX, will begin its 7th and final season on Tuesday, September 9th at 10 PM ET/PT with a special 1 hour & 45 minute episode. Immediately following the premiere, the live post-show "Anarchy Afterword" will air in its entirety on FX.
Hosted by Chris Franjola ("Chelsea Lately") and produced by Emmy nominated Mob Scene Creative + Productions, "Afterword" will air live on FX twice this season – the season premiere and the series finale. It will stream live on FXNOW three other times throughout the season. The episodes will be posted on FXNOW as well as online the following day for VOD viewing and remain there until one month after the series finale. In addition to watching, fans of the show will have the opportunity to ask their own questions via a toll-free call-in number and the show's official Twitter and Facebook pages.
'Sons of Anarchy' is an adrenalized drama with darkly comedic undertones that explores a notorious outlaw motorcycle club's (MC) desire to protect its livelihood while ensuring that their simple, sheltered town of Charming, California remains exactly that, charming. The MC must confront threats from drug dealers, corporate developers, and overzealous law officers. Behind the MC's familial lifestyle and legally thriving automotive shop is a ruthless and illegal arms business driven by the seduction of money, power, and blood.
In season six Jax Teller (Charlie Hunnam) has finally solidified his leadership of "Sons of Anarchy" by murdering Clay Morrow, his stepfather, for past sins. Season Six ends with his formidable mother Gemma committing an unpardonable sin.  Unbeknownst to Jax, she brutally murders his wife, Dr. Tara Knowles, thinking she's protecting the club. Juice Ortiz kills Sheriff Eli Roosevelt to protect Gemma. Season Seven begins ten days later with Jax in jail on a parole violation, grappling with the loss of the woman he loved. With the club's full support, he sets in motion the brutal machinations that will lead to complete and merciless retribution.
Sons of Anarchy's sixth season notched its most viewers to date, capturing 7.48 million Total Viewers and 5.11 million Adults 18-49.  Season 6 holds the record as FX's most-watched season of an original series in the network's history in Total Viewers, Adults 18-49 and other key demos.