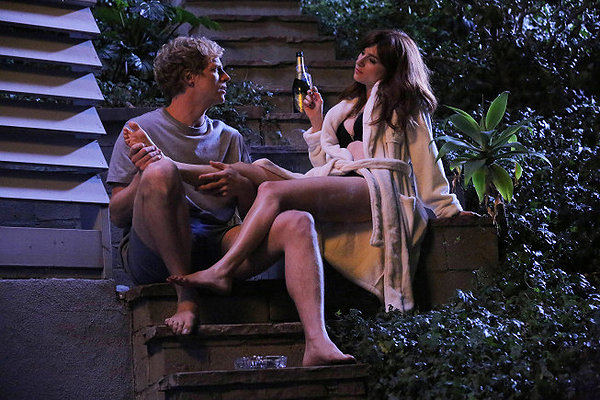 FX is a powerhouse of television right now. It seems every show they've introduced this year, whether comedy or drama just works. From the casting to the writing, directing, etc. That especially goes for their new romantic comedy series, "You're The Worst," from writer and executive producer Stephen Falk.
The narcissistic, brash, and self-destructive Jimmy (Chris Geere) meets the people-pleasing, and stubborn Gretchen (Aya Cash) at a wedding. While their first meeting appears to be your typical one-night stand; it turns out that Jimmy and Gretchen are cynical soul-mates.
As all romcom scenarios go: Boy meets girl, boy and girl don't quite like each other, boy and girl fall for each other, boy and girl have a conflict, boy and girl reunite for a happy ending. If "You're The Worst" continues with the clever humor, fireworks chemistry and heartfelt moments, then this could be another hit for FX. Watching the show, you feel as if you're watching a film; one any romcom fan would purchase on DVD.
Geere and Cash are perfectly cast newcomers. Geere embodies the 'likeable' unlikeable character and Cash is great as the stubborn, yet darling Gretchen.
Rounding out the cast is Desmin Borges ("The Good Wife"), who plays "Edgar Quintero," Jimmy's once homeless, war veteran roommate, and Kether Donohue (The Carrie Diaries) as "Lindsay Jillian," Gretchen's best friend and former partner in crime who's now struggling with a life of domesticity.
While "You're The Worst" is certainly a generational story of love and friendship, this show is for everyone. It's a modern look at love and happiness told through the eyes of two people who haven't been very successful with either.
"You're The Worst" premieres tonight July 17th and airs Thursdays at 10:30 pm throughout the season.