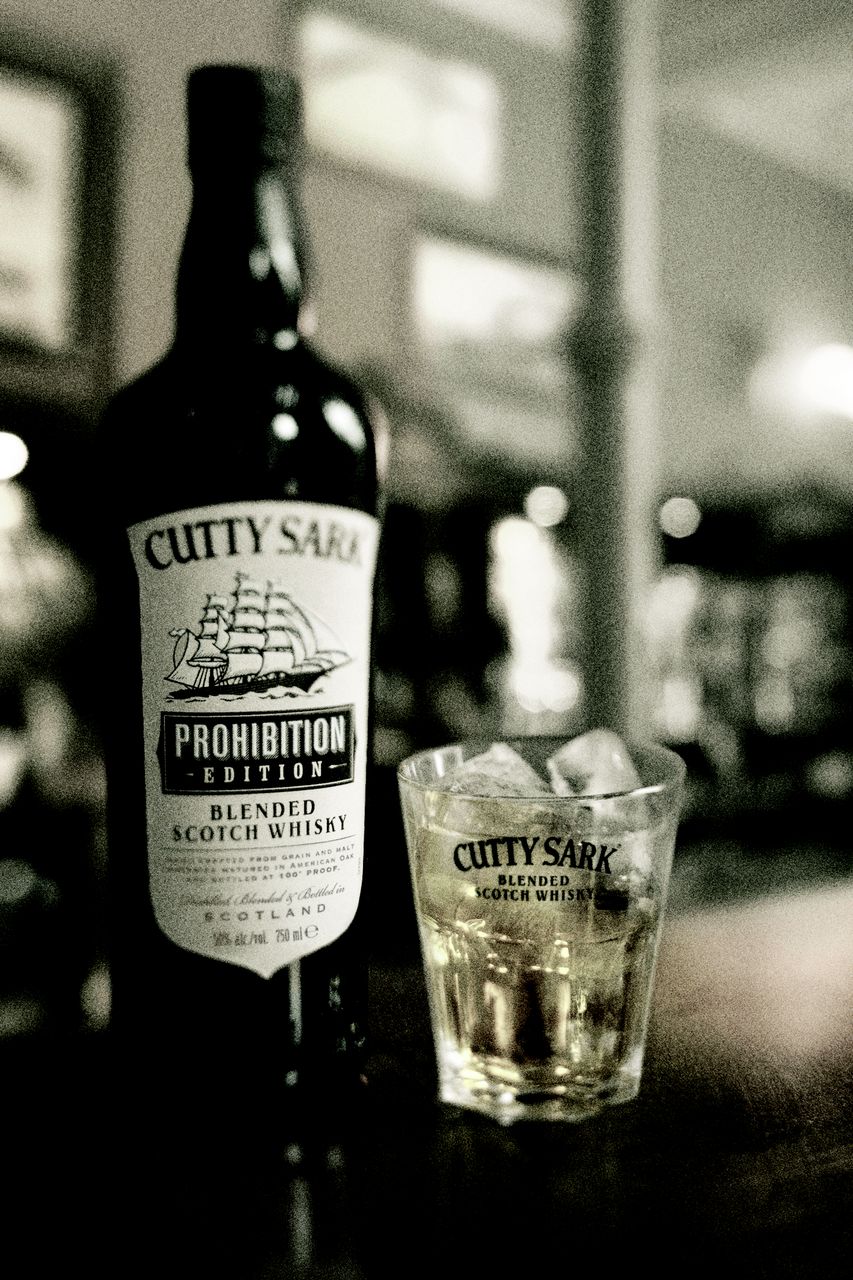 One night, I was in the mood to watch a gritty crime drama, so I picked "Lawless", a film about a back-woods family in Franklin County, Virginia, who run an illegal whisky operation during the Prohibition Era (1920-1933). A little history lesson: during that time, Federal law prohibited the manufacture and sale of alcohol for consumption in the U.S., so bootleggers made fortunes smuggling in spirits from other countries.  Some even had secret distilleries run at night in the moonlight, thus making "moonshine" whisky. 
How fitting that I would crack open a bottle of Cutty Sark's new Prohibition Edition Blended Scotch Whisky to sip while watching this particular film. The black opaque bottle design and cork seal are a vintage reminder of the type of whiskey bottles prevalent during the Prohibition era. Add to that, the beige label, retro lettering and iconic Cutty Sark sailing ship logo, and you have a liquor that is an homage to the spirits of old.  
Released 80 years after the end of the era which it celebrates, Cutty Sark Prohibition Edition Blended Scotch Whisky has been crafted as a salute to the notorious Captain William McCoy, who smuggled Cutty Sark blended Scotch whisky into America during the Prohibition Era. McCoy's reputation for dealing only in the finest, genuine and unadulterated liquor gave rise to Cutty Sark's being referred to as "The Real McCoy".
The Scotch is handcrafted in Scotland in small batches from top quality grain and single malt whiskies.  It's matured in American oak casks and is the only non-chill filtered whisky in the Cutty Sark range.  It's a full-strength whisky that should be enjoyed straight, on the rocks, or with a splash of water.  If you absolutely must, you can also serve it in a classic whisky cocktail.
It has a warm golden color, and a body you can almost sink your teeth into. If I were a bartender and one of my patrons declared, "I need a stiff drink," Prohibition Edition is the drink I would serve them.
The taste is complex — composed of black pepper and toffee notes with a subtle hint of vanilla and citrus fruits.  A creamy mouth-coating richness makes this whisky super smooth, with lingering warmth and subtle hints of spice. More, please!
Cutty Sark Prohibition Edition Blended Scotch Whisky is bottled at 50% ABV (100 Proof) and rolls out nationwide through 2014, with a suggested retail price of $29.99 for 750ml.
By Deborah Bauer