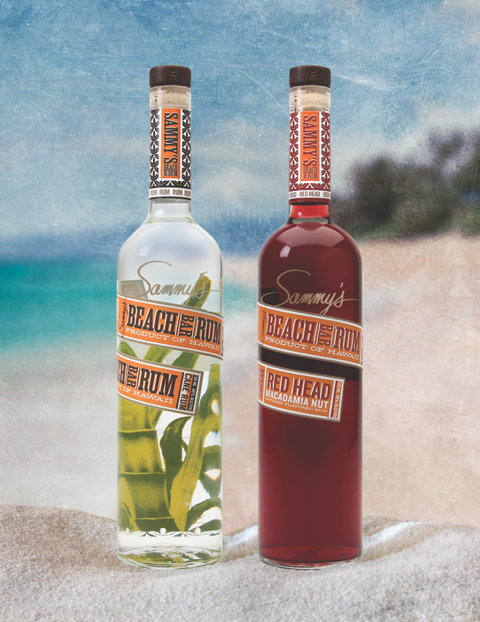 You have to hand it to Sammy Hagar. Known as the "Red Rocker" and former lead 
singer of Van Halen, Sammy sold his part of the very successful Cabo Wabo Tequila Company, then turned his attention to rum.
Sammy's Beach Bar Rum
is made in Hawaii, where Hagar resides now.
Whoever thinks of rum only as a liquor to be mixed with tropical juices and sipped 
through a straw from a hollowed out coconut or an over-sized glass accompanied by pineapple, cherries, and one of those little paper umbrellas, is in for a tasty surprise.
Beach Bar Rum comes in Silver (white) and Red Head. Beach Bar Rum Silver 
is the only white rum you can drink straight. It's also great in cocktails with names like Rockin' Daiquiri,  Maui Mama, Shark Bite, and of course, the Maui Rocker.
For those who love the sweet, tropical cocktails reminiscent of "Gidget Goes Hawaiian",  and for the rest of us who prefer something neat or on the rocks, the absolute best of both worlds is Sammy's Beach Bar Rum, Red Head.
Produced in Maui from the best sugar cane in the world, and flavored with another famous Hawaiian product — macadamia nuts — the Red Head is a visual treat .  
With the very first sip, my first thought was that it would be great with Coca Cola — you could call it the Coke Head. Second thought, it could also be great with Dr. Pepper — 
you could call it the Mad Doctor. However, Beach Bar Rum Red Head tastes perfect neat and on the rocks, especially when the ice melts a bit and diffuses it.  A sip of Sammy's Beach Bar Rum Red Head, followed by a sip of coffee…sumptuous. Redhead was created as a great sipping rum on the rocks, but also compliments all island drinks using a dark rum.  
For your next summer party, stock the bar with Beach Bar Rum Silver (the white) and Beach Bar Rum 
Red Head for delicious cocktails and a unique sipping experience.