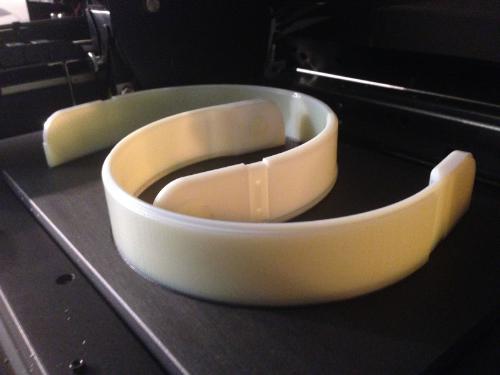 What will they print next? Stratasys Ltd., a leading global provider of 3D printing and additive manufacturing solutions revealed that British product design house, Ignitec, has designed and manufactured a new generation of wireless headphones for technology start-up and luxury goods company Audiowings, using its Stratasys Objet30 Pro 3D Printer.
Named after the company, Audiowings is a luxury audio headphone that synchronizes directly with online music services, such as Spotify, enabling users to listen to their favorite music on-the-go, without the burden of headphone cables. As well as featuring a built-in storage system, the device also connects wirelessly to the Internet using 3/4G or WiFi, giving users the ability to plug into YouTube and enjoy music from around the world.
In a bid to receive funding, the first fully 3D printed Audiowings prototype was entered into Sir Richard Branson's 'Pitch to Rich' 2014 competition. The company has since been awarded the 'People's Award', receiving a prestigious mentoring program from some of the world's leading business minds. Audiowings is currently finalizing its plans to enter the retail market.
"When we were first approached with the concept of Audiowings and briefed on its prototyping requirements, we instantly knew that 3D printing would be the answer," explains Ben Mazur, Director of Ignitec. "Our Stratasys Objet30 Pro 3D Printer was the obvious choice since it has the ability to produce products on demand that depict the accuracy and surface quality of injection molding."
Andy Middleton, Senior Vice President and General Manager EMEA at Stratasys, concludes: "In today's economy, product designers are under extreme pressure to take innovation and quickly turn it into a money-making product. Ignitec is a great example of how our PolyJet 3D printing technology is empowering these designers to deliver first class prototypes to their clients with the precision and detail of the final product. As such, product development processes are shortening and fantastic products like Audiowings are reaching the market faster than ever before."
Find more online at http://www.stratasys.com or http://blog.stratasys.com