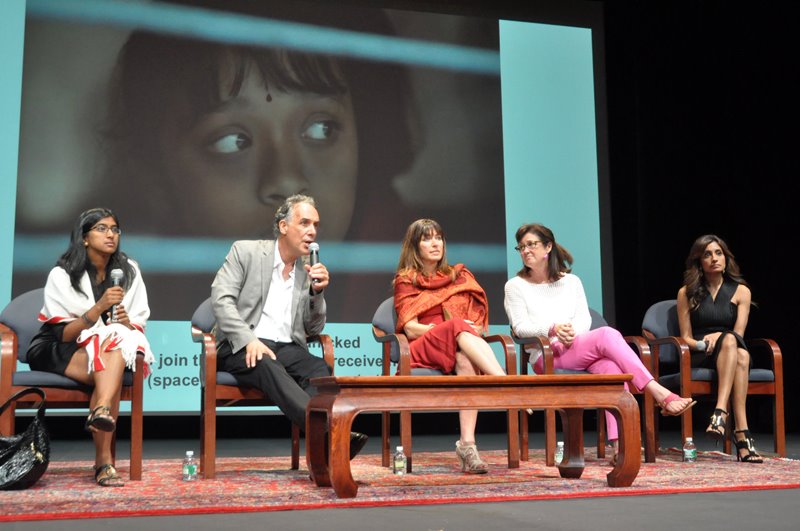 This past weekend, the Asian American International Film Festival launched their 37th year with the East Coast Premiere of "SOLD" at the Asia Society in New York City. The opening included a Q&A and Gala Reception for a cause. "SOLD" was directed by Academy & Emmy Award winner, Jeffrey D. Brown, produced by Jane Charles and executive produced by two-time Academy Award winner Emma Thompson. The film stars Gillian Anderson who plays a US photographer Sophia, fighting to rescue girls like Lakshmi with the help of NGO worker Mrs Tripathi (Seirah Royin), and Sam (David Arquette) a US volunteer. The stand out performance goes to Niyar Saikia, the 12 year old who plays Lakshmi.
The film was adapted from Patricia McCormick's globally acclaimed book which is based on true events and illustrates the brutality of child trafficking.  Human trafficking is a 150 billion dollar illegal business. Approximately 115 million children worldwide are involved in hazardous forms of work as a result of human trafficking for forced labor and sexual exploitation. Director, Jeffrey D. Brown has poured his heart and soul into this production in the hopes of ending this horrible crime that affects almost every country around the world.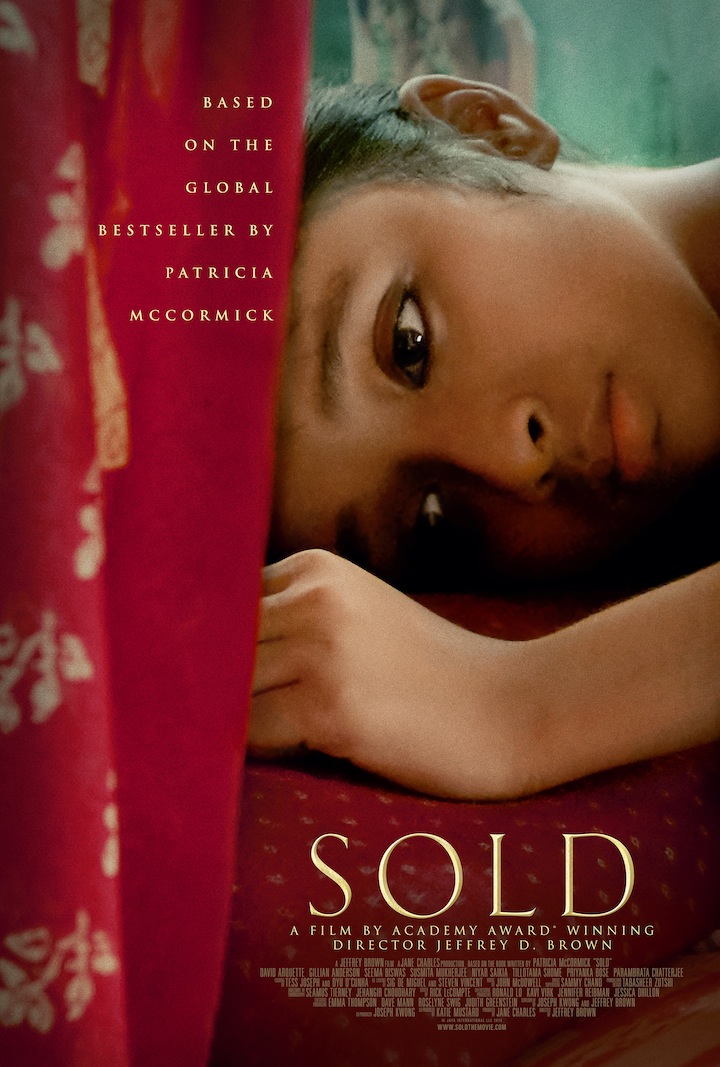 The story follows Lakshmi, a 13 year-old Nepali girl, whose family unwittingly accepts money for her to work as a domestic servant. She travels from her rural childhood home in Nepal to a Kolkata, India brothel. This naïve young child believes she is going to work to earn enough money to purchase a tin roof for her mother. Instead, her new home is ruled by the ruthless Madame Muntaz. Lakshmi, compassionately portrayed by Saikia, discovers the horror of being forced into a life of prostitution. At times, the film can be very difficult to watch as this beautiful young girl is drugged, beaten and raped.  Throughout the film Lakshmi never gives up her hope to be reunited with her family. Despite the conditions at the brothel, the girls try and protect each other and do form bonds and friendships which is evident during scenes of their dancing and laughing.  Finally, Lakshmi made a decision to risk everything for a chance of freedom.     
This film has the capacity to enrage and inspire the viewer. It is so important for this film to reach a worldwide audience, as it will serve as a vessel for raising awareness and promoting necessary change.
During the Q&A, the depth of the research necessary for this film was discussed. Brown and Charles spoke of their journey to India and the plight of so many young girls.  Their passion about the film was evident, as was their hope that it can evoke change. Brown's goal is for "SOLD" to focus worldwide attention on the plight of sexually exploited children. They have set up a fund connected to the film called the Wishing Tree Fund, which will give grants for NGOs with proven records in making a difference in the lives of trafficked children. Patricia McCormick explained how she became involved in the writing of this book and her personal research in India. Seirah Royin spoke of her personal experiences of filming this movie and the impact that it has had on her. 
I was very touched by this moving film and would highly recommend seeing it. We all hear about the horrors of human trafficking, but when you see the story of this one young girl it goes right to your heart. 
By Donna Battaglia